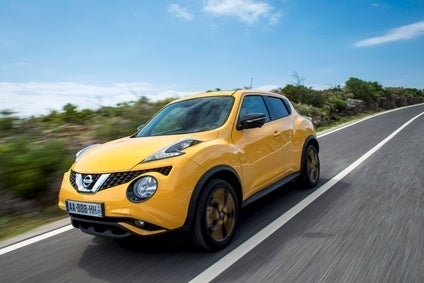 Having rather liked the Nissan Juke at its original press launch in Germany some – ye gods – four years ago now, I thought, with a new car vaguely in mind, it might tick some boxes with The Family. Boy, was I wrong.
When a black diesel version, with updated engine, appeared at Roberts Towers a little while ago the model line again ticked most of my boxes – still the firmish bordering on kidney-paining ride, yes, but a good size, roomy enough, nicely equipped, available with petrol automatic and four wheel drive (for when snow imposes a half-mile obstacle course between me and cleared main roads) and affordable. I'd buy one.
The Family panned it. Mum didn't like the looks or the harsh ride, the kids griped about the lack of rear seat space and everyone moaned it could use more room in the boot. Wonder what they'll think if I ever get around to borrowing a new Qashqai?
Nissan Europe need worry not. Four years on, over 500,000 Jukes – most of 'em built here in England – have found homes and Japanese-made ones are sold in other markets including Australia and the US, as well as domestically. The car's a hit.
Nissan Europe execs contentedly told just-auto that the 85% of Juke buyers were new to the brand and it's second in model line sales only to that other crossover smash hit, the Qashqai.
Nissan GB people were just as upbeat. They've shifted over 100,000 – you only have to see the number I see around here to believe that, and we don't have a dealer in town – and report "many customers new to Nissan". Juke has a 5% share of the UK B segment and is fifth in same and the leader amongst the crossovers – it always helps if you're first.
Sales were 11,041 in launch year 2010, 24,241 in '11, 30,889 in '12, 38,014 last year and expected to be "38,000-plus" this year. No mid-life tail-off is impressive but the line's been kept fresh with various limited editions, a 200PS sporty NISMO version, torquier diesel and suchlike.
Despite looks only its mother could love at launch, which we've now got used to, 55% of UK buyers cited style as a purchase reason, with 11% nominating equipment and 11% price. Dislikes? Boot size 14%, performance/economy 8%, interior appearance 5%.
For the mid-life tweak, a new 1.2-litre turbo Renault-Nissan Alliance petrol engine replaces the non-turbo 1.6 with a six speed instead of five speed gearbox. Nissan claims more torque and better economy and said the 1.6 turbo also now has a lower torque peak and emits less CO2 with both manual and CVT transmissions; the latter now has seven instead of six simulated gear 'steps'. I tried both and thought the 1.2 a surprisingly powerful replacement for a 1.6 while the 1.6 turbo with CVT was very responsive and ideal for city use. Ride is still too firm, though.
The exterior restyle is all the easy bits – lights and bumpers, front and rear. At the front, the upper lamps have been redesigned to adopt Nissan's new signature boomerang shape – already seen on the 370Z, new Qashqai and new Murano – and now incorporating bi-intensity LED daytime running lamps. The headlights are now available with xenon bulbs for better visibility and have new lens covers. The nose incorporates a new, V-shaped grille and there's new trim beneath the bumper.
Door mirrors have been revised to include LED side turn strip repeaters and cameras for the optional around view monitor.
At the rear, the bumper has a more aggressive shape to match new revised boomerang tail lamps again with LED technology.
A tinted sunroof with manual perforated blind and opening glass panel sliding above the roof, so as not to steal rear headroom, becomes optional and various Nissan Design Studio personalisation packs are now available – there are four choices and four colours.
Order one of these and you'll get headlamp surrounds, mirror housings, door handles, centre console, interior door finishers and vent trim rings in contrasting colours, fancy colour-flash wheels and trim upgrades with contrasting stitching.
I'd love to have been a fly on the wall when the marketing people told the plant people about all that as it must take some coordination to get the right bits coloured and then to the right pre- and main assembly points and then schelp the right wheels, bumpers and doors to the right car.
Boot size on 2WD models is also up 40% and the latest Nissan Connect system iis used for the infotainment. This provides smartphone connectivity with apps ranging from social media platforms to entertainment – including internet radio – through a large, 5.8in colour touch screen. The navigation system integrates Google online search for fuel stations, hotels, restaurants, and the like. All these points of interest can be searched through voice command and categorised by distance and customer ratings.
A send-to-car function also allows drivers to search for their destination at home and send instructions to the car. The system includes Bluetooth audio streaming and mobile phone integration as well as aux and USB slots.
The Safety Shield package of gadgets is also now available and includes lane departure warning, blind spot warning and moving object detection.
If imitation is flattery, the Juke is, well, flattered. Its success has now spawned numerous rivals such as the Renault Captur, Ford EcoSport and Opel/Vauxhall Mokka. With all that competition about, it remains to be seen if another half million Jukes can be sold in Europe in the next four years.