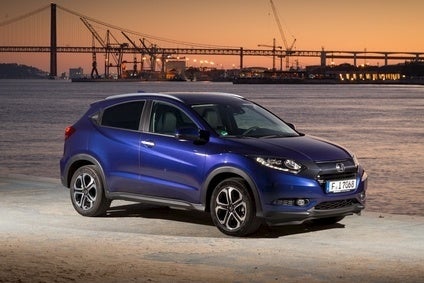 Honda UK's dealers will get their first HR-Vs, sourced from Mexico (a first for the automaker in Europe), next month. The B-SUV/crossover returns the automaker to a segment it effectively created in 1999 with the first HR-V but subsequently abandoned in 2005, after the usual mid-cycle refresh, leaving the larger CR-V as its sole SUV offering in most markets outside North America and Japan.
Though somewhat late for the current compact crossovers' party, started by the Nissan Qashqai in 2007 and now in full swing, Honda UK insiders nonetheless think their new baby will bring new competitiveness to what has become a crowded and hotly contested B-SUV/crossover sub-segment populated by good model lines such as the wide, regularly freshened and gradually expanded Nissan Juke range launched in 2010 (arguably the niche 're-pioneer' here after Honda's withdrawal), and the newer rivals such as General Motors' Vauxhall/Opel Mokka, Ford's Indian-made EcoSport (just getting a specification upgrade) and the Renault Captur.
Potential buyers, especially those downsizing, might also consider the 'premium' relative newbies, too, Audi's Q1 and BMW's X1, and perhaps even Honda's own Jazz (the redesigned model launched in some markets as far back as 2014 finally reaches UK showrooms at the end of August) and Korean models such as the Hyundai ix20 and Kia Venga with their crossover, high hip point and high seating positions favoured by less mobile, older drivers. Kia's Soul would also be a contender, too.
Honda Motor Europe regards the HR-V as a crossover. Kotaro Yamamoto of the Japanese/European development team, told just-auto the new model melds the best bits of an "SUV, coupe and MPV into a crossover with good driveability and environmental attributes intended to appeal to smart, intelligent and thoughtful customers".
Japanese car designers like their buzzwords and exterior designers were guided by the "keyword" tsuya which means variously gloss, glaze and seductive and is written using two Japanese characters which separately mean rich or bright and brilliant. Among other styling features, Yamamoto highlighted the latest corporate nose shared with the latest Jazz/Fit (the HR-V uses a modified Jazz platform), rear door handles concealed in the B-pillars (like several generations of British built, five-door Civic hatchbacks) and a distinctive body swage line that dips down from that door handle and falls forward across both doors before merging into the front wheel arch. It gives the new Honda a distinctive and attractive side profile.
Yamamoto said interior packaging presented designers challenges as they looked to combine the best features of coupe, MPV and utilitarian SUV. The upright seating position and high hip points so beloved of SUV buyers – and the class leading load capacity – were achieved by using the Jazz's pioneering under-floor fuel tank which is moulded to hold as much fuel as possible (50 litres in Europe). In markets with the four wheel drive option, this is a different shape to make way for the rear prop shaft but holds the same amount.
Moving the tank forward, as in the Jazz, liberated more floorpan space for passengers and luggage and this merging of what Yamamoto called "sometimes contradictory characteristics" resulted in a roofline about 100mm higher than a conventional Civic estate car with corresponding higher hip points and, thus, seating.
He claimed class-leading head, leg and shoulder room, "bigger than the Qashqai". Certainly, the hard-riding Juke, Nissan's direct rival for the HR-V, is a little cramped in the back seats if your children ride in booster seats and insist on carrying a load of stuff with them and you have to be a bit creative to fit all a large supermarket shop in the boot. But I'm thinking 'single family car' and I suspect many people more likely will buy an HR-V or one of its rivals as a second car.
The ace up the Honda sleeve, of course, is the platform sharing, 2015 Fit/Jazz line's 'magic seats'. In the HR-V, the 60/40 split rear seat bases fold forward against the front seats and the backrests drop down to extend the boot space. The front seat backrest, meanwhile, can fold flat back onto the rear load floor and the result is about two metres of flat floor between glovebox and tailgate. So, in goes your surfboard.
The other trick, unique in the B-SUV segment, is the high-load layout – the rear seat bases fold up flat against the seat backs, leaving floor to ceiling space for pot plants or kid's bike. Even seen again after several generations of Honda models, it's still impressively clever.
Other features, standard or optional according to trim level, include Honda's latest Connect, Android based infotainment system (all touch screen controlled with steering wheel buttons for basic functions), touch button operated dual zone climate control, a clever new 'intelligent' speed limiter that 'reads' roadside signs and adjusts the top speed to suit and an electric park brake with driver selectable hill holder. Much of this is standard range-wide with the top two tiers getting an additional suite of 'driver assistance safety systems'.
UK prices range from GBP17,995 to GBP24,945. While Honda UK head of cars Leon Brannan concedes there will be some "cannibalisation" of Civic and Jazz volume, he expects conquest sales, anticipating 70% of new HR-V customers will be buyers moving from other brands, "predominantly from the MPV and C-segment". The 4.3-metre long HR-V is seen appealing to "young singles and pre-family couples who value their lifestyles and are design conscious".
The UK unit expects about 70% of HR-V sales will be to retail buyers, 30% of the 45% opting for the 1.5-litre petrol engine will also order the 'seven speed', CVT automatic transmission (six speed manual is standard for all petrol and 1.6-litre diesel models) and the trim grade choice will split 15% S, 62% 'nicely equipped' SE and 23% top line EX.
With PCP purchases very popular with private buyers here in the UK (personal contract plans are low deposit leases with car return, trade or final payment options at the end of two to three year terms), Honda UK dealers will be offering packages of 30% deposit and GBP149 per month at a typical APR of 5.9%, saying this will bring "exceptional affordability to the small crossover segment".
Anticipated volumes for Europe are around 22,000 to the end of this fiscal year (31 March, 2016) with full year volume, after the initial surge, settling down at around 25,000. Honda UK is looking for 5,000-6,000 sales in the first six months of sales to 31 March.
The Mexican plant, also the source of North America's Fit, currently can build 95,000 HR-Vs a year with about 70k earmarked for NAFTA markets.