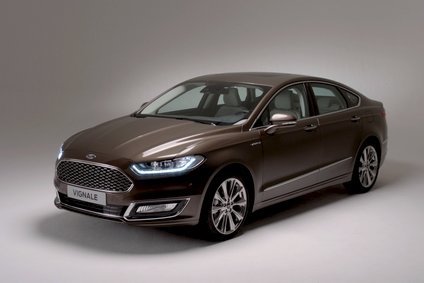 Ford says it is targeting small fleet buyers with its premium feel Vignale sub-brand for Europe which will debut with the Mondeo Vignale.
Speaking at a launch event for Mondeo Vignale in Rome, Jon Wellsman, Director of Customer Service at Ford of Britain, said that Vignale is the 'pinnacle of the Ford brand in Europe'.
Ford's Mondeo Vignale (available in four-door and wagon bodystyles, but not hatchback) comes with a number of enhancements over the the standard Mondeo range, including Ford's European debut of 'Active Noise Cancellation', extensive use of leather in the interior and a number of external styling touches (such as the use of chrome and unique colours). Mondeo Vignale also comes with driver assistance technologies such as pre-collision assist and pedestrian detection. There is a range of six premium powertrains (including a 2-litre bi-turbo diesel engine and gasoline-electric hybrid) and an all-wheel-drive option, all powertrains available from launch.
Wellsman said that Vignale will allow Ford to further extend and strengthen its appeal by offering premium luxury and technologies. Low volume for the Vignale will underline its exclusivity. "Ford is aiming for customers who will value the crafted feel and luxury packaging that the Mondeo Vignale can offer," he said.
In the UK, Ford sells around 17,000 Mondeos a year and expects to add another 2,000-3,000 of Mondeo Vignale. "We are targeting what we call 'net fleet'," Wellsman said. "These are smaller businesses and user choosers who are actually quasi-retail. We expect these to make up around 70% of sales. The other 30% will be retail customers and there will be no rental business on the Mondeo Vignale [unlike the Mondeo, where it is around 15% of sales]."
The Vignale will be sold through 'FordStore' dealers only, where there will be a dedicated luxury Vignale lounge area. Vignale benefits such as a complimentary car wash, delivery and collection for service and repairs will stay with the car and extend to future owners of the Vignale model.
Ford also confirmed that there will be a Vignale version of the S-Max that will be launched in the European car market in 2016 (and will be shown at the Frankfurt Motor Show in September).
Ford's strategy to address the 'near premium' area of the car market in Europe with a sub-brand follows the decision to not make Lincoln a global premium brand at this stage. Volume makers in Europe have been squeezed in recent years by the proliferation of models from BMW, Mercedes and Audi that have encroached on volume makers' market segments.
Vignale is a way for for Ford to address higher margin parts of the car market, lever its volume scale for some aspects of the vehicle's manufacture (Mondeo Vignale is made with the Mondeo at Ford's Valencia plant, with the craft element and finish added on at a dedicated part of the facility) and achieve premium feel and a degree of exclusivity, but within the context of 'One Ford'.
Last year, then Ford of Europe chief Stephen Odell told just-auto that Ford is not going to compete head-on with premium brands such as BMW with its Vignale sub-brand.
"You have to have a way to get exterior and interior differentiation beyond, say, our Titanium spec, to enable people to spend that bit more for a more bespoke product," he said.
"We are not saying that we are going after BMW or Mercedes, but we do believe that premium considerers would look at a Mondeo Vignale or an S-Max Vignale. We have the Edge coming in as well, positioned higher up in the market. We believe at the top end [of the market], Vignale enables us to stretch our brand and portfolio without losing anything at the lower end."
See also: SPAIN: Ford readies Ford Vignale Mondeo for launch [and please note that last month Ford was calling this car the Vignale Mondeo. It has now been decided that it is the Mondeo Vignale…]