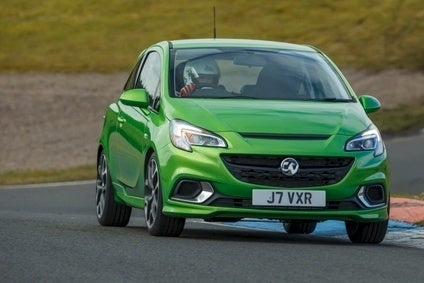 GM Europe's Mokka is one of the most successful B-SUVs in the region, but does that mean that few people are interested in a pricey Corsa? Not at all, with orders for Opel's new OPC and Vauxhall's VXR soon to cross the 1,500 cars mark.
The old Corsa VXR was a great little car badly let down by a too-hard ride. You could tell it was developed by Opel's engineers, as like the latest model, it looked and sounded and felt like a proper German car. Trouble was, the suspension didn't have anything like enough compliance for UK roads, which was a terrible shame given the excellent handling and superb steering.
With Britain set to be the new model's largest market, Opel's chassis engineering team had to take note of one of the main reasons holding back sales of the Corsa VXR. GM Europe's main brand sells this model as part of its Opel Performance Center range, which includes Astra and Insignia models. Vauxhall has the Australian-built VXR8 too, but like the Opel equivalents, there are no VXR versions of the Adam, Mokka, Cascada or other models. GM thinks of OPC and VXR as proper hard-core cars which is commendable. With all of Opel's highly publicised losses in recent years, it would have been easy to try to raise cash by whacking OPC badges on every model, thus diluting this sub brand.
The latest car had its world premiere at the Geneva motor show in March. The launch has been staggered across European markets, and in fact, the car is only now reaching dealerships in some countries. An Opel spokesman told me a few days ago that GM has collected a combined 1,420 orders for the new cars. The OPC has been available to order in Germany since 30 March, with Vauxhall dealers taking deposits since 2 June.
A combined 22,339 units of the old shape 'D' car as Opel calls it (the new one is the Corsa E) were sold between late 2006 and early 2015. Not bad when you consider how depressed the market for such cars was for many of those years, and it also makes you realise that this could well be a future classic. In Britain, Vauxhall sold over 9,000 units of the car between 2007 and the first half of this year.
In addition to the tweaked chassis, Opel has given the new model the same, more powerful 1.6-litre turbo engine as featured in the limited build Nürburgring Edition. For the moment, there is no replacement for this extra-fast variant but such a version might well appear later in the Corsa E's lifecycle. The engine produces 205PS and up to 280Nm of torque with drive to the front wheels only, via a slick six-speed manual transmission. There is no automatic or dual clutch option. Top speed is claimed to be 143mph and 0-62mph takes 6.5 seconds.
The reason Vauxhall quotes 280Nm as the maximum torque is due to the standard output being 245Nm. However, up to 35 extra newton metres is available via an overboost facility to make overtaking anxiety-free.
Some of the changes compared to the previous car's Euro 5 powertrain include a new exhaust system which was codeveloped with specialist firm Remus. This includes a bespoke manifold which integrates the turbocharger. The injectors have been replaced with a different design, while a new intercooler helps with more torque at lower revs. All this works as the VXR is anything but unhappy in traffic. Nor is the effort required to depress the clutch pedal excessive: this could be a mildly warmed over version of the Corsa, rather than one which is very quick. It also sounds fantastic when extended.
Vauxhall is keen to lift sales of the new model, as you would expect, and pricing it from under eighteen thousand pounds means it's more than a thousand pounds less expensive than the old model. Version for version, the VXR is also cheaper than the Volkswagen Polo GTI, Renault Sport Clio and Ford Fiesta ST2.
You can of course spend a lot more than the GBP17,995 on the road price, if you want to add the VXR Performance Pack. This costs GBP2,400 and more or less specs the car up to a Nürburgring/Clubsport equivalent, but for GBP2,000 less than the previous model. For the additional spend, you receive a Drexler Limited Slip Differential (LSD), Brembo four-piston brakes and re-tuned Koni FSD system over the standard set up.
Every Corsa VXR comes with Recaro front seats. There are no separate head restraints as you'd find on most cars, plus they have large cut-outs where a racing harness could be fitted. The steering wheel feels great to hold, and GM could even teach BMW and Porsche a lesson it's that good. There is thick stitching to it and this matches the same weave on the gear lever.
The doors are long and heavy but not overly so, and unlike so many small three-door cars, you can close them gently and they shut correctly first time. Irritatingly, that awful bong-bong-bong which owners of so many GM cars worldwide must suffer is present on this one too. Insert the key and still it doesn't shut up until you close the door. This is especially annoying in the Corsa as the seatbelt takes a few seconds to reach.
On the outside, as with the interior, this is a nicely understated mini sports car. Well, perhaps not if you select the lurid green of the test car but to me it looked terrific. There are carbon-effect housings for the mirrors but these don't fold electrically so you have to give them a shove if parked on the street. The same material is used for a rear under-spoiler, and there are beautiful big alloy rims which somehow don't detract from a surprisingly compliant ride.
As noted earlier, this looks and feels like a typical German car from behind the driver's seat. There is a lot of dark grey pretty much everywhere but some glossy black plastic touches and a light grey headliner prevent it being overbearing. Another positive: rather than the hard plastic you might expect to feel on the the door trims you get a padded vinyl insert. More manufacturers should tell their suppliers they want their cars to have this too.
There are VXR floormats and aluminium trim with the same logo in the door sills and on gear knob, while the simple HVAC controls are as welcome as the stumpy handbrake and the lack of silly push button start-stop. Something else which not everyone gets right in a three-door car are seats which tilt AND slide when access to the back is needed, and they have a memory which works.
Will this car be more successful than the old one? I would say so, especially as Volkswagen has already announced that it won't replace the three-door body style when the time comes to launch the next Polo in a couple of years' time. As for the Fiesta, this is really feeling and looking its age now, but Ford's domination of the UK market means dealers will be pushing hard to keep the sporty variants selling.
What's next?
Due to the new car being a thorough re-engineering of the former model, GM Europe will be replacing the latest Corsa relatively soon. What Opel will call its Corsa F is expected to appear in 2018 so an OPC/VXR would logically follow in 2019. Thus, there probably won't be a mid-cycle styling refresh for the 2014-2018 Corsa.
This successor series should be built off GM's G2XX or Gamma 2 architecture. As per the current model, build should be confined to Zaragoza and Eisenach. However, there are fears by German unions that the latter might be closed before this car goes into production. Eisenach, which also builds the Adam, may lose production of the next Corsa because the plant has no press shop. The German plant partly sources the bodies in white for the current Corsa and Adam from the Spanish plant. Whatever the case may be, a seven-year build run means we won't see the Corsa G until 2025.
A year after the next model appears, Opel and Vauxhall should launch their second generation Adam, though the car for the UK might well change names. The Adam successor is reportedly also being engineered for potential sales in North America and China: the current car was not developed with US emissions and crash test regulations in mind. The next model would likely be sold as a Buick in markets outside Europe with European, North American and Chinese market launches expected in 2019.
Returning to the situation with Eisanach, the plant which makes the Adam and three-door Corsas, GM says the German factory is guaranteed to remain open until 2018. However, nothing has been said about what happens after that. So should Eisenach be closed, the next Adam would likely be made at Zaragoza/Figuerelas alongside five-door Corsas.