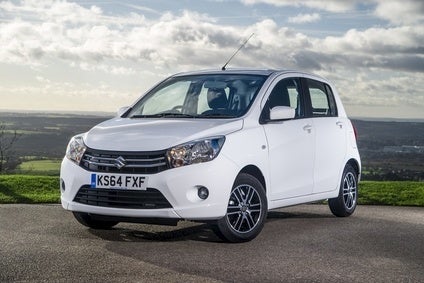 Don't let the vanilla styling make you overlook the importance of the Celerio hatchback for Suzuki in Europe. The days of this brand being a body-on-frame SUV specialist are over, and multiple additional cars and crossovers are in the product pipeline.
This A segment hatchback will become an ever more important model for the company in the European region. ACEA's latest registrations totals show Suzuki, with 13,943 vehicles delivered in April, outselling Jaguar Land Rover (13,427), Mazda (13,720) and Mitsubishi (11,042). Moreover, another 700 cars would have been all that was needed to have doubled Honda Motor Europe's total.
So 2015 is looking good for Suzuki Europe, and the UK remains its largest market. Last year was a record one for the UK car division, with 37,400 sales, and it was also the firm's best year yet, with more than three million vehicles delivered worldwide by SMC.
India is of course where the brand sells the majority of its cars, Maruti having just built its 15 millionth model and ended fiscal 2014/15 with a 45% share of the local market. The Manesar-made Celerio, which replaced the A-Star/Alto, has now passed the 100,000 sales mark – impressive for a car that hadn't even been seen in production form until the Delhi show in February 2014.
Maruti's plant in the state of Haryana is not the only source of Celerio production. The little car has been made in Thailand since May 2014, with a factory in Rayong being from where cars for Europe are sourced. There's no word on Chinese build, but the next news should be an 800cc diesel for the Indian model later this year. The Celerio should also be the launch model for Suzuki's first car plant in Gujarat. That factory, which is owned by SMC not Maruti Suzuki, is due to open in mid-2017.
Back in the UK, the importer claims this five-door hatchback is the cleanest and most fuel efficient new car on sale for less than GBP10,000. While prices start at GBP7,999, cars fitted with the low-emissions (84g/km) 'Dualjet' 1.0-litre engine cost from GBP8,499. That price includes air conditioning, DAB digital radio, Bluetooth and alloy wheels. Buyers may choose an automated manual gearbox for an extra GBP800. This is Suzuki's own transmission and is called AGS (Auto Gear Shift).
Since British market sales commenced back in February, more than 2,000 units of this model have been delivered. The Dualjet engine and AGS gearbox have only just become available, and it would seem that the 2015 sales goal of 6,000 cars will be easily met. The alternate engine, which is codenamed K10B, is also a 1.0-litre unit with three cylinders and has previously featured in the Alto and Splash hatchbacks. Its CO2 average is 99g/km with Combined economy of 65.7mpg, versus an official 78.4mpg for the (K10C) Dualjet. Both have power outputs of 68hp, with the older K10B delivering 90Nm of torque and the K10C producing 3Nm more. If you want the AGS, you have to have the less powerful engine.
The newer unit incorporates twin fuel injectors very close to the inlet valves. This, Suzuki says, ensures a finer mixture, which in turn provides a more effective transfer into the engine. The K10C also has stop-start. Like the K10B, it is Euro 6-compliant.
As for AGS, this has an Intelligent Shift Control Actuator positioned at the top of the transmission. This operates the gearshift and clutch automatically. As there is no torque converter to add weight and sap power, CO2 emissions are the same 99g/km as for the five-speed manual. The Celerio with AGS is therefore VED exempt. Just like a conventional auto, there is a low speed 'creep' facility, meaning the car behaves like an automatic in slow traffic and when parking.
The Alto majored on low pricing but chassis dynamics weren't a strongpoint. So it comes as a shock to find that the Celerio is a fun little thing to drive. Maximum speed is just 96mph whichever engine or gearbox you choose, and 0-62mph takes a not exactly brisk 13.0/13.5 seconds (K10B/K10C). But that's not really the point. The steering is precise and the roadholding is better than you'd imagine given the dinky 165/65R14 tyres. Weight is just 835-845kg.
This car doesn't feel anything like the flimsy Suzuki shopping baskets of old. The doors have a decent sound to them as they close, the interior plastics don't smell like a petrochemical works, the glovebox aligns perfectly and the gear shifting is always accurate. The ride is really very good, helped no doubt by a 2,425mm wheelbase and wheels at the corners stance and there isn't even excessive bodyroll. Let's not get carried away; it's no match for the Swift Sport but in comparison to the rival Mitsubishi Mirage, well, there is no comparison.
Things not to like? At just 254 litres VDA, the boot is small, but then this is an A-segment model, let's not forget and that volume is in fact best-in-class. One fact that wasn't pointed out on the media launch is how this relates to the larger Swift hatchback's luggage capacity. It's a mere 211 cubic litres, and that's probably the most serious fault of this B-hatchback.
The level of standard equipment is good but somehow electric adjustment for the mirrors got dropped off the spec list. Electric rear windows are also missing on base SZ3 model grade cars. You also have to live without a seat-back pocket on the passenger side (the things car makers think of to save money), there are no front fog lamps and only two speakers. You can tell a poverty pack car by the black door mirrors and the grille, which lacks the fake-chrome trim of the SZ4. For the price, it all makes a lot of sense, though you cannot have a proper spare tyre or reach adjustment for the steering wheel even as options.
Thanks to the addition of this new model, Suzuki GB thinks it will be able to match last year's record sales volume. This seems like a tricky target given that the Alto, Splash, SX4 and Grand Vitara have all been discontinued. However, Ed Norman, the importer's Product and Planning Manager, told just-auto that he is optimistic about the brand's chances for another strong year in 2015.
When asked by j-a if currency exposure is a major concern, Norman agreed that it is something which Suzuki GB keeps a close eye on. Of the five models sold here, one comes from Thailand (Celerio), one from Japan (Jimny) and the other three from Hungary (Swift/Sport, SX4 S-Cross and Vitara). Is Suzuki GB profitable? Yes it is, says Ed Norman.
As noted above, the Celerio is off to a strong start, and the Vitara began to reach all 150 dealerships in the UK network last month. The Swift is also doing well, thanks for the arrival of a facelifted model and the option of all-wheel drive since late 2013. This hatchback range will have a seven-year lifecycle, which means no replacement until 2017. And there won't be any other new models for the UK in 2015.
Next year will be a big one for Suzuki in Europe. We'll see the arrival of a production version of the iK2 concept early in the first quarter. That suggests a global debut at the Frankfurt IAA in September. This B-segment hatchback will be positioned above the Swift and much will be made of its larger boot capacity. The project code is YRA and the car will be powered by the company's forthcoming Boosterjet engine.
We won't see a replacement for the Jimmy in 2016, this model having been pushed back until 2018. Now in its 17th year of production, the current model is still selling at the rate of around 1,000 units/annum in the British market.
As well as a new Swift, 2017 will see an additional model arrive. This was previewed by the iM-4 concept at the Geneva motor show two months ago. Its model name is not yet known but it will be positioned between the Jimny and the Vitara. Think of it as a rival for the Mokka, future VW B-SUV, second generation Juke and all manner of others in what Suzuki hopes will still be a booming segment. The project code is YBA.
In two-years' time, there should be a facelift for the S-Cross and possibly also the Celerio. There could also be yet another additional model, a car based upon the Ciaz/Alivio sedan. If the rumours are to be believed, this would see the brand joining the over populated C-hatchback segment. Surely it makes more sense to remain outside this class and instead keep pushing compact hatchbacks and crossovers?
With 12,009 registrations showing for the year to date and the prospect of stronger Celerio and Vitara sales to come during the remainder of 2015, Suzuki GB looks to be on track with its sales goal. Even with Swift likely to fade in 2016, the additional models to come could well make this a 40,000- or possibly even a 50,000 units/annum brand within a few short years. And at a Europe-wide level, today's 1.4% share could well rise towards something like 1.8%, making Suzuki a brand with a regional sales footprint roughly the same size as Volvo's. If these extra vehicles turn out to be what the market wants in 2016, 2017 and into 2018, it could happen.