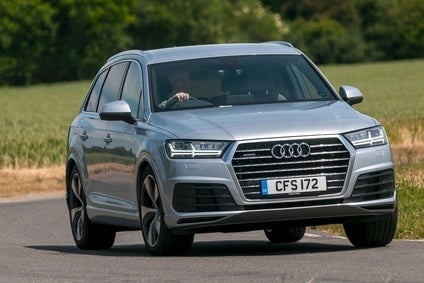 Audi UK is about to launch the new Q7 with just one engine: a 272PS 3.0-litre TDI. Will that be enough with which to take on the Volvo XC90, a car Audi admits is likely to become the segment leader?
It isn't just a fresh body that appears on the second generation of this big SUV. The new Q7 is the launch model for the Volkswagen Group's MLB Evo architecture. This will also be the basis of the next Porsche Cayenne and VW Touareg. There will be other MLB Evo-based large 4x4s for the group, in the form of the Bentley Bentayga and a Lamborghini which might be called 'Urus', plus a potential Q6 and/or Q8 SUV for Audi.
One of the most newsworthy things about the new platform is its weight. While the second generation Q7 is still nowhere near waif-like, it has lost up to 325kg, depending on the version. Audi likens this to the mass of a grand piano. The head of the British PR team translated that to motor-noters gathered for the media preview as "That's about seven Kylies".
For the record, the base car has a kerb mass of 1,995kg. The UK importer claims this makes it best-in-class. If you delete the third row, that's when you have the full 325kg saving but keep these kids' seats and the loss is a still impressive 240kg.
By switching the doors to aluminium, the engineering team managed to get 24kg out of each one, and there was a further saving of 19kg by designing a lighter exhaust system, while the new rear suspension saved 40kg. The body-in-white is roughly 50% aluminium and this contributes a further 71kg loss of weight. Click through to the accompanying images for a full illustration of where much of the savings came from.
Audi's quattro-branded 4×4 drive is standard worldwide. In Britain, the same applies to a 5+2 seating format, an electric tailgate and an eight-speed tiptronic. The last of these is code for a torque converter automatic.
As noted above, buyers here have the choice of a 272PS 3.0-litre diesel or…nothing else. That's set to change in a few months' time when a 218PS 3.0 TDI joins the line-up. In Germany, North America and elsewhere, there's a supercharged petrol engine, which will be the basis for next year's petrol plug-in hybrid.
Here's an overview of the global engine line up:
160kW (218PS) & 500Nm 3.0 TDI ultra (turbocharged V6 diesel)
200kW (272PS) & 600Nm 3.0 TDI (turbocharged V6 diesel)
245kW (333PS) & 440Nm 3.0 TFSI (supercharged V6 petrol)
Coming in 2016 is a diesel-electric plug-in hybrid. This derivative was announced in December 2014. Called Q7 e-tron quattro, it will be powered by the combination of a 190kW (258PS) 3.0-litre V6 diesel, and an electric motor integrated into the eight-speed tiptronic. This has an output of 94kW. System output is 275kW (373hp) and system torque is 700Nm (516 lb-ft). The e-tron accelerates from 0 to 100km/h (62mph) in 6.0 seconds, and from 0 to 60 km/h (37mph) in 6.1 seconds on electric power alone. Top speed is 225km/h (140mph).
Audi says the rechargeable Q7 will be the world's first PHEV with a heat pump. This minimises the energy requirement for heating and air conditioning. Furthermore, the owner can preheat or precool the car via an app. The lithium-ion batteries store 17.3 kWh of energy, enabling a range of up to 56km (35 miles) in electric mode.
The PHEV will also be one of the first vehicles for AWC (Audi Wireless Charging). This we have already seen in the prologue Avant concept which was revealed at the 2015 Geneva motor show. AWC draws energy from a floor plate which is connected to the power grid and which can be embedded on or into the asphalt. The plate integrates a primary coil and an inverter (AC/AC converter). When active, this coil induces a magnetic field of alternating current.
Ulrich Hackenburg, Audi's head of R&D, told a conference in April 2015, "Our [AWC] system will start with 3.6kW of charging and it will go to 7.2kW soon, and there are ideas to go higher." He added that the company hopes to offer automatic parking so that the car perfectly aligns with the charging plate.
The 3.0-litre V6 diesel-electric Q7 goes on sale in mainly European and North American markets during 2016, with a 2.0-litre four-cylinder petrol-electric version to be available for just three markets. The latter, to be badged as the Q7 2.0 TFSI quattro, will be marketed in China, Japan and Singapore. This variant is powered by a direct injection turbo 2.0-litre petrol engine and one electric motor. Its claimed range on EV power is 33 miles (53km). The petrol engine and electric motor deliver 270kW (367hp) and the same amount of torque as the diesel PHEV: 700Nm (516 lb-ft).
In 272PS V6 diesel form, the Q7 feels a lot less cumbersome that the old model. You really can sense a lot less sway in corners, and the ride, even on standard steel springs is excellent. On 20" wheels, and with optional pneumatic suspension, cornering is even better but the ride does suffer from the larger rims. The cheapest SE model grade has 19" alloys, but if you order a car in S line trim, 20" alloys come as standard with 21-inchers an option.
Another option is all-wheel steering and this one, like air springs, is worth having. It certainly makes roadholding feel better at high speeds, and there is a further bonus in that the back wheels will be steered in the opposite direction for parking. This reduces the turning circle by a full metre, to 11.4m. That's not only tighter than the Q5's but also the Q3's.
Incredibly, this is the first Audi with AWS: Honda famously had it way back in the 1980s for the Prelude, although that was a mechanical system but electronic AWS was certainly popular throughout the '90s with most Japanese OEMs.
The first customer deliveries of the new Q7 are taking place in the UK from this month, with pricing between GBP50,340 and GBP53,835. Cheaper variants powered by the 218PS 3.0-litre V6 diesel will be in dealerships from October. Cars with the 272PS 3.0 TDI engine have a top speed of 156mph (135mph for the 218PS), 0-62mph in 6.5 seconds (7.4 seconds), Combined MPG of 47.9 (52.3) and CO2 of 153g/km (144g/km).
We might see its global debut at the Frankfurt IAA in September but it may instead appear at the LA or Guangzhou shows in November – I'm talking about the first Audi SQ7. Will it come to the UK? There was no mention of this still-secret car on the press launch but that doesn't necessarily mean it isn't currently in the British importer's new product pipeline for 2016.
The SQ7 should have a so-called 'electric turbo'. Developed by Valeo, this petrol engine's compressor is powered by an electric motor instead of the engine's exhaust. The principle behind it is that the impeller, which pumps air and fuel into the cylinders, still spins at 10,000 rpm even when it's not needed. For this reason, turbo lag is supposedly eliminated.
For the moment, it is not clear if the SQ7 will also have a diesel derivative. SQ7 TDI would work, just as it does for the existing SQ5 and SQ5 TDI. Audi is, however, said to be close to announcing a 320kW 4.0-litre V8-engined Q7. This one might well be marketed as the SQ7 TDI. Torque is expected to be 900Nm. Just in case the target buyers might need to….tow an A380?
Will the lack of any form of petrol engine hamper UK market Q7 sales? It seems likely but once the e-tron and other versions hit the market in 2016, this big SUV will surely play a minor-on-volumes but big-on-margins role for Audi. This also remains the country's number one premium brand as at the end of the first seven months of 2015.