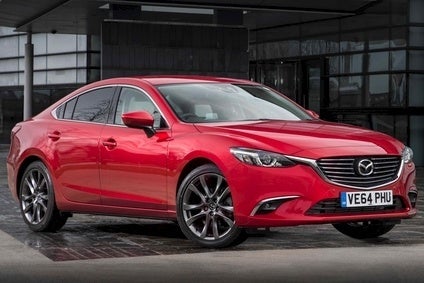 As noted recently on just-auto, Mazda is on a roll in its home market but it's also doing very well in North America, China, Australia and across Europe. The company's largest sedan and only estate car has been refreshed and is now selling better than ever.
Just imagine that a company with no manufacturing presence in the region is at the half way point of 2015 outselling Mini (99,496 compared to the BMW division's 94,653) across Europe. What's more, its sales are more than double the number for Jeep, and are in excess of three times that of Alfa Romeo. Suzuki and JLR sold fewer vehicles in the same period, while Mazda's performance was one third better than that of Honda. Not bad for an importer with a relatively small model range. Plus, the CX-3 is only now going on sale, with the MX-5 to follow.
For the three months ending on 30 June, Mazda Motor Europe (MME) enjoyed a tenth consecutive quarter of higher sales. Numbers were up by 13% year-on-year for Q2 to 47,232, as the brand continued to outperform the overall European market, which recorded a 8.8% rise.
In Britain, it's an even more impressive record. June sales shot up by 29% to 3,486 and for the year to date, the rise is now 18% with 23,548 registrations. That's only 4,000 fewer than Honda and SEAT, and compared to the first half of 2014, the Japanese brand has pulled ahead of Volvo, and now leads it by some 2,000 units. With the CX-3 expected to do especially well in Britain, plus the imminent MX-5, still fresh 2, facelifted CX-5 and 6, it won't be any surprise at all if the 50,000 unit barrier is well and truly broken through by year end.
It will be worth looking at the ACEA numbers in January to see if the UK moved beyond the roughly 23% it represented in H1 of MME's total sales. The brand is doing very well in Spain, Italy, the Netherlands and Poland too, each of which has also shown a double-digit percentage improvement over the second quarter of 2014.
It's almost impossible to speak of any OEM without noting either its strategy for or exposure to China, so an update on how Mazda is doing in the PRC: sales were up by 17% in H1 thanks to increased interest in the Axela/3 and Atenza/6 – the company builds and sells several generations of each – plus the CX-5 is obviously doing very well given the surge in interest in SUVs of its size, as is the CX-7, which is also still built locally.
Mazda China is cautiously sticking with its stated goal of a 4.3% sales rise for CY2015, which would mean 220,000 registrations. This was announced last week by Norihiro Matsuo, the president of Changan Mazda Automobile, but it includes imported cars and others built by the FAW Mazda JV. Perhaps more importantly, Matsuo told the media that he is closely monitoring stock sent to dealers and will not enter into a price war, a clear reference to accusations of what the OEMs who control the market are reportedly up to.
As we know, customers in China, the US and Russia tend to like their D segment sedans to be close to five metres long. So it's fascinating how Mazda has nonetheless and possibly accidentally managed to get the size of its D segment sedan correct. What I mean by this is the length-creep which has been going on as OEMs such as Ford and Mercedes-Benz introduce one-size-fits-all rivals, i.e. big for the class. The Mondeo had to be developed in parallel with North America's Fusion and China's Mondeo so it ended up being long for its class. Meanwhile, the addition of the CLA-Class, which is longer than the old C-Class, meant that Mercedes chose to make the current C-Class quite a bit larger. This has proved to be a good thing, as its sales are absolutely hammering the 3 Series sedan and Touring.
It wasn't always the case of the Mazda6 being right-sized. Now that buyer preference in most European countries has steadily switched towards larger cars, this one has been finding more favour, as has the Opel/Vauxhall Insignia and more recently, the Mondeo. The Mazda is 4,865mm long as a saloon but just 4,800mm as an estate. This fact, plus the four-door having a longer wheelbase – 2,830mm versus 2,750mm – has never really been clearly explained by the company, other than a claim that the estate, the main markets of which are all in Europe, was designed especially for this region. All I would say is that despite the firm's insistence that the current car is on its own platform, the Tourer's wheelbase is identical to that of the previous model, which used a Mazda-Ford architecture.
The example I tested was a saloon, powered by the 165PS 1,998cc petrol engine, maximum torque of which is 210Nm. This car had a six-speed manual transmission and was priced from GBP24,595. The RFL band is E, and the insurance group 19E, while the CO2 average is 135g/km. Automatic transmission is not available for the 165PS petrol, though you can have it in combination with a 145PS version of this engine. The Combined consumption is an official 47.9mpg. I saw 38 mpg overall.
The 2.2-litre diesel is the better option as the petrol unit feels a bit strained by the 1,470kg kerb weight and the 2.0-litre engine's torque, which is developed at a high 4,000rpm, is easily exceeded by the 380Nm of the 150PS 2,191cc diesel.
There's even better news: for more money, you can have a 175PS version of this engine, and torque rises to 420Nm. This would be the one I would go for, and tick the box marked 'automatic with paddle shifters' too. Happy days. It's not that the manual shift isn't smooth, or that the gearing is badly chosen; it's more that Mazda's new idea of it being an affordable premium brand is accurate, and all that constant gear changing due to the lack of torque is all a bit, well, mass market. And as MME knows, there is not much money to be made in being that sort of brand in this region.
The 2015 model Mazda6 has had a mild exterior refresh, features retuned suspension, what is claimed to be improved sound insulation throughout the body, a new instrument panel and centre console design, and upgraded standard equipment levels.
SE and SE-L grades now include Mazda's first electronic parking brake, a coming/leaving home headlamp function, the company's Multimedia Commander with separate volume dial, plus manual driver and front passenger seat height adjustment. A new 7-inch centre console touch-screen incorporates DAB radio, which is another brand first, and MZD Connect. Paired with a smartphone, the latter gives you internet connectivity and access to social networking.
The top-spec Sport Nav includes its own grille design; LED headlamps, daytime running lights, foglamps, and tail lamps; plus new 19-inch shiny alloy wheels. Adaptive LED headlamps (ALH) and Lane-keep Assist System (LAS) with Driver Alert feature too. Two further technologies are Advanced Blind-Spot Monitoring with Rear Cross-Traffic Alert (BSM w/RCTA) and Rear Smart City Brake Support (Rr SCBS). The last of these operates at speeds of between 2 and 5mph when reversing, automatically applying the brakes if the system detects a collision is about to happen.
Looks being such a personal thing, I best not bang on about how cool this car's appearance still is, but for something so long, the boot doesn't look like an afterthought and it holds an impressive 480 cubic litres. The big alloys fill the arches beautifully but it's just a shame that the acceleration time is a pretty ordinary 9.1 seconds for 62mph though top speed is more impressive at 134mph. It's a very quiet car on a motorway, and I suspect superb aerodynamics to be the main reason, also taking into account the excellent economy from what is a weighty car with a relatively small engine. A high sixth gear is another factor.
The 2015 Mazda6 model range is available in five grades: SE, SE Nav, SE-L, SE-L Nav and, as tested, Sport Nav. There is the choice of nine diesel and seven petrol saloon variants, and nine diesel and three petrol Tourer versions.
Future models
Since Mazda has a policy of replacing its main models every four years, the fourth generation 6 will be with us as soon as 2017, and it should use an evolution of the current model's platform. The idea of a shorter wagon might be carried over, or perhaps with the European sales success of what was a much larger third generation four-door car, the next models will be more or less the same size.
Production should again take place in Japan (Hofu 2), Russia (Sollers JV in Vladivostok) and China (FAW Mazda in Changchun). Following the success of such an engine in the CX-3, the next 6 will likely be sold in Japan with a diesel for the first time. And, depending on what happens to the price of oil in the next two years, the US importer could well bring in a compliant version of the firm's 2.2-litre diesel. Could the sedan also be made in Mexico? It's possible, especially if Hofu 2's capacity is needed for other in-demand models, but for the moment, Salamanca is for B and C segment models.
Other forthcoming vehicle changes or refreshes include successors for the seven-year old Biante/Mazda7 and decade-old MPV/Mazda8 minivans and the end of Premacy/Mazda5 production. Expect also a facelift for the Axela/Mazda3 within the next 12 months, to be followed by a new CX-7 and a successor to the ten-years old CX-9, also in 2016. After that comes a facelift for the Mazda2/Demio in 2017 and a new CX-5, then a CX-3 facelift in 2018.
The just-restyled BT-50 pick-up is due to be replaced in 2019 and should be a new body on an evolution of the current Ford T6 architecture. The MX-5 should have a mid-cycle update too in 2019. Finally, there might even be a new rotary-engined car in 2020 but don't hold your breath as the business case is, sadly for enthusiasts, far from rock solid.
The newly rebranded and restyled DS 5 is the focus of Glenn Brooks' next vehicle analysis. He will also look at what's ahead for PSA's luxury brand.