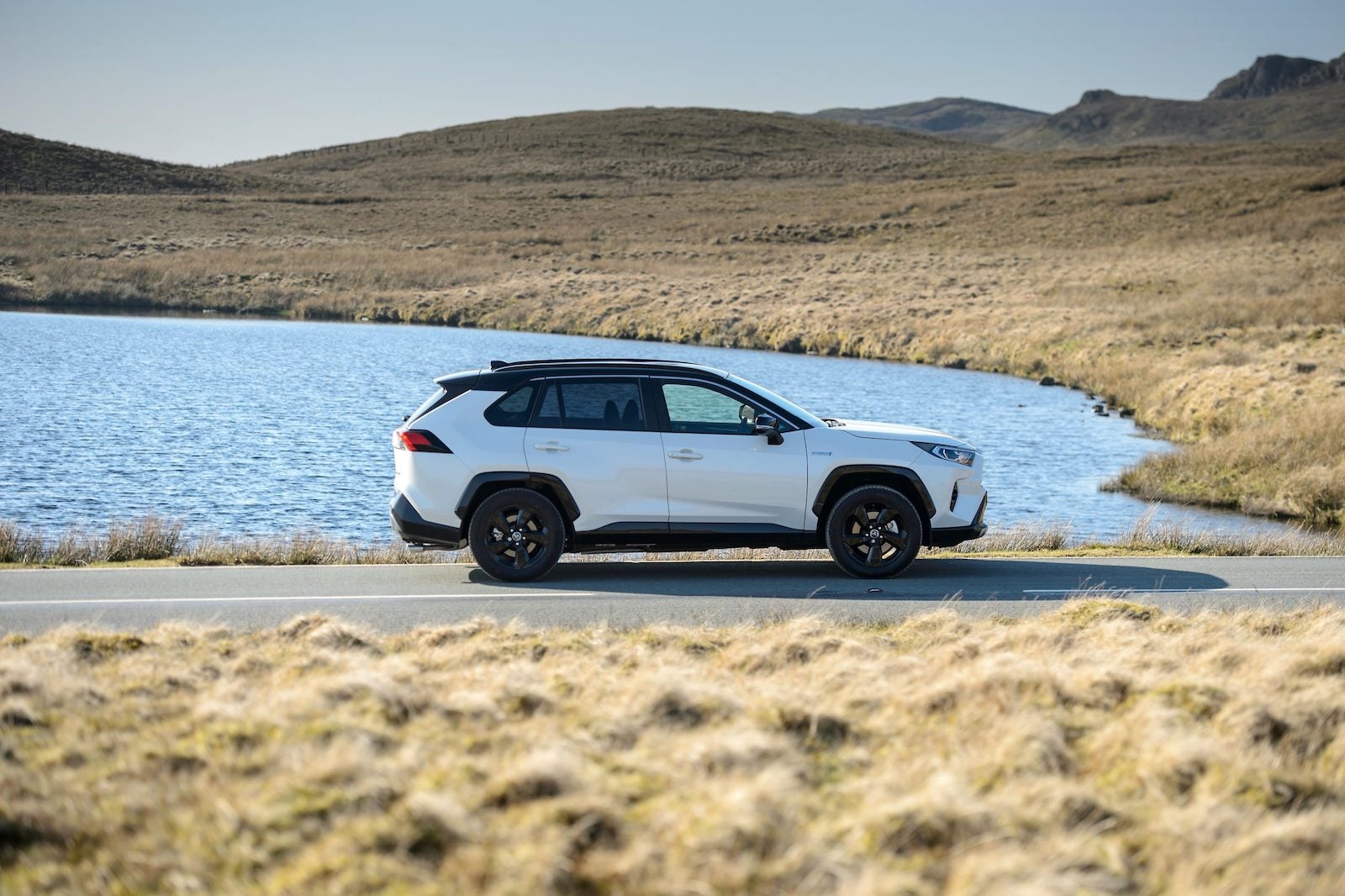 US light vehicle sales totalled 1.11 million units in September, according to LMC Automotive, a GlobalData company. Although last month delivered a robust YoY gain of 10.4%, it was one of the weakest US Septembers in recent history.
September was the lowest monthly total since February, but the fact that September 2021 was an extremely weak month – it was the lowest point of 2021 in both volume and selling rate terms – enabled September 2022 to register YoY sales growth of 10.4%.
LMC said one factor in a relatively sedate close to the month may have been Hurricane Ian, which certainly suppressed sales activity in the southeast.
The September selling rate increased to 13.4 mn units/year, from 13.2 mn units/year in August. The daily selling rate was around 44,200 units/selling day, up from 43,500 units/selling day in August. According to preliminary estimates, retail sales totalled around 955,000 units, compared to 963,000 units in August. This represented the fifth straight month in which retail sales had been under 1 million units, but retail still accounted for around 86% of the total market.
Although last month delivered a robust YoY gain, it was one of the weakest Septembers in recent history. Other than 2021, the previous September that saw lower volumes than last month was in 2011. For Q3 as a whole, sales were up by 2.1% YoY, the first quarter to post YoY growth since Q2 2021. For the first nine months of 2022, however, sales were down by 12.3% YoY.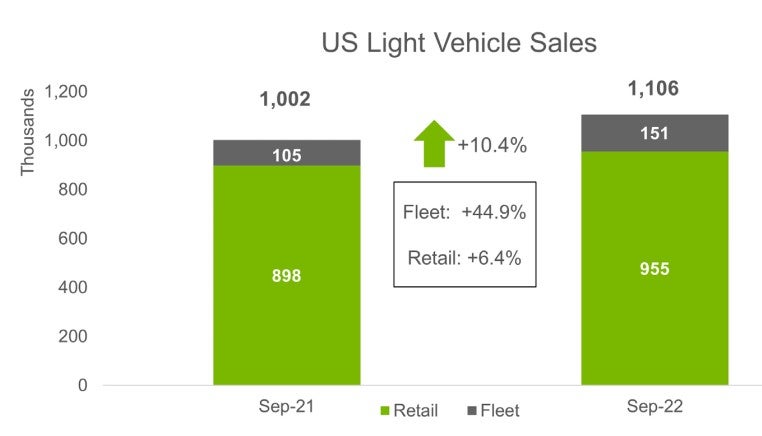 David Oakley, Manager, Americas Vehicle Sales Forecasts, LMC Automotive, said: "Despite some improvement in inventory overall, it was still a subdued September for the US Light Vehicle market. Prices remain close to record highs, while ever-increasing interest rates are pushing up financing costs. All things considered, the month could have been worse, as Hurricane Ian trimmed some sales in the Southeast during the crucial final week of the month, pushing some volume into the coming months.
"There is still a good deal of variation in performance across OEMs. Of the larger manufacturers, General Motors had the strongest YoY growth, at 68.2%, but that is compared to a very poor September in 2021. Still, GM led the market with a 17.1% market share, around 8,000 units ahead of Toyota Group . On the other hand, Honda Group continued to struggle, with sales down by 17.1% YoY, and BMW Group saw a 16.2% YoY fall.
"Compact Non-Premium SUV was again the leading segment, with an 18.2% market share, up by 3.5 pp, YoY. Midsize NonPremium SUV was second in the rankings, on 16.7%, down by 1.5 pp, YoY. Meanwhile, Large Pickups accounted for only 13.0% of the market in September, down by 1.7 pp YoY, as Ford's Pickups in particular struggled during the month. Pickups still outsold Cars in September, but only by around 2k units".
Market forecast cut
September ended the third quarter on a relativity weak note and the auto market exhibited an inability to break out of the volume slump amidst an ongoing, but somewhat improving, supply constraint backdrop. LMC has trimmed the outlook for 2022 by 75,000 units, dropping the forecast to 13.7 million units, a decline of 8% from 2021. LMC maintains that risk continues to be elevated, centered on affordability concerns and low levels of vehicle inventory. The cloudy outlook for 2023 has been cut by another 100,000 units to 15.3 million units, an increase of 11% from 2022. Volume risk has been increased significantly to nearly 900,000 units, which would put the lower band of the forecast at 14.4 million units for next year.
Vehicle inventory remains well below pre-pandemic levels, but LMC says it is seeing more stability in North American production volume and the outlook for the remainder of year. Disruption is still expected to be substantial at 1.85 million units but that is improved slightly from last month. The full-year forecast was increased by 20,000 units and remains at 14.4 million units, up 11% from 2021.
Jeff Schuster, President, Americas Operations and Global Vehicle Forecasts, LMC Automotive said: "As the auto market enters the 4th quarter, many of the issues that have plagued volume for much of the last two and a half years remain factors impacting the balance of 2022 and 2023. Recession risk and supply recovery uncertainty continue to have a grip on the industry. As the outlook for supply is expected to improve, a weakening of demand may keep the recovery from any substantial increase before 2024. There simply are too many layered variables to provide any level of clarity in the near-term."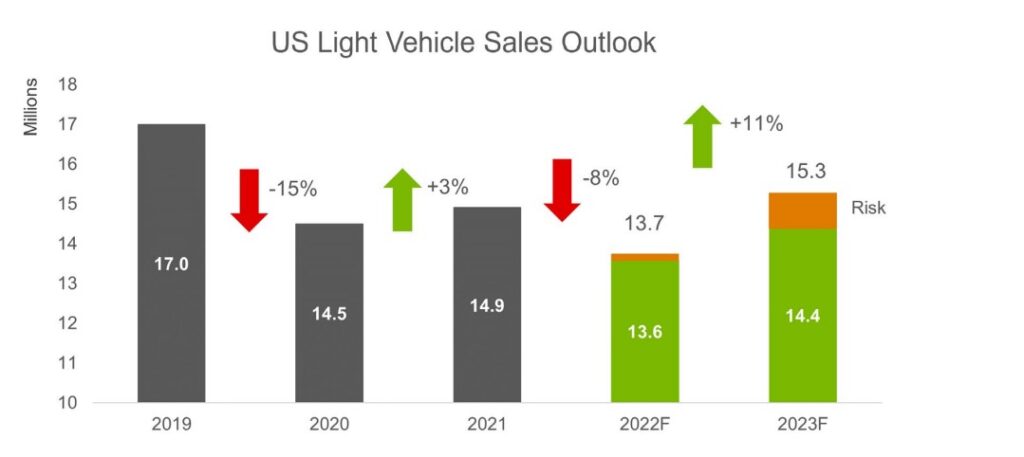 Summary
Compared to September 2021, LV sales were up by 10.4% YoY. However, the month's results were flattered by an extremely low base, as September 2021 was the weakest month of last year. Volumes totaled 1.11 million units, the lowest since February 2022, but there were only 25 selling days in the month, compared to 26 in each of the preceding three months.
General Motors topped the sales rankings by OEM, and Toyota was the bestselling brand, as had been the case in August. However, for the first time since March, the Toyota RAV4 was the number one selling Light Vehicle, while the Toyota Camry finished ahead of the Ford F-150 in the race for second place. Trucks accounted for 80% of sales in September.
Global outlook – China led the recovery in global light-vehicle sales in August, pushing the selling rate to 91.4 million units and topping July by more than one million units. Sales volume was up 14% year over year to 6.7 million units but remained 9% below the pre-pandemic August average. China's sales increased 34% but strong growth was also seen across the ASEAN market, which increased 59%. India also had a strong month and was up 27%. Both North America (up 3%) and Western Europe (up 1%) reversed the declines from a year ago thanks to some inventory relief. The global outlook for 2022 has been tempered by 200,000 units to 81.8 million as weaker demand in Europe pulls back some of the gains in China. Volume is expected up just 0.2% from 2021.