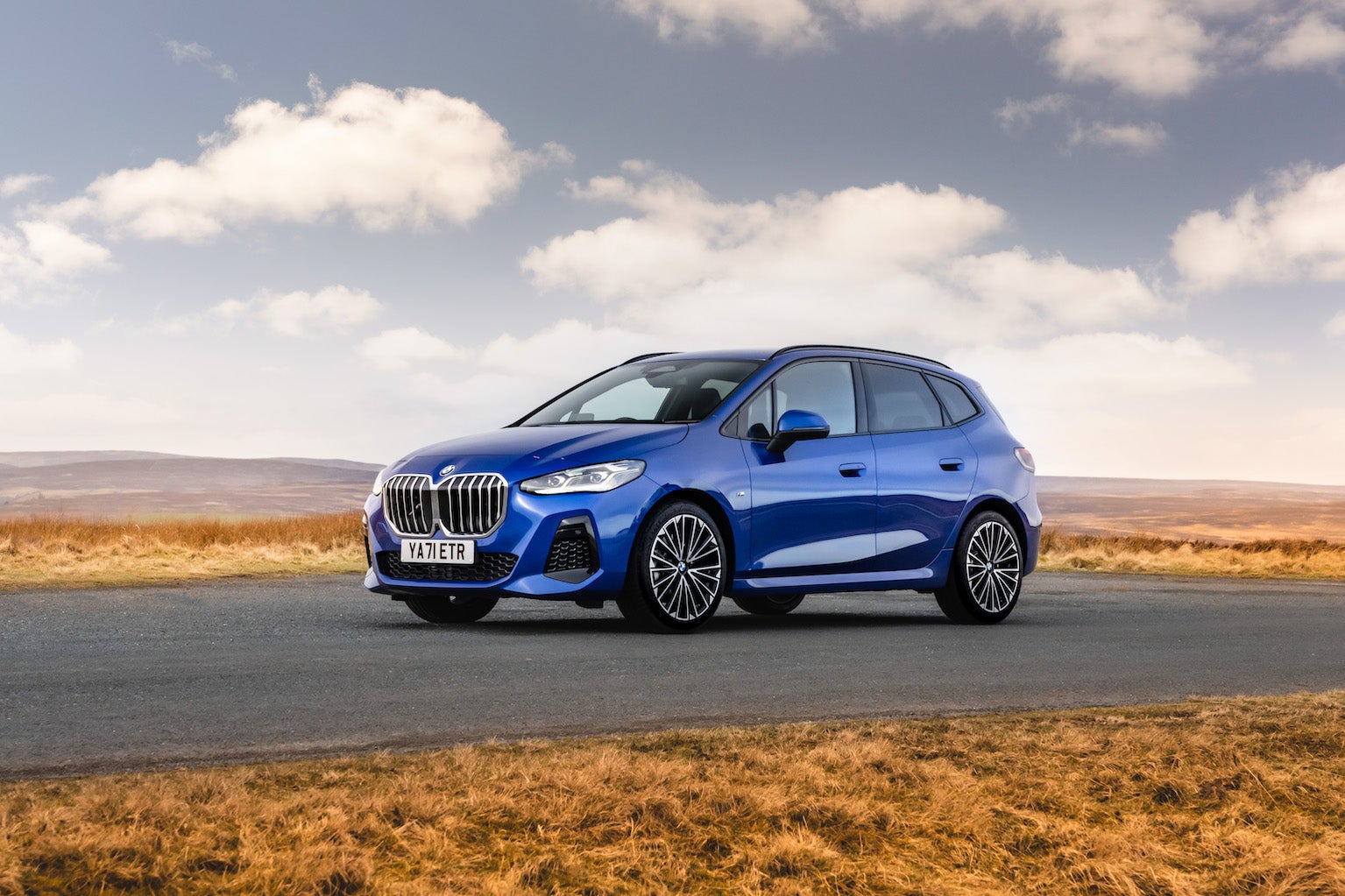 It's second generation time for BMW's people carrier and there are big changes, including the merging of two predecessors into one.
F45 and F46, respectively the 4,352 and 4,556 mm long former Active Tourer and Gran Tourer, are replaced by U06. This takes the name of the former but gains length (now 4,386 mm) and a new platform while being built at the same German factory. Chinese production at Tiexi Plant 1 should follow later in 2022 (the old model was popular in the PRC).
The Golf-sized MPV
The front end of the new 2 Series Active Tourer won't be loved by everyone, not will the finish of certain interior parts. Whether that will affect sales remains to be seen. Overall, this fresh take on a Golf-sized MPV cements the brand's place in niches where modest volume is offset by high margins.
Due to the single body, price positioning and segment shrinkage in Europe, it's unlikely that U06 will match the more than 400,000 examples of F45 and F46 which BMW built between 2014/2015 and 2021.
Group architectures
The premium pricing and far from aggressive production targets also brought us the F44 2 Series Gran Coupé. This now two-year old sedan, like the new U06, has the Group's FAAR WE ('far-vay') as its basis.
Frontantriebsarchitektur Weiterentwicklung (Front-wheel drive architecture further development) will be similarly employed for the soon to be revealed third generation X1 and X2. These SUVs, with respective internal codes of U11 and U10, are also classified by BMW as Untere Klasse models.
A quick word on BMW AG's vehicle building blocks. Mini's UKL1 and UKL2 are on the way out – the old Active Tourer and Gran Tourer used the second of these – and future models are expected to also be FAAR WE cars. We also shouldn't forget about Great Wall Motor's ME platform which will be adapted for certain future electric Minis.
Larger BMWs, be they PHEV, EV or ICE models, employ or will employ either CLAR WE or the Group's Flex matrix modules. These in turn will be supplanted by Neue Klasse, the first model for that platform being due in 2025 and likely to be NK1, an electric sedan.
Why no electric 2AT?
For the moment, there are no electric variants of the new Active Tourer but the platform is certainly compatible with that option. Instead, plug-in hybrids are coming. To be added in the third quarter, initial specifications for the first three versions are noted thus:
225e, 180 kW (245 PS) 1,499 cc three-cylinder turbo, front-wheel drive, transmission TBC, 14.9 kWh battery, up to 80 km in EV mode (WLTP)
225e xDrive, 180 kW (245 PS) 1,499 cc three-cylinder turbo, all-wheel drive, transmission TBC, 14.9 kWh battery, up to 80 km in EV mode (WLTP)
230e xDrive, 240 kW (326 PS) 1,499 cc three-cylinder turbo, all-wheel drive, transmission TBC, 14.9 kWh battery, up to 80 km in EV mode (WLTP)
BMW says the motor is integrated in a housing which also contains the power electronics and transmission. In AWD variants, the electric drive unit sends torque to the back axle while the engine acts on the front wheels.
Those combined outputs are 150 PS plus another 176 from the motor for the 230e and 136 plus 109 PS for the 225e.
Maximum charging capacity is up from 3.7 kW to 7.4 kW, meaning that a full charge can be delivered in around two and a half hours, or just under eight via a conventional household socket.
ICE before PHEV
While the PHEVs won't come until later in 2022, U06 has just been launched Europe-wide in four forms, the least powerful one being excluded from the UK market:
218i, 100 kW (136 PS) & 230 Nm 1,499 cc three-cylinder turbo, seven-speed Steptronic dual-clutch transmission
218d, 110 kW (150 PS) & 360 Nm 1995 cc four-cylinder turbo, seven-speed Steptronic DCT
220i, 125 kW (170 PS) & 280 Nm [115 kW (156 PS) 1,499 cc three-cylinder turbo plus a 14 kW (19 PS) & 55 Nm electric drive system], seven-speed Steptronic DCT
223i, 160 kW (218 PS) & 360 Nm [150 kW (204 PS) 1,998 cc four-cylinder turbo plus a 14 kW (19 PS) & 55 Nm electric drive system], seven-speed Steptronic DCT
There were several choices available on this week's media preview and I sampled the 223i M Sport. It's certainly fairly rapid for a people carrier and while I quite like that massive new grille, it does tend to dominate the frontal looks. U06 also needs to have big wheels and tyres otherwise the arches appear a bit empty. Seventeen inch rims are standard but I prefer the eighteen inchers.
Sport, Luxury or M Sport
Proportions are good and in mid-spec Luxury trim, there are some especially beautiful wheels. There's no base model grade in the UK, our least expensive examples being called Sport, with M Sport the name of the top-spec. That also gets you the M Adaptive suspension package.
It's not a terribly light vehicle this, and that combined with a decent 2,670 mm wheelbase helps smooth out the bumps on any poorly maintained roads. In spite of it being an MPV, this is also clearly a BMW, insomuch as the steering is perfectly weighted being just the right side of firm.
About the only disappointment is a brittle feel for certain chrome-look interior trim parts, such as the speaker grilles, embellishment on the steering wheel and some disappointing door handles. That's a particular shame when the doors themselves have such a great weight to them and open handily wide, with the outside handles looking and feeling really good.
Big boot but only five seats
Those with a liking for virtual controls on a touchscreen will prefer the new model over the old and also most other BMWs come to think of it. There are at least quite a few real controls on the steering wheel and thankfully, fast defrost or rapid A/C cooling are taken care of via the safety of physical buttons.
There's oodles of room for everybody and I did wonder if the deep spaces for feet in the back will also be there for the plug-in hybrids. Probably not, that being where the battery is positioned. Also, boot volume will be less overall, as the lower compartment is missing in PHEVs. Nonetheless, a minimum of 406 litres is promised for the petrol-electric versions.
I'm not sure that the high pricing will necessarily put off too many people who are keen on this new alternative to the Benz B-Class, the power of both these brands' badges being so strong.
UK to take 12 per cent of volume
Of total anticipated volume from Leipzig-made cars, 12 per cent should go to a section of Asia (mainly Japan, Taiwan and South Korea), with the remaining 88 per cent remaining in Europe and of that 12 per cent to be accounted for by the UK. We do seem like our BMWs here. And there's a lot to like about this new one.
The new BMW 2 Series Active Tourer is available to order now.