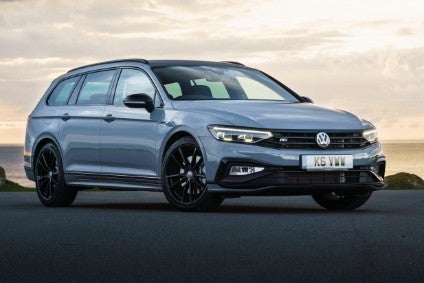 Volkswagen is claiming an 80 per cent reduction in NOX levels for the Passat's latest 2.0-litre diesel engine compared to the previous 2.0 TDI. The key is what it calls 'twin dosing', the double injection of AdBlue into the exhaust system.
The Volkswagen Group switched all of its diesel engines to SCR (selective catalytic reduction) exhaust gas treatment systems in 2018. Then in 2019, it began to phase in twin dosing, a system whereby the Adblue is injected selectively upstream of two SCR catalytic converters which are arranged in series. The Passat 2.0 TDI Evo was the first to gain the new engine, in 110kW (150PS) and 500Nm (368 lb-ft) form. And while most other Passat engines meet the norms of Euro 6d Temp, this one is already compliant with Euro 6d emission standard.
As Volkswagen notes, waste gases which exit the engine are in excess of 500°C but with the twin dosing system, the exhaust in the second catalytic converter can be as much as 100°C lower due to the additional distance from the engine. The twin dosing process therefore takes a second shot at cleaning up emissions of nitrogen oxide (NOx). And while the latest diesels tend to put out less C02 than petrol engines thanks to a more efficient combustion progress, the fact that more air is used, means that nitrogen is reacting with oxygen during combustion, thereby forming all those nitrogen oxides.
Ammonia is injected as an aqueous reducing agent (AdBlue) to attack the unwanted NOx, and this happens via a dosing module into the exhaust gas upstream of an SCR catalytic converter. As the dose is introduced, the AdBlue evaporates and the reducing agent is split, combining with steam to form ammonia. Then within the catalytic converter, NH3, which is the ammonia, reacts with the NOx via a special coating, the result being nitrogen (N2), which is harmless, and water.
Volkswagen claims that crucially, the new 2.0-litre engine is especially good at keeping its emissions low just after a cold start, something which once plagued most diesels as the smell and visible smoke would demonstrate. Sure enough, the car I drove for a week proved that, and just about every start was in especially chilly conditions. The 2.0 TDI Evo is also relatively free of the typical diesel clatter and from inside the car, a lot of people who drive older diesels would likely believe this is a petrol engine.
The Passat came to me in R-Line Edition trim, which means a lot of black-out treatment (grille, window surrounds, roof rail, side skirts, fog light surrounds) and that went well with high-gloss Moonstone Grey paint and Titan Black leather upholstery. It's not cheap, but it looks genuinely expensive and for what's supposed to be a family estate, fast.
Volkswagen quotes the top speed as 150mph and 0-62mph in 6.7 seconds, so the looks don't deceive. All-wheel drive comes standard, as well it might with all that torque, and the seven-speed DSG is nearly impossible to fault: Volkswagen has clearly worked hard on its dual clutch transmissions and the latest ones are greatly improved over the sometimes shunty ones from a few years back.
The 'Dynamic Chassis Control' settings give the drive a choice of Sport, Comfort, Normal and Individual suspension tune. I found Sport to be the best although others might prefer Comfort, but there's a touch too much body sway for my liking. And even driven without too much of an eye on maximum economy, I still saw 37.5mpg, which is a little bit better than the official Combined average. Someone who does most of their miles on motorways would easily better that.
Although it's a pricey proposition, the Passat Estate 240PS TDI Evo R-Line has a lot to recommend it, the new engine greatly enhancing this more than five-year old car.
The sales picture
Enduring a tough 2019, the Passat fell to seventh in the UK's D segment. The C-Class, with 27,420 sales, was top dog and below it came 3 Series, Octavia, A4, Model 3, Insignia and only then, with 8,074 deliveries (-35 per cent) do we find the VW saloon and estate.
To be fair to Volkswagen, there were complications for a lot of last year with supply. Much of that centred on the GTE. Production of this PHEV ceased (temporarily) ahead of the 1 September 2018 deadline for compliance with the norms of WLTP. This was because under the new testing regime, the GTE lost its CO2 rating of below 50g/km so the tax breaks it formerly qualified for in Germany no longer applied.
Volkswagen revealed an updated powertrain for the Passat GTE at last year's Geneva motor show. This also meant that the car slipped beneath the 50g/km threshold once more. The plug-in hybrid system now has a larger 13kWh lithium-ion battery, allowing a claimed range of up to 55km (WLTP) or up to 70km under NEDC norms. The engine's output is 160kW (218PS) and as with the 2.0 TDI Evo, this unit is already compliant with Euro 6d which won't be enforced until 2021.
As VW didn't begin taking orders for the facelifted GTE until August with LHD markets first, it's no wonder that 2019 was such a bad year for Passat deliveries in Britain: the PHEV had become a major part of the model's volume in this market.
Across Europe, the picture has begun to brighten, and dramatically so in Germany, where Passat sales shot up by 72 per cent in January, to 6,529 after ending the year down by 15 per cent to 59,322. That surge put the car in third position and made the top three an all-VW affair with the Tiguan in second behind the constant number one, the Golf (as at time of writing, sales by model for February had not been announced).
When will we see a new Passat?
Europe's Passat should be replaced in late 2022, with the next Magotan (China's model) to follow in 2023. Emden in Lower Saxony makes the existing model but Volkswagen told the media in November 2018 that the future Passat (for European countries) will be manufactured in the Czech Republic at Skoda's Kvasiny plant. The same factory will also produce Skoda's next Superb and Kodiaq but the SEAT Karoq and Ateca will no longer be built there. There could even be a fully electric model, if that's what the ID. Vizzion and ID. Space Vizzion hinted at, although the Arteon and its soon to be launched estate derivative might instead be replaced by EVs based on those concepts.
In as-tested form, the MY'20 Passat estate R-Line Edition 240PS 2.0 TDI Evo 4MOTION costs GBP43,895. Top speed is 150mph, 0-62mph takes 6.7 seconds and C02 is 156g/km. WLTP Combined consumption is 37.1mpg.