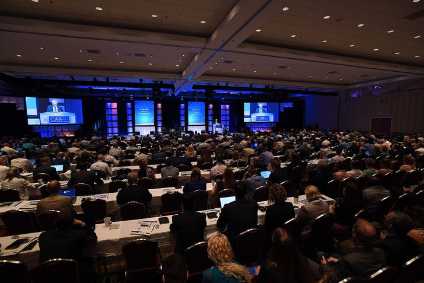 Quiet reflection for Marchionne
There's considerable consternation in the auto industry presently, but that concern is divided into two camps. On the one hand, there are those in the here and now anxious about whether total industry volume in the US next year will be 18m or 17.8m. On the other, there are those more concerned about the future and whether CASE (connected, autonomous, shared and electrified) or ACES (to put it another way) will fundamentally challenge the industry's business model. A model that's been built up over the last 100 years or so.
The differences in approach were there for all to see at the CAR Management Briefing Seminars held in Traverse City, Michigan last week. The seminars kicked off with a period of reflective silence for the late Sergio Marchionne, an executive you suspect would firmly be in the first camp, with Marchionne having made his mark conserving capital expenditure and waiting to see the way the wind was blowing before deciding to invest (his 2015 investor day presentation 'Confessions of a Capital Junkie' is well worth another read).
The business model that has served the industry so well basically goes – make, sell to an individual, service, repeat. If you're doing this persistently in the short term those couple of hundred thousand unit differences in an industry's outlook make all the difference. Depending on your portfolio you're either the darling of Wall Street or a pariah. It's the model everyone understands or as one executive put it in an aside, "This business is all about making money, right? Nobody's got any clarity on any of that other stuff."
In the future, the simple linear supply chain (as set out above) will evolve and is evolving already.
The case for CASE
The schedule at the MBS was heavy on CASE content and we heard from a variety of speakers on the subject.
Millennials are a generation that have grown up with technology and are thus willing to give up control to technology and won't be particularly bothered about owning or leasing a car.
Audi of America's Director for Connected Vehicles, Anupam Malhotra, outlined clearly the drivers for CASE. Foremost among the drivers are demographic change. Currently 15% of consumers are millennials and this will rise to 25% by 2025. As Malhotra pointed out, "Millennials are a generation that have grown up with technology and are thus willing to give up control to technology and won't be particularly bothered about owning or leasing a car." Malhotra then set out clearly to demonstrate the short and long-term impact of the CASE megatrends and what follows is how he sees each level of CASE in terms of when and its level of impact:
Connected – happening now and low disruption (works with the vehicle sales model of today). Although it's happening now, connected is not yet finished. Next will be increased personalisation from data measuring the behaviour of the vehicle and its occupants. V2X and 5G introduction will be the enablers for this development, just as connectivity is, and will be, a foundation for autonomous, shared and electrification.
Shared – high disruption and long-term, as don't have to own vehicles and won't need retail if the way people access mobility changed.
Electrification – near-term and high-disruption. A higher volume of electrified vehicles is needed to meet regulatory demands (note: presentation was before the Trump administration rollback of 2025 regulations…) than is demanded by the consumer. However, battery technology is getting to the point where mass adoption will be possible. Additionally, the charging infrastructure – read petrol stations – will not need to be as widespread as it is for ICE vehicles as electrified vehicles will be charged at home or work 80% of the time.
Autonomous – long-term, L5 autonomous is 10-15 years away and high disruption
Given the positioning of the drivers Malhotra sees the order of adoption bringing a reordering of the acronym to CESA as he sees Level 5 autonomy being dependent on 'shared' being fully up and running. Once it is, it will allow fleet specification – and thus with lower-cost interior materials – L5 vehicles to roll out.
RJ Scaringe, CEO of electric and autonomous vehicle start-up Rivian, gave an answer to those naysayers wanting clarity on CASE. In his speech he stated, "It's easy to get into a position of giving a false precision for what's going to happen in 2040. It's impossible to predict precisely. Automotive's in a similar position to the internet in 1991. Back in 1991 we could have identified a couple of core vectors for change: how we communicate and how we buy goods and services. Nothing more. Today for auto we can see three vectors: how we power vehicles; how we consume miles and autonomy." Scaringe also made his case by stating that the vehicles of today are based on the average use case – picking up children from school, holidays, going to the shops etc – and it's a bit like wearing jeans all the time whatever the occasion. He argued that we'll move away from the bell curve distribution of average cars to a point over several decades where we'll see a bifurcation (the bell curve will be inverted) so that at one end we'll see commoditised miles and at the other end aspirational miles, with Rivian estimating that 75% of miles will fall in to the commoditised space.
It's difficult to see a sustainable business case purely on the assets that will have to be deployed to make mobility seamless
But…demand is very lumpy
For this author there is undoubtedly truth in the three vectors for change identified. However, it's difficult to see a sustainable business case purely on the assets that will have to be deployed to make mobility seamless. It's often put that vehicles are only utilised for 4-5% of the time and that shared and autonomous will take care of increasing the utilisation of our vehicles. But the individual consumer's use of vehicles is lumpy – typically occurring around rush-hour in large cities. The likes of Uber and Lyft significantly contribute to congestion around rush hour in cities like New York a succession of studies have shown.
To make mobility seamless and immediate around peak demand times calls for an asset base that will surely suffer from excess capacity outside of peak demand hours. Also, it must be said that jeans are so popular because they can be dressed up or dressed down for almost any occasion! What's more, similar thinking to that of RJ Scaringe was part of the reasoning behind the smart fortwo's development – our cars on average carry only 1.7 people per journey – so two-seat cars are the future. Err, not quite. Given smart's struggles over the years it would seem that we consumers quite like a bit of redundancy built into our vehicles.
Time will be money like never before
In another session, Danny Stillion, executive design director of Ideo, an international design house, pointed out that the fundamental design of vehicles will have to change in the future. This is because it's expected that fleets will become the primary purchasers of vehicles in the future. Quicker ingress and egress of vehicles will be necessary as time becomes money. Changeover time will emerge as a key performance indicator and resultingly dictate that seat materials will no longer be black. This change will reduce the chances of people leaving their black smartphones on the seats of their robotaxis of the future.
300m lines of code in an autonomous vehicle will mean about 180,000 bugs and some 15,000 security vulnerabilities
Cyber security threats are looming large
Another note of caution for CASE was sounded by Ami Dotan, CEO of Karamba Security, although his company does claim to have the solution to the cyber security issues that will become more prevalent in the CASE world. Dotan pointed out that an autonomous car will have some 300m lines of code compared with 15m in a Boeing 787, 10m in a midsize car or 100m in a connected car. He estimates that with 300m lines of code there will be something like 180,000 bugs in the code with about 15,000 of those being security vulnerabilities. This brings immense risks to the security of drivers, passengers and pedestrians alike as hackers will look for every point of entry – be it WiFi, cellular, USB or OBD plug – that they can find.
Dotan highlighted the work of Tencent's Keen Security which has hacked run tests on Fiat Chrysler, Audi, BMW, Tesla and Volkswagen vehicles recently and has used this leverage to sign strategic agreements with the car companies. The BMW security breach was judged the most troubling as it involved compromising the gateway controller – something designed to stop the ECUs for body control, powertrain, infotainment etc from talking to each other and potentially compromising each other. Typically, the infotainment system has been a weak point in cyber security and acted as the entry point for attacks on powertrain and chassis control ECUs. The problem, as Karamba Security sees it, is that the OEMs assume all the liability in the event of these cyber attacks, but rely on Tier 1 and Tier 2 suppliers for the software, which is written with code that follows industry best practices that are easily exploited by hackers. Karamba's solution is their CarWall. CarWall prevents attacks by automatically sealing ECUs and car networks, according to factory settings, so only legitimate operations are allowed and false positives are eliminated in the system.
A CHIP off the old block
The naysayers in attendance were reminded of the coming reality by Venkat Sumantran, chairman of Celeris Technologies and former CEO of Tata Motors, when he used a quote by George Bernard Shaw to remind us of the cost of progress, "Science never solves a problem without creating ten more." In the case for CASE he pointed out that dense urbanisation is preferable environmentally, as a dense city like New York has a smaller environmental footprint than an urban sprawl like Los Angeles. With dense urbanisation set to increase as we progress through the 21st century the application of CASE can only help sustainability and improve economic performance. Not only that, but our current mobility, with its attendant air quality issues, accident rates, traffic and congestion, costs society about 6-10% of its GDP per annum.
Additionally, quoting figures from Certify, which looks at business expense claim trends in the US, Sumantran showed that ride hailing has increased by 63% over the past four years while rental car expense claims have fallen by 32%. So, the mobility market has a clear need to shift and is beginning to shift. Sumantran described the car industry's response as 'inadequate' highlighting that only a 'wheel-to-wheel' approach is taken for carbon emissions with little regard for source energy. Further, the average vehicle commands a footprint of 110 square feet which is a real estate value of between US$200,000-500,000 and that forces cities to allocate expensive urban real estate to roads. As illustration, Dallas allocates 40% of its land to roads, while Tokyo only allocates 15%. To address the coming needs Celeris has developed what it calls its CHIP architecture – Connected, Heterogeneous, Intelligent and Personalised – with heterogeneity being the whitespace that new mobility solutions can fill between personally-owned vehicles at one extreme and publicly-owned transport like Routemaster buses at the other. Much like the presentation from Ideo, Celeris sees that autonomous vehicles are going to be pod-like, with easy ingress and egress, similar in profile to the robotaxis already presented by the likes of VW, Daimler and Toyota.
It's still the economy stupid…
However, while it's important to have an eye on CASE for the future, the here and now remains as important, if not more so, for the industry executives gathered at MBS last week. The session dealing with the short- and mid-term sales and production outlook for the North American industry – as presented by IHS Markit, Automotive Forecast Solutions and the OESA – was the most heavily attended session of the week. With the popularity of such a session, the industry was essentially saying that it cares more about material differences to the short- and medium-term bottom line than it does to the possible position in 10-20 years' time.
Sergio would have approved.