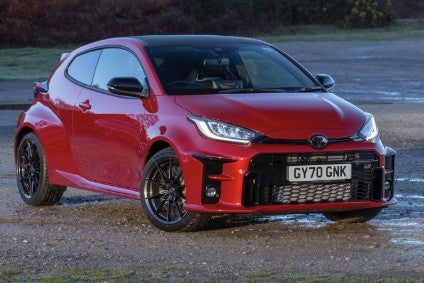 If Akio Toyoda wasn't running TMC , would a project to create a tiny hatchback on a bespoke platform and price it at GBP30,000+ have been approved? Of course not. Thank goodness that a man with petrol in his veins made this superlative supermini happen.
To those who don't know what it is, the bulging bits here and there, plus a sub-four metres length conspire to make the Gazoo Racing Yaris appear a tad comical. Like someone who's been hitting the weights hard but certain muscles are expanding out of proportion. From the side, the back blistered-to-the-max wheel-arches are terrific, while the proportions of the three-door shell make you wonder why there's no such body for any other Yaris variant.
This is a car that any owner will take a while to get used to, at least when it comes to how it looks. Even after a week I still kept eyeing it up, admiring so many of the complex details. Not having been keen on the endless angles typically found inside so many Toyota and Lexus models of recent years, here is a TMC vehicle which is an equally busy riot of clashing shapes on the outside. Somehow it all works. Perfectly. Alluringly.
I do need to mention one issue with the interior but first, let me list all the great stuff as there's lots of that. The front seats are exactly what you want, the steering wheel is perfect and there's even a most welcome handbrake instead of a switch. The big screen is placed exactly where you want it, there's lot of room in all directions up front (it's a bit on the cosy side for anyone in the back) and everything looks long lasting.
After all that good news it's such a shame that Toyota didn't specify some PVC soft-skin dashboard and door coverings. What's there instead not only looks and feels wrong in something costing thirty thousand pounds, it's also all a bit 2000s rather than 2020s. That's really all I can come up with to list as things that some owners won't be thrilled about though.
Less is more
Eliminating excess mass was clearly a priority, as the test car's 1,280 kg kerb weight attests. You can tell that even before you turn the key just by glancing at the spec sheet. Sure, 261 DIN hp (195 kW) and 360 Nm are big-ish numbers for a little hatchback yet the zero to 62 mph time of 5.5 seconds doesn't convey just how alive the car feels.
In the allegedly good old days, yes, hot hatchbacks weighed a lot less than this new Toyota but I for one want to leave my memories of the likes of the Peugeot 205 GTI in the past. Sub-1,000 kg kerb weight meant there was no need for a turbocharger or its ancilliaries, but there was no air conditioning compressor either, nor thick glass and carpets. Infinitely superior crash worthiness should also be mentioned.
Lift the false floor of the boot to see if there's a spare tyre – something I do with all press cars (unless I know it has run-flats) – and in the GR Yaris instead you find a huge battery. That won't be light either but it's needed to fire G16E-GTS, the 1.6-litre three-cylinder turbo and power things such as heated seats which no Peugeot or other hot hatchback of distant memory ever had. It's also worth pausing to consider the touchscreens, climate control, electrically demisting and folding mirrors, airbags, big tyres and other things we expect in all cars now. All of these things add weight. At least in this car, its maker has gone to great lengths to get the distribution right, helping with overall balance.
Circuit Pack
In the UK, the car can be ordered in either standard form or with what TGB calls a Convenience Pack or a Circuit Pack. All three have 18-inch wheels, LED lights, 'Ultrasuede' upholstery with contrasting red stitching, an eight-inch touchscreen and bi-zonal climate control.
The first of the two option bundles brings a JBL audio system, SatNav, parking sensors, blind-spot monitoring and rear cross-traffic alert, a head-up display and cinema-style ambient lighting. Go for the Circuit Pack and your car will have some great looking ten-spoke BBS rims, red-painted brake callipers, firmer suspension plus front and rear Torsen LSDs. You cannot specify both packs.
Dynamics
Some of the best news about the GR Yaris is that Toyota hasn't allowed such a sensational car to be ruined by the overly enthusiastic stay-in-lane electronic monitoring systems which afflict so many otherwise potentially great vehicles. In this one, the usual two bits of tech are called Lane Departure Alert and Lane Trace Assist. It's the second of the two which can cause annoyance, particularly when you turn it off but that directive is ignored when the car is next started. Not once during the seven wonderful days with the Yaris were there were any instances of irritation by either Lda or Lta . They worked beautifully with none of that horrible electronic tugging of the steering wheel.
The driver gets to choose which of three four-wheel drive settings best suit the conditions and their own preference. This is done via a dial that's conveniently positioned ahead of the gear lever. If you leave it in Normal, the front/rear torque distribution is 60:40 but turning it to SPORT alters the bias to 30:70 in favour of the rear axle. More extreme is Track, which changes the split to 50:50 and that's intended for circuits or perhaps a favourite road.
The steering system has exactly the right amount of feel, kick-back is never an issue and torque steer is not something you even think about. Those large and sticky tyres plus the Torsen differentials are inevitably a big part of what makes the Circuit Pack worth the extra money over the base version.
It's hard not to fall for this new Yaris, even if in reality it should arguably have its own model name as so few things are shared between the GR and the five-door cars. Even the platform is unique, combining elements of the larger GA-C with the basic GA-B which is used for Toyota's smaller cars. It's a true mini-exotic and well worth the money.
Pricing for the Gazoo Racing Yaris is as follows: Base (GBP29,995), Convenience Pack (GBP32,175) and Circuit Pack (GBP33,495). Each has a CO2 average of 186 g/km.