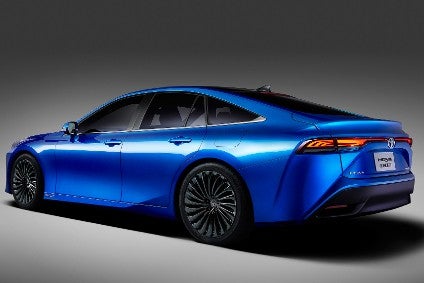 Operating income of 506 billion yen in the first half of fiscal 2021 was "the result of steady efforts", Toyota Motor Corporation told us on 6 November. This extraordinary news comes after strong performances by the Toyota brand in almost all regions, especially China, the US and Japan. The company simply has an uncanny genius for envisaging what models will make the most money and that includes not going too heavily into EVs.
Compared to similarly sized Volkswagen, TMC is almost a sceptic when it comes to electric cars. The company has no particular bias against them, it's more than there has been almost a quarter of century's investment in hybrids and these are highly profitable. EVs are coming in ever greater numbers though; it's just that some of them are part of JVs and most electric Toyotas will be available mostly in markets where legislation demands so or buyers seem keen to embrace them.
There hasn't been much in the way of PHEVs although that's changing, while the Toyota brand remains an innovator in hydrogen fuel cells, the soon to be launched second generation Mirai already winning much praise for its advances in both technology and looks. That also proves that TMC is yet to decide which of many different approaches to propulsion systems will be the big winner in a decade's time. Instead, bets have been placed on everything, and unlike most other large OEMs, this firm has the money to do that.
Toyota's vast range of models never seems to contract, as even when some disappear there are always fresh entries in big segments as well as trials of niche vehicles that might go mainstream, which is how the likes of the Prius and long before it the RAV4 and even the original Camry started out. So what's coming next?
Crossovers and SUVs
A special SUV for India was revealed in August and went on sale during September. There are small changes over the Vitara Brezza to create the Urban Cruiser, mostly tweaks at the front end, while the same 1.5-litre petrol engine features. The second generation is due in mid-2023, timed to arrive just after the next Brezza.
The 4Active model name is speculative but it's a fact that Toyota will build an SUV at a plant currently under construction in Alabama. This factory, a joint venture with Mazda, will make 150,000 units a year of two related models, one for each brand. Initially, a Mazda SUV and the Toyota Corolla were due to be built there but plans changed and in July 2019 Toyota told the media that its model would be a new SUV.
Some sources believe that the 4Active (codename: 890B) could be the same vehicle as the Toyota Corolla Cross and that it may use that name too. There is also a hybrid version of that model. See PLDB for all the facts and figures.
The sixth generation 4Runner is likely to be revealed at the 2022 State Fair of Texas and enter production soon after. It should be new for North America's 2023 model year. Like the current model, the next one will have a ladder frame chassis and be related to the Tundra pick-up.
The next Land Cruiser 200 is due to arrive in around a year's time. It should once more have a body-on-frame construction, while the replacement for the Lexus LX 570 will be closely related, just as the current models are. Some sources have claimed that TMC's 8GR-FXS, a 3.5-litre biturbo hybrid V6, will be available and in combination with a CVT: the powertrain from the Lexus LS 500h and LC 500h. The life cycle for the 700B Land Cruiser should be 10-12 years depending on what happens with emissions legislation in key markets.
The replacement for the even larger Sequoia, meanwhile, has been delayed and delayed again. In January, Toyota stated that it would end production of this model at Princeton, Indiana "by 2022". The same media release noted that (a new generation of) the Sequoia would be manufactured at San Antonio, Texas from 2022. That adds to speculation that the next edition of this big SUV will use the same frame platform as the Tundra pick-up. San Antonio loses build of the Tacoma to make way for the 660B Sequoia. The 5.7-litre V8 will likely be dropped and replaced by a hybrid biturbo V6.
Details of architectures for Toyota's global range of crossovers and SUVs can be found in PLDB: see link at the end of this report.
Minivans & MPVs
In March 2019, Suzuki and Toyota told the media about their plans to extend worldwide collaboration. As part of this extended agreement, the Ertiga (and Ciaz) would be supplied to Toyota's Indian market dealers. This model and the Ciaz derivative will also be exported to certain African countries, as will Toyota-badged versions of the Suzuki Vitara Brezza and Suzuki Baleno. The model name of the Suzuki Ertiga-based MPV isn't yet known. Production, which should last for three years (due to the Suzuki having been in existence since 2018) is expected to start by mid-2021.
As Toyota is said to be planning a major shake-up of its domestic market sales channels, the days of twinned models such as the Noah and Voxy are said to be numbered.
A new Noah as well as a new Noah Hybrid will reportedly be launched by year-end but there won't be a Voxy or Voxy Hybrid: the Voxy name will become a trim level. The new model should be in production at Toyota Auto Body's Fujimatsu plant for seven years with a mid-life restyle in mid-2024.
Revealed to the media online in May, North America's latest Sienna is new for the 2021 model year. The outgoing model is also fairly successful as an import to China (500-1,000 per month) so Toyota will likely export the new one there from its giant Princeton (Alabama) factory. US market deliveries started this month. There should be a facelift for the 2026 model year and a decade-long production life.
Generation Four was designed at CALTY's Newport Beach studio in California as well as at Ann Arbor in Michigan. The Avalon, Tacoma and Tundra were, are or will be the other models which are developed at the Toyota Technical Center in Ann Arbor. Toyota says the front end of this big vehicle is supposed to look like a Shinkansen, which it does.
Unlike previous Siennas, the new one comes solely in gasoline-electric form although it is not called Sienna Hybrid. The powertrain consists of a 2.5-litre four-cylinder engine and two motors, total power being stated as 243 hp. Front-wheel drive is standard and all-wheel drive optional. Drivers can tow up to a claimed 3,500 pounds.
The first examples of a Sienna Robo Taxi are due to be delivered to Uber for testing in 2021 as per an August 2018 agreement and media announcement. TMC stated at the same time that it would spend US$500m buying shares in Uber.
Electric
A tiny 'City EV' is now only months away. This electric two-door, two-seat hatchback will be for Japan only, at least at first. Toyota announced it and revealed an image of a prototype at an event in June 2019. Four months later, a prototype was displayed at the Tokyo motor show. Expect a seven-year life cycle.
In July last year, TMC told the media that it had "signed an agreement for the joint development of battery electric vehicles (BEVs)" with BYD Company Ltd. The firms will "jointly develop sedans and low-floor SUVs as well as the onboard batteries for these vehicles and others with the aim to launch them in the Chinese market under the Toyota brand in the first half of the 2020s". Further details of the specifics of the TMC-BYD EVs are awaited but given when the accord was announced, the first one should be released in 2022 or 2023.
Toyota and Subaru issued a media statement in June 2019 which announced the development of a dedicated architecture for battery-electric vehicles. This platform will be for models in the C, D, and E segments. The first of these will be all-wheel drive Compact SUVs for the Subaru and Toyota brands. Some believe the TMC will badge its model Evoltis. Neither company has confirmed any other models for this architecture, although Toyota at least might well create a Camry-sized electric car should the company see possible demand for such a vehicle.
Toyota revealed clay mock-ups of six proposed EVs at a presentation called Aiming to Popularize BEVs on 7 June 2019. The half dozen were a large SUV, a medium SUV, a medium crossover, a medium minivan, a medium sedan and a compact.
Hydrogen
Some had suspected that the second generation Mirai may have been previewed by the Fine-Comfort Ride, a concept which debuted at the 2017 Tokyo motor show. This vehicle was claimed to have a range of up to 1,000 km from its supply of hydrogen, with refuelling taking just three minutes. Instead, the car was heralded by a 4,975 mm long concept of that name which premiered at the 2019 Tokyo show. This supremely elegant car was "…scheduled for launch starting in late 2020, initially in Japan, North America and Europe". The model was subsequently revealed by Toyota Motor Europe in January at a special event. Production has just started although that fact is yet to be announced.
The follow up to the Mirai would be a five-seater, Yoshikazu Tanaka, the car's chief engineer stated in a December 2019 interview (the first one had only four seats). There would also be more storage space for the hydrogen (and three tanks instead of two), allowing the range to be increased by around 30 percent to over 600 km. Another difference is rear-wheel drive with the motor mounted at the back of the car.
TMC executives have said they hope to see 30,000 units of the second generation Mirai sold over what is expected to be a production cycle that lasts until the fourth quarter of 2026.
Reports for many other manufacturers' future models are grouped in the OEM product strategy summaries section of just-auto.com.
Future platform intelligence
More detail on past, current and forthcoming models can be found in PLDB, the future vehicles database which is part of GlobalData's Automotive Intelligence Center. That includes multiple other Toyota vehicles not reported on above.
This is a first in a series of reports which highlight selected current and future models from TMC's passenger vehicle divisions. Next comes the second chapter on the Toyota brand, which will concentrate on cars and pick-ups. After that, it's Daihatsu and Perodua, with Lexus ending the series.