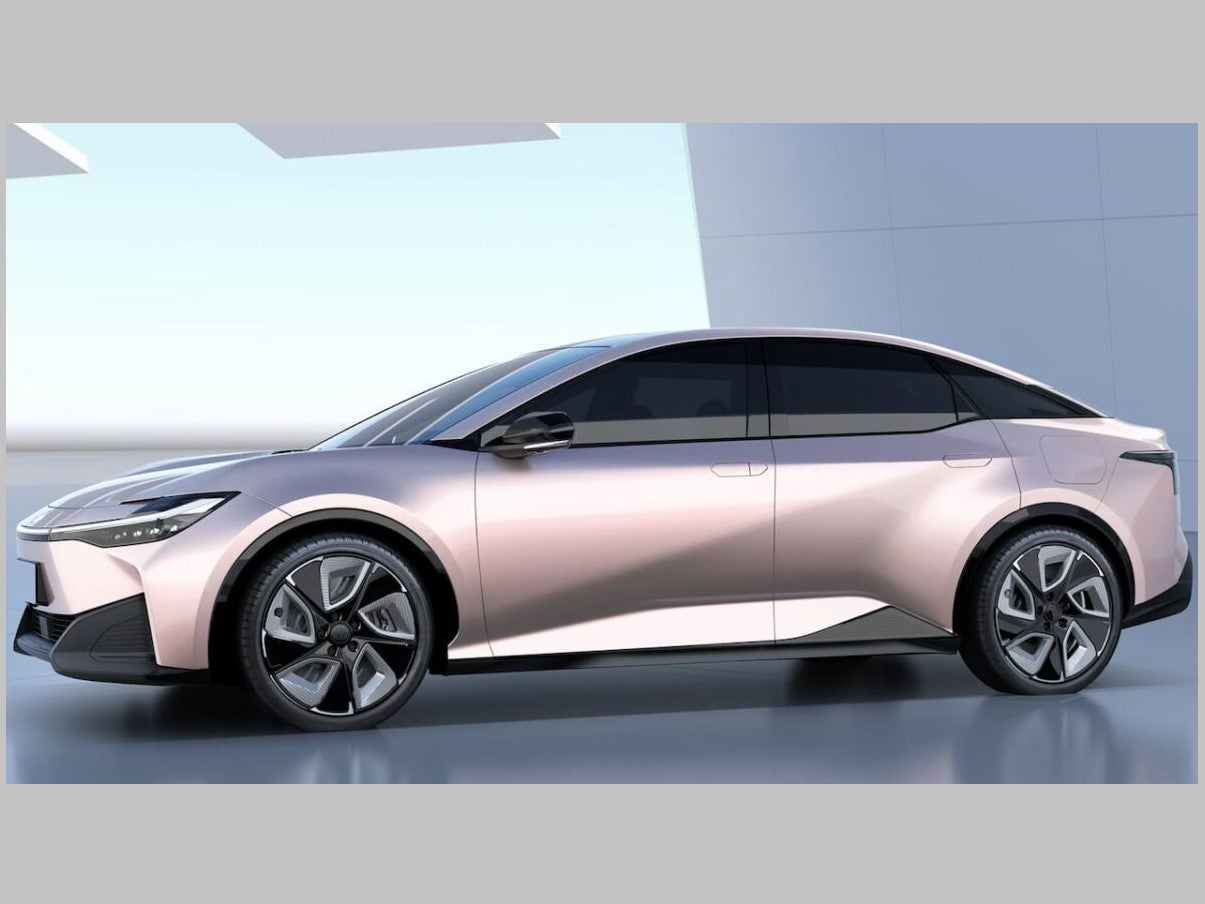 The following overview highlights certain vehicles, each of which has either recently arrived or is due to within the next few years. The life cycles of some will therefore extend into the 2030s.
Cars
Toyota Motor Thailand (TMT) was the first national division to announce a new generation of the Yaris ATIV. This 4,425 mm long sedan is mostly for lower income markets, with the previous car having been available in countries such as India, Brazil, Mexico and many others. The Yaris e name might be used for the new model in some of those markets. The platform is Daihatsu's DNGA.
The Thai-made (Gateway plant) car is powered by a naturally aspirated 1.2-litre four-cylinder engine with outputs of 69 kW and 110 Nm. The Yaris ATIV was launched there in August. A hatchback body should follow. And as for the production cycle, that should be until 2027/2028 with a facelift in 2025.
Unusually, TMC took four years to facelift the current Corolla. Announced in June, the restyle is the main news for North America's 2023 model year.
This C segment/Compact sedan, hatchback and estate series has proved to be a huge hit in both its main markets: China and the USA. Perhaps more surprisingly, it has also done very well in Europe, a hybrid powertrain being one of the reasons for that.
Toyota offers this model with gasoline, petrol-electric HEV and PHEV power and this should continue when the thirteenth generation is launched in 2026. China's GAC and FAW joint ventures will again have their own models, replacements for the Corolla and Levin.
A shadow of its former self as a model series, the current Prius has sold only modestly well. Much is therefore expected of the successor, now pushed back to March 2023 (Japan launch) from this year. We should expect a new hybrid powertrain and less divisive styling.
Might the bZ3 take the brand into the electric cars mainstream? That name isn't yet official but this sedan should be formally revealed relatively soon. A public premiere at the recently delayed Tianjin motor show is one possibility with AutoGuangzhou, which also takes place in November, the other likely event.
Just over four years ago, TMC told the media that it had "signed an agreement for the joint development of battery electric vehicles" with BYD Company Ltd. The firms would "jointly develop sedans and low-floor SUVs as well as the onboard batteries for these vehicles and others with the aim to launch them in the Chinese market under the Toyota brand in the first half of the 2020s".
The bZ3 should become the first model for the TMC-BYD venture. We have in fact already seen the car, at least in concept form, as the bZ SDN (see image).
Incredibly well established in the size segment above the 4.7 m long bZ3 is the Camry. This, the second of Toyota's two best selling cars, is up for replacement commencing in 2023. Generation ten should again be one of brand's best sellers in China and the USA. The architecture will be an evolution of the existing model's GA-K.
The future Camry will likely be announced first in Japan during July next year with production launching soon after at the Tsutsumi factory. Georgetown plants 1 and 2, the main components of TMMK's giant manufacturing complex in Kentucky, will then switch to making the new car soon after. Facilities in China (Guangzhou), Thailand, Vietnam and India will follow.
MPVs
Highly popular in both Japan and Indonesia, the second generation Sienta has just been replaced by a fresh model. Toyota Motor East's Miyagi Ohira plant is again the lead manufacturing facility. TMMIN's Plant 2 at the Karawang complex should soon start making generation three as well.
Whereas the old model was based on NBC 2, the new Sienta is yet another vehicle for TMC's mega-volume GA-B (architecture). This five- or seven-seat MPV has sliding rear side doors and is 4,300 mm long.
Buyers in Japan may select either of these powertrains:
1.5-litre 'Dynamic Force' engine (TMC code: M15A-FKS), standard CVT, front-wheel drive
1.5-litre Hybrid (M15A-FXE), front-wheel drive or all-wheel drive via a rear e-axle
After a facelift in the fourth quarter of 2025, a replacement can be expected in 2029.
Although not sold in North America or Europe, the Voxy and Noah are important models for Japan and elsewhere in Asia.
New generations were in January, production commencing at the end of that month. Build is at TMC's own Motomachi plant as well as at Toyota Auto Body's Fujimatsu factory.
As in previous generations, the Noah and Voxy are the same vehicle with different styling details, mainly at the front. The Japanese market's Noah and Voxy S-Z, S-G and Aero model grades have a further unique front end.
All variants have sliding side doors, while those with a seven-seat layout have captain's chairs in the middle row. Eight-seaters have a 2+3-3 arrangement with a sliding middle row with a 60/40 configuration.
The 2.0-litre four-cylinder engine has the Toyota Motor Corporation code of M20A-FKS and the transmission is a CVT with ten pre-programmed virtual ratios. The series hybrid Noah and Voxy are meanwhile powered by a 1.8-litre four-cylinder engine (2ZR-FXE).
The replacements, which will likely be electric, should be in production in early 2029.
A new generation Innova Crysta is expected for the Indian market during the fourth quarter. Equivalents for this MPV's other main markets – Indonesia, the Philippines, Vietnam and Taiwan – should follow during 2023. In certain countries, the name should again be Innova or Kijang Innova although Innova Zenix is also rumoured.
The name of India's model will change as TKML, the local JV, will continue building the previous generation for some years yet. The new badging is expected to be Innova Hycross with a hybrid powertrain standard.
Pick-ups
The Tacoma will soon turn eight, so its replacement ought to arrive for North America's 2024 model year. Especially as GM and Ford have rival pick-ups landing fresh for CY23.
Toyota Motor Sales USA's dealers will be eagerly awaiting the new Tacoma. We know what the platform is (TNGA-F platform), along with the model code (920B). Electric power – at least as an option – should be added later in the 2020s.
Called simply 'Pickup EV', a preview of such a vehicle was part of a December 2021 multi-vehicle presentation in Japan. It looked to be around the same size as the Hilux and Tacoma but how it fits in with these ICE-powered models was not explained. Nor was there any tentative launch date or mention of potential main markets.
Probably, the electric pick-up will be a special vehicle for certain countries only and likely won't arrive until at least 2025/2026.
Will there also be a BEV Tundra? Toyota appears to be falling behind Ford, Chevy-GMC and Ram by not having even hinted at a future electric version of its full-sized truck.
The current generation Tundra was new for the 2022 model year and will likely have a decade-long cycle, so a plug-in powertrain could surely be added perhaps around 2025. For now, there are just two engine choices: a 3,445 cc turbocharged V6 or a hybrid version.
The second instalment of this two-part series on selected future Toyota brand models – to be published later this week – will examine crossovers and SUVs. After that comes a look at Perodua and Daihatsu, followed by an overview of forthcoming Lexus vehicles.