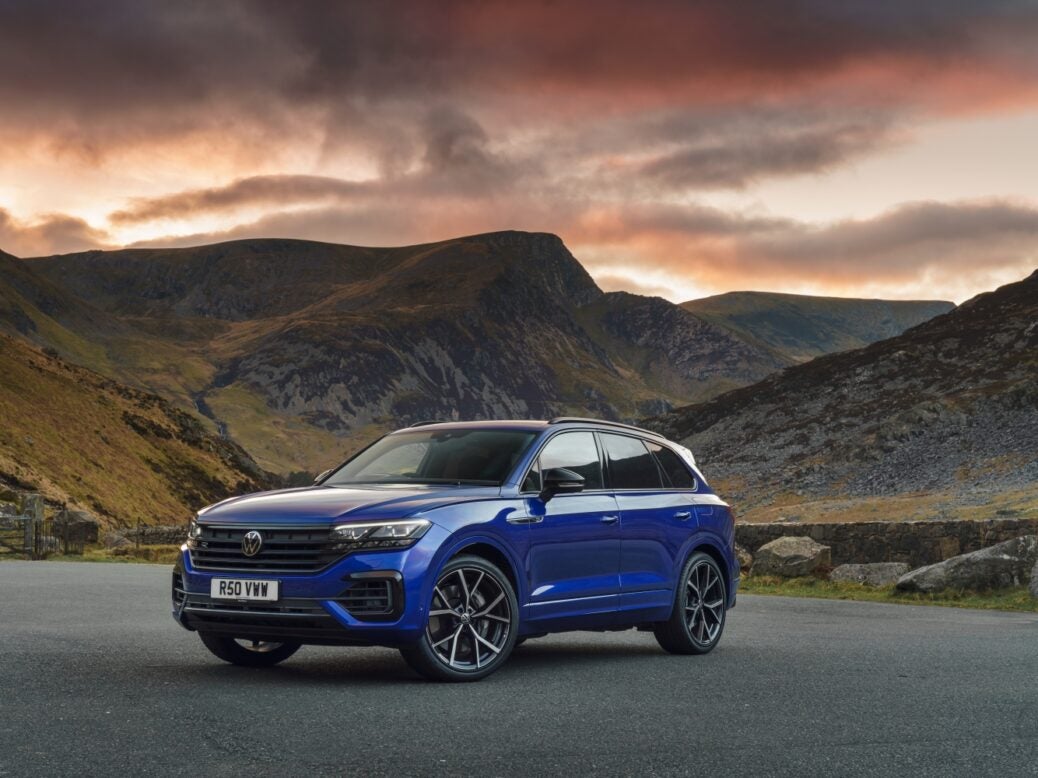 While North America and China have their own locally made versions of another, even bigger SUV, in Europe the Touareg sits at the top of the VW tree. And now it can be ordered with a high-output plug-in hybrid petrol powertrain. Is the R worth the GBP70,000+ price?
As there isn't an e-Touareg, anyone who's keen on the largest VW SUV – and this one's 4.9 m from end to end – has a couple of choices if they're looking for electrification options. The fastest, priciest alternative is the new R, and this will be joined by a less powerful (280 kW/381 PS) eHybrid.
Keeping company with the likes of the Cayenne
Let's stick with the R, as that's the one I've been driving and very much enjoying. The first hurdle to get over is the idea that any Volkswagen can cost GBP71,290 (plus options). Instead, it has to be assessed against Range Rover Sports, BMW X5s, Audi Q7s and other such sports-luxury models. Does it measure up? The answer is in many ways yes, and remember that even the lowliest Touareg is more or less a premium model anyway.
The R looks a bit mean, notably when the standard air springs are on a low setting, showing off a tasty set of 22-inch wheels which are called Estoril.
No Touareg badge anywhere
As with other Volkswagen R models such as the Golf or Arteon, the model name is missing from the tailgate. Instead there's just a big silver on black VW logo and two others badges: an R directly below it and eHybrid on the driver's side. The single letter also appears on the grille and front wings/doors.
Other special touches include the bumpers as well as black louvres for both grilles, the same colour being used for the trim strips on the side windows and mirror casings. There are dark, large diameter tail pipes too plus wheel-arch extensions matched to body colour.
ID.6-like interior space
Leather is seemingly everywhere throughout the interior and there's much soft blue lighting as well as stitching in the same shade to complement the black dashboard, door panels and seat surfaces. If you had to classify it as premium or luxury I'd instead call it sports-lux. There's also way more legroom than any of up to five occupants could want, and the boot is a vast 665 litres, extending to 1,675.
Those who remember a certain earlier Touareg R will know that it possessed monster torque thanks to a 4.9-litre ten cylinder diesel engine. The new one has 'just' 700 Nm (516 lb ft) compared to the R50's 850 Nm (627 lb ft): enough to tow a Boeing 747.
Two and a half tonnes
It may be 150 Nm down on the V10 TDI from a decade and a half ago but the new petrol V6 turbo produces fewer emissions, provides better acceleration and has the all important ability to run on energy stored in a battery pack. Which is how a vehicle with so much weight (2,465 kg unladen) and power can have a CO2 average of 67 g/km.
Would you believe this new plug-in hybrid can travel in EV mode at speeds in excess of the UK's 70 mph motorway limit (up to 140 km/h or 87 mph)? Not for long of course, the maximum range being 28 miles from fully charged to depleted. The cells' capacity is 14.1 kWh and the battery is placed below the boot floor.
Most powerful VW yet
I almost forgot to mention that this isn't just the first plug-in hybrid Volkswagen R model but also the brand's most powerful production vehicle yet. It even beats the 6.0-litre W12 version of a prior shape model. And is it fast? Oh yes: 0-62 mph takes 5.1 seconds.
Another novelty is the ability to use Travel Assist at up to 250 km/h on an autobahn. Or 155 mph if you can find a private road somewhere in Britain to test the claim. Until now, no VW has had the capability of automatic longitudinal (ACC) and lateral guidance (Lane Assist) at such a speed. The steering wheel has built-in capacitive sensors so provided at least one hand is touching it, Travel Assist will keep working.
Built-in-Bratislava
Oomph comes from a 250 kW (340 PS) biturbo 2,995 cc V6 and a single motor which puts out 100 kW (136 PS), the combined power being 340 kW (462 PS). As per other MLB-Evo vehicles, the engine is longitudinally mounted.
Other SUVs with which the Touareg shares a platform include the Audis Q7 and Q8, Porsche Cayenne and Cayenne Coupe, Lamborghini Urus and Bentley Bentayga. Both Audis are produced in Slovakia as is the big VW, with Bratislava further serving as the source of the Bentley's body panels – they are sent from there to Crewe for final assembly.
Drive to both axles goes via a central Torsen differential and there is an eight-speed torque converter gearbox rather than a DCT. VW calls the ZF transmission a Tiptronic.
The era of the silent VW R begins
The first time you press the ignition button and the R makes no sound, it's a bit strange. That's presuming of course that there is some charge in the battery. If that's been fully run down, the engine will instead come to life. But with only the motor, there's a pleasing whir which is a different sound to what an ID.3 or ID.4 makes.
Volkswagen has engineered the transition between ICE and ions so well that it's in the Lexus category: no praise can be higher in my experience. Unless you've manually pressed the centre console button which controls Hybrid to EV mode or vice versa, a glance at the Power gauge is usually needed to see which form of energy is moving the vehicle forwards.
A sports car in an SUV body?
Give the throttle pedal a good push and yes, the tailpipes alert you to an engine with rising revolutions – it's just a shame that for an R model, the big V6 is a tad too quiet but that's what VW wanted. It might be almost as rapid as one but a burbling Range Rover Sport SVR this is not.
The R is nonetheless crazy-fast and thanks to the pneumatic springing and damping, beautifully soft when desired or (almost) firm enough at other times.
Any Touareg is close to being too wide for many of Britain's best roads. On the informal test routes I use, it wasn't body roll or understeer that slowed me down but the risk of crashing into potholes which can't be steered around without clipping a mirror (or worse). So the acceleration can be thrilling but caution is always the default, which is how it should be of course.
Big tank and (relatively) low fuel consumption
Yes it's very costly for a Volkswagen but aside from the issue of a residual value (and tyres), the R likely wouldn't be that expensive day to day. The tank takes 76 litres, and the software wants to keep it in EV or hybrid modes as much as possible so the result is excellent fuel consumption. For the weight and size of the vehicle that is.
Some would wonder what the point of the new R variant is. To understand why it has appeared, we must look at what the Touareg does for the brand overall. The model is never going to be a brisk seller in the European region but it does average close to 1,000 a month, Germany accounting for roughly half of that number.
As an import to China, the big VW SUV is a roaring success and its near 25,000 deliveries a year will be making serious cash for the brand, not to mention supporting the idea of Volkswagen as a marque commanding high prices as well as the more usual affordable levels. I'd expect that number to start climbing very soon as the R becomes available in the PRC. And when the country's import taxes are applied, what the new top-spec variant costs here in Britain suddenly becomes far from shocking.
Why the Touareg isn't just a vanity VW
Even if we won't ever see many examples on British roads, global volumes mean the Touareg R will be a quiet, almost secret source of strong profit. So far from being a money losing, overpriced vanity project as the Phaeton was all those years ago, this new luxury SUV is a logically clever low-risk, high-margin move by Volkswagen.
Touareg Mark 4
Assuming the latest shape model is manufactured for seven to eight years, we're still a while away from the mid-life phase, so a facelift is probably about 18 months out. And the next generation? That won't show up until perhaps 2025, which means Volkswagen probably hasn't even started working on that vehicle, aside from having likely decided that it will be electric.
The as-tested Volkswagen Touareg R costs GBP75,225. That includes three options: Lapiz Blue metallic paint & black 'Puglia' leather upholstery (GBP1,235), Head-up display (GBP1,110) and Driver's Assistance Pack Plus  (GBP885).