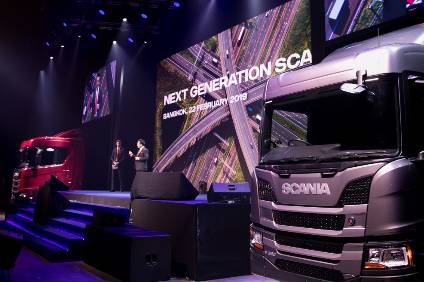 Thailand is fast becoming a major SE Asia production hub for medium and heavy commercial vehicles, with Scania the latest global manufacturer to set up a regional production and R&D centre in the country.
Truckmakers have chosen Thailand despite the fact that it has a much smaller medium and heavy truck market than neighbouring Indonesia. Last year, around 32,000 medium and heavy commercial vehicles over 4.5 tons GVW trucks were sold in the country, compared with an estimated 125,000 units in Indonesia.
In February the Swedish truckmaker became the latest to open a new manufacturing and assembly plant in the country, just east of Bangkok, to produce built-up trucks and bus chassis for markets across Asia-Pacific.
Scania also built a new R&D centre at the site, which will allow it to respond more quickly to customer requirements across the region. It has also established a regional headquarters in Bangkok to support distributors across the region.
Scania's new US$26m facility follows a much larger investment announced recently by Hino Motors. The Japanese truckmaker is investing more than US$100m to build a regional medium and heavy truck production hub serving markets across Asia-Pacific. Construction is set to start this July, with operations scheduled to start up in 2021.
The new integrated production and R&D facility, which will be Hino's largest outside Japan, is expected to produce 30,000 medium and heavy trucks per year from 2024 – once it begins exporting to markets in the region.
In 2017 Isuzu Motors also announced it is doubling production capacity of built-up medium and heavy trucks at its Chachoengsao plant in Thailand to 26,000 units, as it looks to export built-up trucks to markets across South-east Asia, including to Indonesia, Philippines and Vietnam.
Other major global truck manufacturers have also selected Thailand as a main production hub for the region, including Volvo Trucks, which completed a THB2bn (US$65m) investment in 2013. The plant has an annual production capacity of 20,000 heavy trucks per year, mostly allocated to the company's Japanese subsidiary UD Trucks – making it its first production centre outside Japan.
Last September Mitsubishi-Fuso announced it is investing US$15m in a new medium and heavy truck assembly plant in Thailand, mainly to replace local assembly that was carried out by its previous Thai distributor Tan Chong International. The new plant will have an annual CKD assembly capacity of 4,000 units a year, mainly for the local market, with operations scheduled to start in the fourth quarter of 2019.
Mitsubishi-Fuso already has a significant production local in Indonesia, where it is the market leader, while parent company Daimler has major international truck manufacturing operations in India. Similarly, MAN chose India as a major production hub for its trucks, but like Fuso it may be tempted to set up a CKD operation in Thailand to grow its local market presence.
Thailand's high import tariffs make it essential for vehicle manufacturers to assemble trucks locally.
Thailand's high import tariffs make it essential for vehicle manufacturers to assemble trucks locally, or at least within the ASEAN region, to generate sales of any significance in this market – more so than in Indonesia where tariffs are much lower.
Indonesia also lags behind its northern neighbour in terms of emissions regulations and fuel quality, which in practical terms ring-fences it as a market and industry by reducing its export potential. Petrol-powered light passenger vehicle standards only recently moved up to Euro 4, but the low quality of diesel fuel that is widely available in the country means that medium and heavy commercial vehicles are still stuck with Euro 2 or 3 standards for the time being. Thailand recently agreed with its local oil refiners to lift diesel fuel standards to Euro 5 by 2023 from Euro 4 at present.
Vehicle manufacturers also favour Thailand for its perceived economic policy stability and ease of business, regardless of the political environment which over the last few decades has been far from stable.
Thailand is also seen as a gateway to other markets in Indochina such as Laos, Myanmar, Burma and Vietnam, and growing road haulage between these countries is seen as a significant potential for future sales growth for the industry.
Scania Group Thailand's purchasing director, Karl-Johan Valegård, also praised Thailand's "well established component supplier base, which he says makes it easier to find competent personnel with the right experience". He added that Thailand has a network of suppliers with global standards which makes it easier to source components locally.