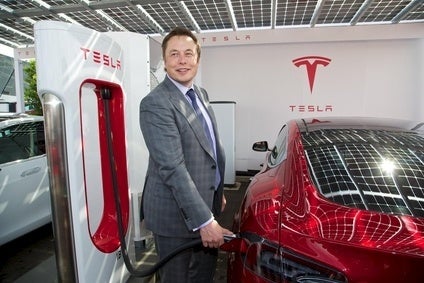 Musk shocks industry with news Tesla will open its Supercharger network to other EVs Tesla is the current de facto leader in the premium electric vehicle space, but its desirable range of vehicles isn't the only reason EV buyers are flocking to the brand.
Among the many jewels in the company's crown is its Supercharger network – more than 2,500 charging stations across the world, with more than 1,000 operating in the US. Until now, these locations were for exclusive use by Tesla vehicles and were a key selling point, making cross-country trips viable.
However, a shock announcement from CEO Elon Musk on Twitter now means that the network will open up to EVs from other brands. Replying to user @TesLatino, Musk wrote: "We created our own connector, as there was no standard back then & Tesla was only maker of long range electric cars…That said, we're making our Supercharger network open to other EVs later this year". While the rollout will start with the US network, Musk clarified that the plan extended to "all countries".
The company's Supercharger stations tend to be built at convenient points along commonly used routes, often constructed in existing parking lots. They typically have between 8 and 12 charging points per station, with two charging points per Supercharger pillar. In the US, these use Tesla's proprietary charging connector but Superchargers in Europe and other locations use standardized CCS connectors. Tesla is currently rolling out its third iteration of Superchargers, known as V3, which can achieve charging speeds of up to 250kW, with a plan to upgrade this to 300kW in the future. Current V3 Superchargers can typically provide an 80% charge from flat in less than 30 minutes, although Tesla anticipates that most will only need to charge for 15 minutes on average.
Opening up the Supercharger network does mean Tesla is abandoning one of its most unique selling points. For years, rivals including ChargePoint, SemaConnect, Blink Charging and Electrify America attempted to ramp up their deployment to match Tesla, but limited success meant Tesla's network was the largest for a long time. There will also be logistical challenges if the Supercharger network is to allow non-Tesla models to charge there. For one, in the US, Tesla uses its own proprietary charging connector, while other brands use a range of common connectors including CCS and J1772. This means, to service other EVs, Tesla will either need to add adaptors to its US Superchargers, or reengineer the actual charging pillars with different cabling to enable them to connect with other types. This will not be an issue in Europe where Tesla vehicles and Superchargers use CCS connectors that are already common among other EV brands. Tesla has made an open-source patent pledge that, in theory, would allow other OEMs to use its US connector type but this seems unlikely considering most have already adopted CCS or other types.
Another challenge in adapting the Supercharger network for universal use will be the positioning of the pillars and cables in relation to the vehicle parking spaces. Tesla vehicles all feature a charging port in the rear quarter panel but other OEMs fit charging ports across a range of locations – this could mean that some EVs physically cannot use a Tesla Supercharger because the cable would not reach without parking the vehicle in a way that blocks other charging spots.
To further complicate matters, just because a vehicle's charge port can reach a Supercharger, and the connector type is the same, still doesn't necessarily mean it is able to charge there. Teslas have always offered impressive fast-charge speeds and Superchargers have been built to facilitate that. However, not all EVs from rival brands are able to accept those charging speeds – this could mean those cars clogging up Supercharger spots as they slowly recharge, or simply that they cannot connect at all. Obviously, this slightly diminishes the value of Tesla's Superchargers to current and potential new buyers. If other EVs can use Superchargers, then Teslas no longer have that exclusive benefit over other EV types. In addition, it could make the service less pleasant for existing Tesla owners as the Supercharger network becomes congested with more non-Tesla users.
On the other hand, the move could prove to be a smart one in the long term. The EV market is diversifying despite Tesla's already strong presence, so allowing non-Teslas opens more potential revenue streams. Tesla could preserve some exclusivity in this case by charging a higher rate for non-Tesla models, while giving its own cars a discount, for example. Plus, rival networks such as ChargePoint have now outpaced the growth of the Supercharger network – ChargePoint, for example, now has nearly 25,000 stations with more than four times the total number of outlets as Supercharger. Tesla's move means its Supercharger network will be more competitive in this space because it can now serve many more potential customers.