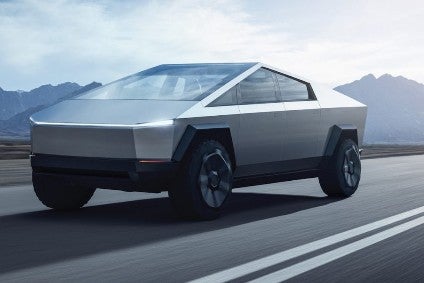 US EV giant Tesla has become somewhat notorious for overestimating its ability to deliver products on time. The company claimed you would be able to buy one of its futuristic Cybertruck pickups at the end of 2021, reckoned you would be able to use your Tesla as a robotaxi to generate passive income some time in 2020, and that Model 3 would one day be priced from $35,000 – none of these goals have been achieved so far.
However, the company's failure to meet its stated objectives and timescales has done little to dent its phenomenal success, with 2021's production and sales figures nearly doubling on 2020's performance to 930,422 and 936,172 respectively.
Nevertheless, Tesla struck an uncharacteristically cautious tone in its Q4 2021 earnings call in January 2022. Of particular note was the announcement that the company did not plan to launch any new models in 2022, driven partially by supply constraints for semiconductor components, and by the fact the company needs to focus on ramping up output at its two new assembly plants in Berlin, Germany and Austin, Texas.
This stands in bold contrast with Tesla's previous approach of launching a new concept vehicle with the promise it will be on the roads within months – a target it has repeatedly failed to hit. The company's most recent announcement may not excite investors seeking an aggressive growth strategy at the expense of all other considerations, but sets out more realistic expectations for those monitoring the company.
A driving factor behind the decision to hold back on new vehicle announcements is, as noted by Musk in the Q4 earnings call, that the company "[has] enough on [its] plate" right now. Currently, it is speeding ahead to open its two new gigafactories in Berlin and Texas. Each of these facilities is targeting capacity of 500,000 models when they open later in 2022 – Austin could come online in Q1, while Berlin is expected to come slightly after but still in the first half of the year.
The costs associated with launching production at new facilities, combined with the difficulty of ramping up those new lines to near maximum capacity means we don't expect either of Tesla's new factories to hit their max outputs in 2022. We estimate that the company may produce around 1.5 million vehicles in 2022, roughly in line with its 50% expected annual rate of production growth over the next few years. For 2023, we expect Tesla to improve utilization across its network, bringing annual production closer to 1.7 million units.
As for exciting new models to keep its fans' appetites satiated, Tesla has stated that none are coming in 2022. This means the Cybertruck, which had already been delayed to the end of 2022, is now expected to arrive in 2023. Similarly, the Semi heavy truck, which first arrived as a concept in 2017, is now expected to arrive in 2023 at the earliest. Both of these new models and, indeed, the majority of new Tesla models that launch afterwards are expected to use its new 4680-format lithium-ion battery cell. This large-format cylindrical cell was announced in 2020 but, so far, only pilot lines are in operation, and leading Tesla suppliers including Panasonic and LG Energy Solution only recently began delivering tester cells to Tesla.
While Tesla's US operation may not release any new vehicles, rumors swirl that the company's Chinese arm may be gearing up to produce a smaller EV for local sale, priced around $25,000. This affordable model could make use of BYD's blade battery cells, following a deal struck between the two OEMs in 2021. The rumored car, dubbed the Model Q, would be geared towards Chinese consumers using shorter range but more affordable LFP cell chemistry and a compact hatchback bodystyle.
We also expect the company to gradually expand access to its Full Self Driving (FSD) semi-autonomous driving system. Currently, users need to have purchased or subscribed to the system, priced at $12,000 or $99-199 per month, and ensure that their driving safety score – an internal Tesla metric that measures hard acceleration and braking events – is high enough that they qualify for the system. We expect that, as FSD becomes more advanced and can better cope with unexpected 'edge' cases, the requirement that human drivers meet a certain minimum safety score will be relaxed in 2023, allowing more potential customers to use the service. To make this possible in the face of greater NHTSA scrutiny of autonomous systems, Tesla may need to incorporate more aggressive driver monitoring to ensure they are paying attention to the road.