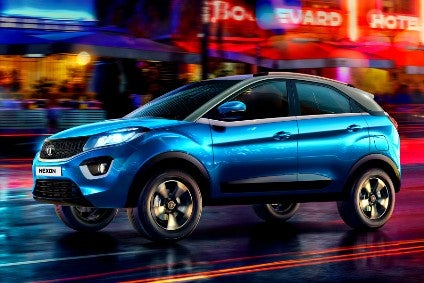 Tata Motors is now seeing the benefits of having made investments in multiple new models. Its home market has contracted in recent months yet Tata sales have expanded for three months straight, including September. This comes at just the right moment for the company, as by contrast, its JLR division is in trouble in many markets.
Much of Tata's sales improvement at home comes from commercial vehicles, yet in passenger models, things have also been on the up. In September, the brand saw a by 20 per cent gain to 64,520 cars, LCVs and CVs compared to 53,964 units during September 2017. Passenger vehicles made up 18,429 units of the total compared to 17,286 one year ago. That was a seven per cent gain. Over the first half of the Indian fiscal year (April to September), the rise was 31 per cent: 106,865 vehicle sales compared to 81,417 in H1 of fiscal 2017-2018.
B Segment
While it's yet to be officially named, Tata is planning a Suzuki Baleno rival, possibly called the 45X. The car was seen in concept form at the New Delhi Auto Expo earlier this year, where it showed off a sporty profile and a front end inspired by the recent Tiago and Tigor. When it launches, the 45X will ride on a new platform called AMP that'll underpin a number of new models.
Production is expected to take place at Tata's Sanand factory in Gujarat, starting in late 2018. Tata is said to have told suppliers it's only planning to build 2,500 models per month to begin with. It's likely to have a standard manual transmission with the option of an automated manual – a popular, cost-effective choice in the Indian market.
The Tata Tiago and Tigor are, respectively, hatchback and sedan versions of the same model. The pair were introduced in 2016 and are built at Tata's Sanand factory. The X1 platform on which both cars ride is also found under the Zest and Bolt, and is a development of the underpinnings of the Tiago's predecessor, the Indica.
Both models are expected to remain in production until 2025, with a facelift planned around 2020. Engines include a 1.2-litre gasoline three-cylinder or a 1.1-litre diesel three-cylinder. In February, Tata revealed an electric version, called the Tiago EV – and announced it had won a contract to supply 10,000 such vehicles to the Indian government.
The Tata Zest and Bolt, like the pair above, are sedan and hatchback versions of the same model. They, too, are based on the X1 platform that was first used under the older Indica hatchback. They were revealed in 2014 and are expected to remain on sale until 2024, with a facelift due in 2019.
Unusually, the Zest is built at Tata's factories in Pune and Ranjangaon, while the Bolt is only produced in Pune. Equally, while both feature a gasoline engine, only the Zest can be ordered as a diesel. This can be mated to a five-speed automated manual transmission.
C Segment
Another yet-to-be-named model is Tata's planned Suzuki Ciaz rival. While few concrete details exist, the company's intention to enter this segment goes back to the debut of a Pininfarina-developed Tata Prima concept which was revealed at the Geneva Motor Show in 2009. When it arrives, it'll be based on Tata's upcoming AMP platform – thought to be derived from JLR's D10 architecture.
The car has been delayed many times and it is now believed that it will finally appear during the first half of 2019, carrying on until 2027, with a facelift in 2023. As a more expensive model than the hatchbacks already detailed, it'll probably come with engines larger than 1.2 litres in size and is likely to be sold with an optional automated manual transmission.
SUVs
The Harrier is a mid-size five-seat SUV on the cusp of its public release – first deliveries are due in early 2019. It's based on a version of the D8 platform found under the Range Rover Evoque and the Jaguar E-Pace, and features more adventurous styling than many of Tata's recent efforts. Tata should follow up the Harrier with a seven-seat version later next year.
It's thought the Harrier will be built at the Tata-Fiat plant in Ranjangaon. This is a logical location because the Fiat-developed 2.0-litre diesel engine that'll power the Harrier is already being built there for the Jeep Compass. Tata has said that, in addition to a manual, a six-speed automatic will be offered – reportedly sourced from Hyundai.
Unlike the Harrier, the Hexa is already on sale. This six-seat three-row SUV went into production at the end of 2016 and will continue until it goes off sale in 2024 – a facelift in 2020 will keep it looking fresh. It's based on a development of the X2 platform that formed the basis for its predecessor, the Aria.
Under the bonnet sits a 2.2-litre diesel engine with between 150 and 156PS, mated to a five or six-speed manual transmission. An optional six-speed automatic sourced from Punch Powerglide is available. It's built at Tata's Pune facility.
Shortly after the Hexa went on sale, the Nexon was introduced. This is currently the smallest SUV-style vehicle Tata makes and places a greater emphasis on styling compared to some of the brand's older, more utilitarian models. Production started at the Ranjangaon factory in 2017 and will carry on until 2025, with a facelift in 2020.
Power comes from a choice of a 1.2-litre turbo gasoline engine or a 1.5-litre diesel engine. The standard transmission is a six-speed manual, although a six-speed automated manual transmission is optional. Reflecting the upmarket push seen across the Indian auto industry, premium options such as a Harman-designed sound system can be specified.
Shunning modern crossover styling, the Safari Storme's upright and boxy profile is reminiscent of older 4x4s such as the Land Rover Defender or Mercedes G-Class. This ageing model has been on sale in one form or another since 1996, with several significant updates to keep it loosely up to date.
It's built at Tata's Lucknow factory that previously built the similar Sumo Gold and Movus SUVs, and shares its X2 platform with those older models. Production should continue until mid-2019 when it's finally phased out.
After the Safari Storme's lengthy run, the currently nameless Safari replacement is due to begin in 2019. There's a strong chance it'll retain the Safari name, but will ditch the old X2 platform in favour of a version of D8, an architecture which underpins a number of Jaguar and Land Rover models. Test vehicles have been seen in India wearing Discovery Sport bodywork.
The new Safari will probably be built at the firm's Lucknow facility. JLR's Ingenium 2.0-litre diesel engine probably won't feature: instead a more affordable 2.0-litre Multijet diesel should be sourced from Fiat. Like the Harrier discussed earlier, that engine could get the option of a six-speed automatic transmission, possibly sourced from Hyundai.
Recent reports for many other manufacturers' future models are grouped in the OEM product strategy summaries section of just-auto.com.
Future product program intelligence
More detail on the past, current and forthcoming models can be found in PLDB, the future vehicles database which is part of QUBE.