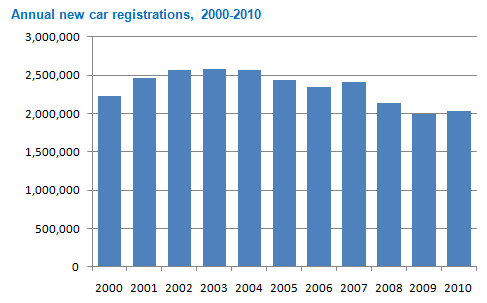 Concerns expressed in some quarters over the immediate outlook for the UK passenger car market have perhaps been overstated. Our survey of vehicle manufacturers in Britain suggests that the industry consensus is for a manageable decline this year. Dave Leggett considers the results.
The economic backdrop to selling cars in Britain right now is not the best. For one thing, the market is coming off a scrappage incentive that distorted the market in 2009 and the early part of 2010 (it expired at the end of March, 2010). With the fair wind provided by a bit of scrappage, the 2010 car market topped 2m units. But it was going into rapid decline in the second half of the year.
And the UK economy is not exactly firing on all cylinders. The post-international financial crisis economic recovery in Britain has been a shallow one. The GDP trend actually turned negative in the fourth quarter of 2010.
The economic growth outlook is currently clouded by cost-cutting actions to address a large fiscal deficit, rising unemployment and squeezes on real incomes caused by higher price inflation. Households are generally not in the mood for spending. Moreover, businesses are being squeezed by higher costs and sluggish demand also. Banks are still not lending and many small- and medium-sized enterprises are feeling financially constrained. There are therefore pressures being felt on the fleet side of the car market as some companies look to run their fleets a little longer before replacement.
The Government's Budget measures lay out the weak economic backdrop. Unemployment is expected to peak this year with economic growth now revised down from 2.1% to 1.7%. Inflation is set to remain between 4% and 5%.
Survey results
We asked car manufacturers active in the UK market for their forecast for the UK car market total in 2011. A number said that they follow the SMMT's forecasts for planning purposes or that they could not divulge their own company's view.
The SMMT's current forecast for the market in 2011 is for a decline to 1.9m units.
Perhaps unsurprisingly, several makers – including Renault and Volkswagen – were also on 1.9m units. Honda appeared to be in the pessimists' camp at 1.75m. Kia was in the optimists' at 2.1m.
A spokesman for market leader Ford noted that 'difficult trading conditions coming off the scrappage scheme and there is a hangover from this'. He also cited high fuel prices as among negative factors in the mix making people nervous about investing in new cars before adding that Ford is in a strong position on product cycles (new Focus).
BMW told us that they expect it to be a year of two halves for the UK car market – first half down, second half up.
We also contacted the professional forecasters. JD Power Automotive is on 1.88m units. IHS Automotive is on 1.95m.
All in all, there appears to be a fair degree of consensus around the view that the UK car market is facing a drop of around 5% this year to 1.9m units. Whether 1.9m units is achieved will be highly dependent on how the UK economy performs later in the year when, as BMW noted, demand ought to be coming back (on a year-on-year basis the comparison will be against the lower monthly markets of the second half of 2010).
What about 2012? That's where the consensus may be breaking down. The SMMT is going for a lift to 2m units. IHS Automotive concurs at 2.058m. However, JD Power is forecasting a further downturn to 1.755m. The path that the economy takes in the second half of the year and whether recovery momentum is strong going into 2012 will be key. But at the moment, it's a weak picture, though one that some will no doubt say could be worse. There is at least a high degree of consensus on where this year's car market is heading.
Katie Smith contributed to this report