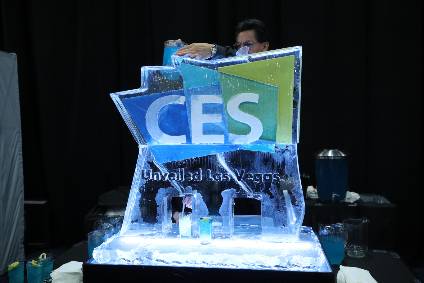 While the Consumer Electronics Show (CES) is pure tech, it has become a must-see auto show that is knee-deep in automotive technologies and ambitious concepts designed to make cars safer and drivers more connected. This year was no exception with more than 600 exhibitors displaying a vast array of self-driving technologies, aftermarket enhancements and the latest smart mobility solutions. Continuing just-auto/QUBE's series of research snapshots, this one turns a spotlight on just a handful of those exhibitors and how this translates for drivers.
Stroll into any international auto show nowadays and it doesn't take long before you'll come across an electrically-driven cube-on-wheels without a steering wheel intended to give us a glimpse of the future of transport. This year's CES had no shortage of concept cars on display, most of which are variations on the self-driving theme. For its part, Bosch created a buzz by debuting a driverless electric shuttle with 'in-built mobility services designed to make shuttles suitable for everyday use.' The German auto supplier predicts that self-driving electric shuttles will become a common sight in cities worldwide.
Another common sight in concept cars is wider and larger cockpit screens. Byton, the three-year-old electric car startup backed by Chinese investors with deep pockets, returned to the CES to reveal what it calls the "world's most intuitive automotive interface." This comprises a giant, production-ready curved screen which spans the entire width of the dashboard along with a touchscreen tablet embedded in the steering wheel of the updated M-Byte.
Continental demonstrated its solutions and key technologies for future cities around the theme "Mobility at your service. Freedom to Live." The supplier's showcase included its CUbE (Continental Urban Mobility Experience). It illustrates how a driverless vehicle could be used to stage and deploy delivery robots, taking packages to the consumer, even when they're unable to physically receive them.
Delphi Technologies used the CES to reveal its Intelligent Driving technology, which could put 'self-aware' cars on the roads by 2022-23. The system is expected to reduce fuel consumption and CO2 emissions by up to 10 per cent, increase the zero emissions range of electric and hybrid vehicles, and reduce congestion. Modern powertrains receive little information on the conditions in which they operate. Intelligent Driving harnesses available data that is already collected for convenience and safety functions, allowing the powertrain controller to plan ahead. For example, using electrical energy to save fuel going up a hill, knowing that there is an opportunity to recover that electrical energy through regenerative braking on the way back down. Similar opportunities exist where there are traffic lights, speed limit changes, stop signs, construction and curves.
Continuing the 'future of mobility' theme, Denso, along with some of the start-up companies it is backing, showcased a number of innovations. They exhibited cybersecurity applications, cloud technology connecting vehicles to outside networks, and car sharing features. Denso-backed partners included Dellfer that demonstrated a live cyberattack which can generate an instantaneous alert in the cloud and stop the attack from progressing further.
For its part, Faurecia revealed a number of innovations for a safe, comfortable and personalised onboard experience as well as solutions for zero-emissions mobility. Among the technologies highlighted were a fully integrated Cockpit of the Future in a serial production vehicle. It reflects the ability of onboard intelligence and integrated design to create a more personalised, versatile and connected experience allowing occupants, both front and rear row, to make the most of their time onboard, as the industry moves toward the holy grail of autonomous driving. The French parts supplier also showcased its Cockpit Intelligence Platform, an electronics system integrating cameras, sensors and artificial intelligence, developed in partnership with Accenture, which manages all the interior functions of the cockpit for an intuitive interaction between occupants and the vehicle.
Harman International had a big presence at CES, taking over most of the Hard Rock Hotel to display its goodies. They included updates to its connected car technologies, along with developments claimed to improve the in-car audio experience. Just over a year ago, Harman became a wholly-owned subsidiary of Samsung Electronics. Focused on connected technologies for automotive, consumer and enterprise markets, the pair have since leveraged their combined teams and resources to drive future mobility forward. They used this year's CES to reveal a variety of novel connected car solutions that support their joint mission to become the leader in connectivity and autonomous driving. We interviewed four Harman execs at CES to learn more.
The infotainment doesn't stop there. Hyundai Mobis, parts supplier to the Korean automaker Hyundai, showcased two concepts at CES. Its car interior concept transforms the windscreen into large display, streaming entertainment to the vehicle occupants when in autonomous driving mode. The other concept uses an 'Indicating Lighting Zone' to signal when an autonomous vehicle is operating in self-driving mode. The concept uses LED, digital boards, headlamp projection and sound to communicate with nearby pedestrians and vehicles during various driving scenarios. Meanwhile, Hyundai stole much of the limelight at CES with its 'walking car'.
Connected, autonomous, shared and electric (CASE) mobility solutions need sensors. Lots of them. Infineon Technologies is a global leader in the field, producing sensors for automotive applications and others. We also spoke to Infineon plus a number of others at CES about their path using LiDAR and thoughts on how the autonomous driving market could evolve, including Innoviz, Velodyne and Luxoft.
The growing field of teleoperations enables humans in remote locations to take over the controls of an autonomous vehicle (AV) when necessary, such as when lane markings are missing or an unexpected detour. Another company that caught our eye at CES is Ottopia, an Israeli technology startup focused on remote assistance for self-driving cars. Their solution uses a combination of Artificial Intelligence and old-fashioned human intelligence to work together for remote intervention. The company was founded last year by the former head of the AVs and Robotics branch of the Israeli Defense Forces, Leon Altarac, and the former head of Product Management for Microsoft's cyber-security unit, Amit Rosenzweig. They told us that this combination of AI and human remote drivers is what it will take to solve the "last mile" towards fully autonomous vehicles.
Amongst the innovations on display over on Valeo's booth was its 'invisible trailer'. The French supplier brought a little bit of magic to Vegas with its transparrent technology that makes a trailer or caravan appear invisible in the rearview mirror of the vehicle towing it. Its so-called XtraVue Trailer uses cameras positioned on the rear bumpers of both vehicles to provide a single homogeneous image to the driver. The net result of this clever innovation can help make those tricky caravan reversing manoeuvres that little bit easier.
Visteon used this year's CES to display its latest cockpit electronics platforms using Qualcomm Technologies products. New Android infotainment systems and SmartCore domain controllers use third generation Qualcomm Snapdragon automotive cockpit platforms providing immersive graphics, multimedia, computer vision and artificial intelligence (AI). SmartCore, claimed as the first cockpit domain controller to appear in a production vehicle a year ago, can independently operate several cockpit domains on one system-on-chip through a single driver interface. The platforms are designed to support higher levels of computing and intelligence needed for advanced capabilities featured in upcoming vehicles, including AI virtual assistance, natural interactions between the vehicle and driver, and contextual safety use cases. New Visteon platforms with Snapdragon are expected to launch with multiple automakers in the 2020-21 model years.
WayRay has also been busy developing solutions to bring augmented reality (AR) tech to cars. Working with Hyundai, the Swiss deep-tech startup unveiled what it claims to be the world's first holographic AR navigation system equipped in the Genesis G80. The main advantage of such tech built into the vehicle is that the stereoscopic image is displayed on the road and adjusted in accordance with the specific viewing angle of the driver, thereby delivering more accurate driving guidance.
Last but not least, ZF unveiled the latest iteration of its automotive supercomputer, the most powerful AI-capable processing system in the automotive field. The German supplier's ProAI RoboThink is the first system to run NVIDIA's Drive AutoPilot L2+ starting in 2020. ZF showcased its sensor portfolio which can more accurately detect vehicle surroundings – both inside and outside the vehicle – and thereby augmenting the safety of conventional and automated vehicles. The resulting architecture – including a new, full-range radar, solid-state LiDAR, cameras and acoustic sensors – are combined with supercomputers from the ZF ProAI product family to create a powerful sensor system.