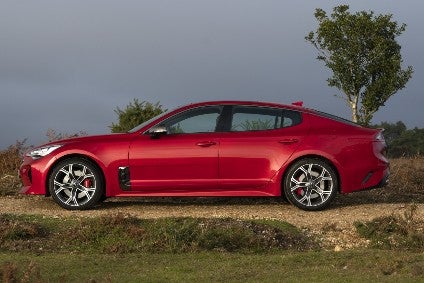 Soon to reach the mid-point of its life cycle, some would say the Kia Stinger has become something of a glorious anachronism. It's rear-wheel drive, decidedly non-digital, and in GT S form has a high-revving turbo V6 which can push it to an insane top speed.
The world has changed much since Kia Motors created this bold take on what defines a gran turismo. For a start it's a hatchback not a sedan, and size wise, the Stinger made its own segment, slotting itself in to a 4,850 mm long space above the 4,733 mm Audi A5 Sportback and below the 4,969 mm A7 Sportback. It has also outsold both of those cars in the USA and a few other markets.
This model's job was to alter the global image of its maker, to improve the way people think about the brand. It's still to early to rule on whether or not this one model has been able to do that, yet in Europe and North America, Kia is no longer considered solely a maker of cheap cars. Just look at how in-demand the new Telluride is not only in the US but the Middle East too – a region which Kia Motors America has begun exporting this big and far from inexpensive SUV to.
We don't see the Telluride in Europe but the soon to be launched new generation Sorento, which has similarly assertive styling albeit in a more appropriate size for us, will again be priced at levels which Kia wouldn't have been able to command a decade ago. Importers in the European region sell way more Sorentos than Stingers too, yet having the big hatchback in their line-ups is a lot more to do with reinforcing this idea of Kia as a near-premium brand than seeking sheer volume.
The Korean make has been doing very well in the European region at a time when so many others continue to be in deep trouble. ACEA data for the first half of 2020 show combined volume down by 38.1% in EU and EFTA markets plus the UK but Kia's numbers fell by only 33.5% to 178,392. Market share rose to 3.5% from 3.2% and the brand even overtook Hyundai (-38.5% to 174,634 in H1) and ended the first half ahead of Dacia and SEAT too.
In Britain, which has for some years been the number one market in Europe, the Sportage makes regular appearances in the top ten. As at 30 June, the popular SUV is ranked ninth overall and only 12 units behind the Toyota Yaris (but the VW Polo is just eight units below the Kia). Year to date brand registrations are 28,970 (-46%) versus the market's overall 48.5% drop, while in June Kia's fall was in step with the overall decline: 35%.
If you look at the brands which rank higher in the UK, that list is heavy with German makes and these are the ones which Kia continues to go after. That's another reason why the Stinger matters, in the same way that the presence of the expensive and strikingly styled Arteon in Volkswagen's range helps sprinkle some premium pricing magic on the Golf, Polo, T-Roc, Tiguan, T-Cross and other VWs.
Buyers have a choice of three turbocharged engines: 2.2-litre diesel, 2.0-litre petrol and – the car I tried recently – 3.3-litre biturbo. This remains the fastest Kia yet, its top speed being almost 170 mph, which, even while few owners will ever push their cars towards that number, was clearly a statement the company's engineers and branding executives wanted to make.
The GT S is not only ferociously rapid but also impeccably well behaved: you can see why this variant is popular as a police pursuit vehicle in quite a few countries. All cars for the UK are RWD-only and yes, in some conditions, having AWD would be a boon yet the added weight over the front axle wouldn't necessarily make what is an extremely well balanced car even better.
The Stinger has looks to match its performance too, and that applies equally to the interior. Here, a wing-shaped dashboard is punctuated by what Kia calls "aeronautically inspired" spoked circular air vents and an 8.0-inch diameter touchscreen. Soft leather also features and this extends onto the door trims too, the luxury feel continuing above the occupants with a suede-feel headliner.
The instrumentation is blissfully non-digital, the driver instead looking down to see two large dials with a couple of smaller gauges inset. Even just seeing a rev counter which is a needle rather than a virtual one is somehow refreshing in an era when not even BMW does that any more. The GT S also comes with a customisable head-up display. Here you can see speed, navigation instructions, audio information, cruise control and/or blind spot detection information.
About the only thing you could criticise the Stinger for would be what is somewhat less than generous headroom for those in the back seats: let's see if Kia addresses that at the time of the mid-cycle facelift. Overall though, in terms of dynamic excellence, this remains the brand's best car and a worthy flagship.
What's next for the Stinger?
A facelift is coming fairly soon, for the South Korean market at least. As well as the styling changes and a digital instrument cluster, HMG's latest 2.5-litre four-cylinder and 3.5-litre V6 Smartstream turbo series should be added, but only for certain markets, with the 3.3-litre biturbo remaining available. The 2.2-litre diesel will also be updated.
As for a second generation model, at the moment it's looking like things could go either way. Europe isn't a major market for the current model, and neither is South Korea, with only 1,396 cars delivered in the home market for the year to the end of June. The model's performance elsewhere is therefore what will sway the board of Kia Motors when the time comes to approve or strike down the project to replace the car.
The Stinger isn't offered in China, while in the USA the general trend away from cars and not much demand for hatchbacks means a Jan-Jun 2020 sales total of 6,351 units is by no means a bad result. In fact, this time last year, the tally was 6,921 so the big Kia has had a relatively good H1. Also, the fact that Volvo USA sold only 6,738 S60s during the year to 30 June puts some added perspective on the equally premium priced Stinger's relative popularity.
Should the contraction of the mid-size segment continue, by the time a theoretical Stinger 2 would be due to appear (2023/2024), Kia Motors America might be looking at only 10,000 potential sales per annum. Would that be enough? As the current model's best market, what happens in the US during the rest of this year and into next will decide the fate of any successor vehicle.
It would be a shame if this car faded away with no direct replacement yet that possibility only makes the existing model – especially as a biturbo V6 – all the more special.