SMC and Maruti Suzuki - the future models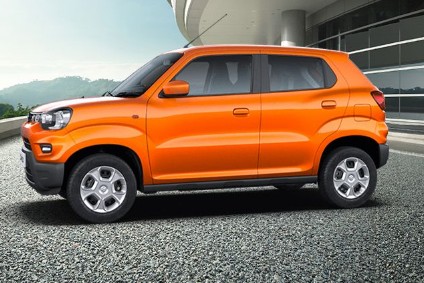 S-Presso is Maruti Sukuki's newest model
Suzuki Motor Corporation has no need to sell cars or SUVs in either of the world's two largest national markets. The company thrives without any passenger vehicle operations in the US and China, having removed itself from both countries.
Europe, Japan and other parts of Asia are where SMC does especially well. Now, with a 4.5% gain for Maruti Suzuki in October, the bottom of an Indian market down by 50% this year may have been reached back in September.
As with other Japanese firms in which Toyota Motor Corporation has been allowed to buy a minority holding, SMC welcomes the influence of the country's largest company. Just as Mazda and Daihatsu and Subaru work with TMC on win-win projects, all the while keeping a close eye on costs, so too does Suzuki.
This passionately independent medium-sized OEM looks as though it has worked out the right balance of staying as close as it needs to be to Toyota while not becoming a mere subsidiary. There are no guarantees that the policy of an ever-expanding shared vehicles alliance will work, however, and Suzuki needs to be sure that it doesn't take on too many rebadged Toyota models for the Indian and European markets. Nonetheless, it makes sound business sense to draw on TMC for low-emissions powertrains rather than spending billions developing its own. The vehicle swaps arrangement will need careful management on both sides.
The latest financials for the firm show quite a substantial drop in operating profit for the 1 April-30 September first half of fiscal 2019-2020. So while the company has not said anything about potential resultant delays to any future model programmes, that cannot be ruled out. Nonetheless, Maruti's extraordinary ability to ride out the storm might well mean that the parent company sticks to what it had planned not only for the Indian market, but possibly Japan, other parts of Asia and Europe too.
Kei
The eighth generation Alto, a five-door hatchback, was announced by Suzuki in December 2014. It went on sale immediately in Japan. The car introduced a new platform. All versions are powered by revised versions of the R06A three-cylinder petrol engine.
SMC's manufacturing division in Pakistan announced the addition of Alto production in June. This model should remain in production at Pak Suzuki's plant for some years after it is replaced in Japan. The factory is in a suburb of Karachi.
The current Spacia and Spacia Custom mini-vehicles were released in Japan, their main market, in December 2017. As was the case with the previous models, mid-life refreshes might not happen. Instead, the vehicles should have a lifecycle of just under five years. Both models are powered by a 660cc engine, as is the norm in Japan's Kei segment.
Suzuki supplies a modified Spacia to Mazda for sale in Japan as the Flair Wagon. The Spacia series was Japan's second best selling vehicle in CY2018 (152,104) behind the Honda N-Box (236,570). For details of all other Kei models, see the link to PLDB at the end of this page.
Cars
The latest WagonR sold by MSIL (Maruti Suzuki India Limited) a special model just for the sub-continent. The 3,655mm long car has a different body to the WagonR which went on sale in Japan in 2017 (that one is only 3,395mm long). India's WagonR was revealed in January. The third generation of Maruti's little five-door hatchback is based on Suzuki's Heartect platform. The body of this five-door hatchback is 145mm wider than the previous model. Both 1.0- and 1.2-litre petrol engines are available. A facelift is expected in 2022 and a successor in 2025.
The Swift is one of SMC's best sellers worldwide. The seventh generation model uses the platform that was introduced by the Baleno, as does the Dzire, which is the sedan version sold mainly in the Indian market. The five-door hatchback went on sale in the first market, Japan, in January 2017.
The Dzire is 3,995mm long and has the same 2,450mm wheelbase as the Swift. In 2018, the Dzire became India's best selling vehicle, knocking the Alto off a perch one which it had been sitting for 13 years. Deliveries numbered 265,000 cars.
Unlike the previous Swift, the latest model is not built in Hungary: cars for the European region are built at Sagara in Japan. Sales for EU and EFTA markets commenced in June 2017. MSIL's Swift took some time to reach the Indian market. It was not revealed to the public until the New Delhi auto expo in February 2018. The Thai-built Swift was announced at the same time.
In a major change, Indian build of the latest Swift takes place in Gujarat. Suzuki's first car factory in the state hit its annual capacity of 150,000 cars units during India's 2017-2018 fiscal year. It was subsequently raised to 250,000upa during fiscal 2018-19. Gujurat No.1 produces the Baleno and Swift. In April 2018, SMC told the media that it had begun exports of the Swift from Hansalpur to South Africa. Suzuki's second plant in Gujurat was opened in January this year. Gujurat No.2 also produces the Swift.
There will be a facelift for the Swift very soon, with the eighth generation model due out in 2023.
SMC and TMC announced an agreement in March 2018 which would see the two companies collaborating in the Indian market. Specifically, Suzuki would supply the Baleno and Vitara Brezza to Toyota, while Toyota would supply the Corolla to Suzuki. As Maruti's main vehicle in the 4.3-4.5m long segment is a sedan (Ciaz), it would sense for the car supplied by Toyota Kirloskar (TMC's local JV) to be a five-door hatchback. Some suggest the Liana name might return. Timings and other details can be found in PLDB (see the end of this report).
Crossovers and SUVs
The Future-S concept was a preview of the S-Presso, which is MSIL's rival for the Renault Kwid. The prototype was a world debut at the New Delhi auto expo in February 2018. The 3,565mm long production model (see image above) was announced to the media at the end of September. There is just one engine: a BS6-compliant version of Suzuki's K10B 1.0-litre, three-cylinder petrol unit. The S-Presso's life cycle should last until 2026 with a facelift in 2023.
Being 3,700mm long, the Ignis is Suzuki's second smallest non-Kei crossover. It first appeared at the Tokyo motor show four years ago. Japan was the first market, production at the Sagara plant commencing in January 2016, and sales the following month. Maruti Suzuki added production from the fourth quarter of the same year. Suzuki Europe began selling the Ignis from January 2017 and the car also went on sale in the Indian market during the same month. A replacement is 18-24 months away.
The current Vitara is now five years old. This B segment Suzuki is similar in concept to the Jeep Renegade and other small SUVs. The Vitara S premiered at September 2015's Frankfurt IAA. This variant was introduced with a unique grille and was the first model for the firm's 103kW & 220Nm 1.4 BoosterJet engine. A month later, the Vitara went on sale in Japan, where the model name is Escudo.
A facelifted Vitara went on sale worldwide from September 2018. Amongst the mechanical changes, the 1.6-litre engine was dropped in European countries with the revised line-up consisting of 1.0- and 1.4-litre BoosterJet units. Rumours suggest that Suzuki is developing an extended version of the Vitara. Grand Vitara would be the obvious name. A new Vitara should be launched in 2022.
The fourth generation Jimny is a 3,480mm long four-seat 4x4. The vehicle's construction remains body-on-frame with drive to the rear axle supplemented by a four-wheel drive system which includes a low range transfer gear. Announced in July 2018, production in Japan had just commenced at that point. One month later, Suzuki announced at the Jakarta motor show that it would be assembling this model in Indonesia.
Whereas the previous model had been manufactured at the Iwata plant, the current Jimny is made at the Kosai factory (both are in Japan). Assembly at one of Maruti Suzuki India's factories should also happen in 2020. The model for the local market would probably be called Gypsy, replacing an ancient SUV of the same name.
Expect a long life for the Jimny 4, although it is unlikely to exceed the more than 20 years of the third-generation model. There should be a facelift in 2023/2024 and a replacement in 2030.
The 3,995mm long Vitara Brezza was the first model fully developed by Maruti Suzuki, rather than adapted by the division from a design developed by SMC. As such it was also the first Suzuki vehicle project led by an Indian chief engineer. This small SUV was revealed at the Delhi auto expo in February 2016. It is manufactured by Maruti with production having commenced in March 2016.
Toyota Kirloskar Motor Pvt. Ltd. (TKM) will start building the Vitara Brezza 2022. It is not clear whether this will be in addition to build by Maruti or instead of it. And also if the model in question is the current one or the replacement. The successor is due in 2023.
As part of an extension of their collaboration, it was announced in March that Toyota would supply two electrified vehicles to Suzuki for its European markets: models closely linked to the RAV4 Hybrid and Corolla Hybrid Wagon. No release date for either was noted at that time but they are likely to appear fairly soon.
MPVs
As part of a far-reaching extension of their collaboration, Suzuki and Toyota told the media in March that one of their future projects would be "Drawing upon Suzuki's expertise in developing vehicles in India, joint development of a Toyota C-segment MPV and OEM supply to Suzuki". This model might not appear until 2021 but there is a chance it could be launched in 2020.
The Ertiga is another multi-purpose vehicle but this one is Suzuki's own design. A seven-seater, it was revealed by SMC's Indonesian subsidiary PT. Suzuki Indomobil Motor at the Jakarta motor show in April 2018. There is also production in India, the Ertiga's market release having taken place in November 2018. The XL6 is an Ertiga with raised suspension and some plastic cladding. Both should be facelifted in 2021/2022 and replaced in 2024/2025.
In March 2019, Suzuki and Toyota told the media about their plans to extend worldwide collaboration. As part of this extended agreement, the Ertiga (and Ciaz) will be supplied to Toyota's Indian market dealers.
Electric
In November 2017, TMC and SMC told the media in a statement that they had "concluded a memorandum of understanding on moving forward in considering a cooperative structure for introducing electric vehicles in the Indian market in around 2020".
The vague announcement was no doubt in response to pressure from federal and relevant state governments which wish to see MSIL become more enthusiastic about the potential for electric vehicles. India has very little in the way of charging infrastructure and the cost of the cars will likely be high. Ergo it isn't hard to see why Toyota and Suzuki appear to be less than highly enthusiastic about committing the necessary money when there is little evidence that EVs will be sought after by buyers.
Maruti will likely sell a small EV in the 2020s but production numbers will probably be small at first. The company told the media in October that it had pushed back the launch of an electric WagonR due to there being little potential demand for such a car.
Reports for many other manufacturers' future models are grouped in the OEM product strategy summaries section of just-auto.com.
Future product program intelligence
More detail on past, current and forthcoming models can be found in PLDB, the future vehicles database which is part of QUBE. That includes those Suzuki models which were not discussed in the above report.
The next OEM to have its future models strategy examined will be Mazda.
Most popular news
---
Most popular insights
---
Oops! This article is copy protected.
Why can't I copy the text on this page?
The ability to copy articles is specially reserved for people who are part of a group membership.
How do I become a group member?
To find out how you and your team can copy and share articles and save money as part of a group membership call Shivani Hayer on
+44 (0)1527 573 732 or complete this form..