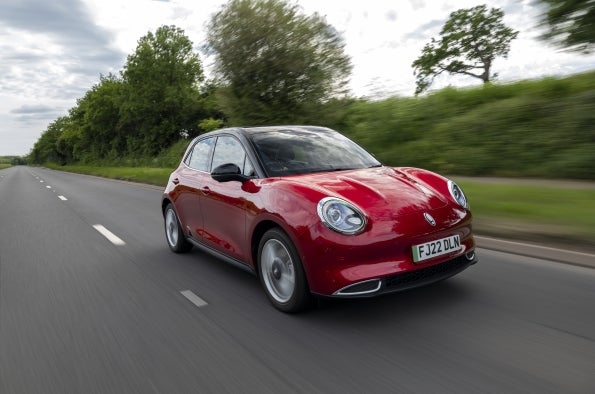 China is the most populous country in the world, its second-biggest economy, and the largest producer and consumer of battery-electric vehicles. With this is mind, it seems somewhat counterintuitive that Chinese-built cars are largely absent from European roads. However, as demand for affordable EVs accelerates with the clock ticking down on ICE sales, we may start to see more vehicles from the People's Republic on European roads.
Why aren't there more Chinese vehicles on European roads?
The situation is influenced by several factors. For one, Europe's vehicle production networks are mature and relatively efficient, despite concerns around overcapacity, meaning the continent never struggled to furnish itself with ICE-powered vehicles, thanks to playing host to established auto giants including Volkswagen and the Peugeot-Citroen half of Stellantis. As a result, European OEMs were able to offer small, cheap vehicles built relatively locally, despite the higher wage costs generally associated with manufacturing in Europe.
Plus, while China's vehicle production and sales market has developed rapidly over the last two decades, there has been plentiful home-grown demand for its vehicles. This put less pressure on China's large automakers such as SAIC, Geely and BYD to expand their market sights beyond China, because there was still vast amounts of unmet demand within the country.
One must also consider that a fully assembled vehicle takes up a reasonable amount of cargo space on a vehicle carrier, with associated shipping costs that have grown rapidly in the wake of the COVID-19 pandemic. As a result, much of the benefit Chinese vehicles enjoy in terms of lower purchase prices compared to western rivals can be quickly eaten up by greater import costs and taxes.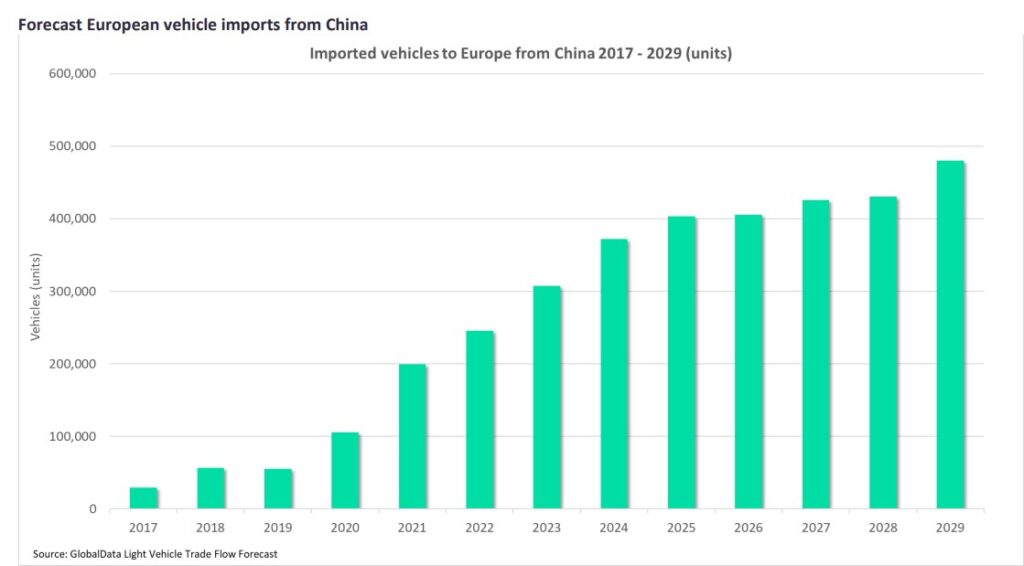 GlobalData's Light Vehicle Trade Flow Forecast can be used to predict the number of imported vehicles bound for Europe from China. It paints a clear picture of a dramatically accelerating market as more and more Chinese-built vehicles make their way into the hands of European customers.
Chinese imports to Europe hovered just below 30,000 units in 2017 but, by 2020, had more than tripled to 106,000 vehicles. Imports nearly doubled in 2021 to just less than 200,000 units and, for 2022, we foresee more than 245,000 vehicles imported to Europe from China. We expect this figure to crest 400,000 units by 2025 and go on to approach 500,000 vehicles by 2029.
What's driving the increase in Chinese imports?
The overwhelming majority of those vehicles imported from China will be battery-electric models, with the small remainder likely to employ some form of hybrid electrification. This is because China has identified EVs as a key strength for its economy going forward, which has led to favorable sales and production incentives from the government, bolstered by the country's dominance over the global Li-ion battery supply chain.
In Europe, the pressure to electrify remains high with more countries setting targets to outlaw the sale of ICE-powered light vehicles. However, this will be frustrated by an advancing problem related to vehicle affordability driven by the still-high cost of batteries. Put simply, there are not currently enough low-cost EVs on sale in Europe to meaningfully replace ICE models offered at the most affordable end of the market.
This is a market sector in which Chinese automakers can press home an advantage. They have low labor costs compared to European automakers, and can access more favorable cell-supply deals with local battery makers than might be available to foreign companies. This means they can make affordable EVs more profitably than their western rivals and, in a market starting to clamor for cheaper EVs, this could give Chinese OEMs a key advantage over western players.
Among the first brace of Chinese vehicles to make a meaningful impact in European sales figures could be the excellently named Great Wall Funky Cat. This quirky-looking hatchback is expected to go on sale in Europe and the UK later in 2022 with prices around £30,000 – which could hardly be called truly affordable, but still undercuts the VW ID.3 and roughly matches the Renault Zoe, while aiming to offer a more premium cabin experience than both.
Further down the line, Chinese OEMs could really press home their advantage by introducing certain extremely compact and affordable models in Europe. Chief among which is the Wuling Hongguang Mini EV – this minuscule two-seat city car has proven to be a runaway sales success in China – and its city-friendly proportions, youthful appearance and extremely affordable price tag, hovering between $4,000 and $5,000, would likely help it achieve strong sales in Europe, too.
This article was first published on GlobalData's dedicated research platform, the Automotive Intelligence Center