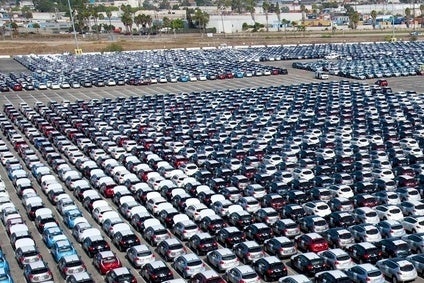 The month of June's light vehicle sales have now been reported for all global markets. While they show a 9.4% year-on-year increase, this was slightly below the forecast 14.9% gain for the month, with China's 12.7% fall in sales the most significant contributor to the weaker than anticipated market.
Although the market's sales increased positively year-on-year it was once again a largely disappointing month for sales. The SAAR rate – at 81.9m was ahead of May's value, but it was some way off the levels seen in March and April which offered promise of an orderly recovery to global markets.
The SAAR rate slipped back most markedly in North America, with the region recording its lowest selling rate of the year on the back of US sales progress being choked back by a dearth of inventory on dealer lots due to the chip shortage. Despite China's fall, which was allied with Japan's SAAR slipping to the lowest level of the year, Asia's selling rate held up due to India's market springing out of lockdown which saw SAAR there increase to 3.8m compared with May's 1.4m level.
On top of India's bounce back, albeit at a level lower than registered in the first four months of the year, the other positive was the pickup in Europe's sales activity led by West Europe, which, at 13.8m, returned its highest SAAR rate of the year. However, performance in West Europe remained lumpy with Germany, Italy and France leading SAAR gains while the Spanish and UK markets saw selling rates fall back. Markets outside the Big Five largely followed the lead of the stronger performing markets. Elsewhere in Europe, Turkey and Russia continued to surprise. The latter maintained a 1.9m selling rate in the month, while Turkey, where the sales party appeared to be over in May with a SAAR of 590k, saw its SAAR soar to over 900k on the back of its strongest June since 2017.
On the back of June's sales GlobalData's forecast for the year has been downgraded to 84.7m, an 11.9% increase on 2020 but 4.9% lower than 2019's total. Chip shortages are beginning to materially affect sales in the US, Japan and China which we expect to continue to choke sales into the start of Q4. With sales now moving away from 2020's extremely low base we anticipate that June will be the final month of near double digit year-on-year gains. Globally, for H2, YoY volume change is forecast to be 0.7% down, versus an average 0.5% increment in our last report.
The year's sales outlook is moving beyond being driven by infection rates and accompanying lockdowns and more affected by ongoing supply chain disruption.