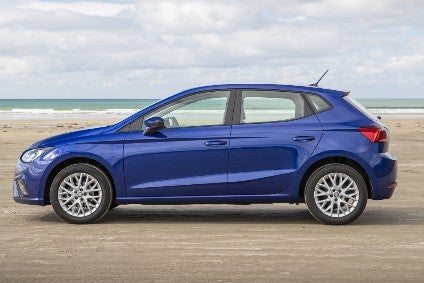 It was the car that introduced the Volkswagen Group's MQB A0 architecture and the first Ibiza which could be considered close to the top of its class. As the fifth generation model approaches the second half of what should be a seven-year life cycle, is it still competitive against the segment's top sellers such as the Peugeot 208?
Look away briefly and everything seems to change in the European new vehicle market. ACEA's data for February show that the Volkswagen Group was dethroned as the regional number one (counting passenger vehicles and LCVS combined) by Stellantis. It gets worse for VAG too, with not just one but two of the newly merged entity's models outselling the Golf last month: there were 18,375 Peugeot 208s and 17,120 2008s registered compared to the VW's 16,185, meaning it had to settle for third position. Year to date, the Golf has in fact dropped to fourth behind the Toyota Yaris (33,561 versus 31,412).
It's still early days for 2021 and Volkswagen may yet turn things around, particularly when it comes to EVs, the ID.3 also being a big factor in the sales slide of the Golf. The first ID.4s will show up in this month's registrations for the German market too, so perhaps things will continue to shift throughout the year. All credit to the former Groupe PSA though, for delivering four first rate cars in the form of 208 and 2008 plus their electric e-208 and e-2008 derivatives.
What has any of this to do with my thoughts on a model I've just spent a week with, the SEAT Ibiza? The point of the facts above is to show how quickly the established order can shift. The Spanish brand managed to survive one of the toughest years in its history, and that includes the financial scandals some of us can recall, along with a deep downturn in the early 1990s and then The Great Recession. The recoveries from each of these hard times were hastened by investing in new models, just as we are seeing now with the success of the e-208, Yaris, Dacia Sandero, Opel/Vauxhall Corsa-e and others in the B segment.
Can a car such as the Ibiza – market release dating to mid-2017 – still thrive when all around it are far fresher alternatives? There seems no reason why not, if the looks, powertrains and pricing remain competitive, as the even older Citroën C3 proves: number seven overall in February (15,281) and lagging the fourth placed Yaris by just 175 cars.
SEAT's B segment hatchback was hit hard last year by the collapse of the brand's major markets, Europe-wide sales dropping by 36% to 62,616 units. Interestingly, it was only the brand's number four model, the Leon (113,279), Arona (80,330) and Ateca (70,393) all doing better. This shows not only how highly consumers value novelty, but also crossovers and SUVs. A facelift later in 2021 will inevitably see the Ibiza bouncing back, as ACEA's data provide ample evidence that cars in this class are if anything more sought after than ever.
The UK's line-up offers a choice of three 1.0-litre petrol engines. I tried one with 95 PS linked to a six-speed manual gearbox in FR trim. You can pay less and have an 80 PS alternative but that also means it's a five-speed manual so economy isn't necessarily going to be much better than the excellent 55 mpg average returned by the test car.
Anyone wanting an automatic (it's a seven-speed DSG) must go for third option: the 115 PS version, which can be specified with a six-speed manual alternative. SEAT offers a diesel too, the 95 PS 1.6 TDI. As with the base petrol, there are only five ratios for the manual transmission and no DSG option.
Equipment grades are SE, SE Technology, FR, FR Sport, Xcellence and Xcellence Lux. Even the base SE gets leather trim for the steering wheel, good looking 15-inch alloy rims, height adjustment for both front seats, electric mirrors, CarPlay/Android Auto, metallic paint and cornering lights.
It had been a few years since I'd last driven an Ibiza and if anything, it felt more engaging that last time. Or perhaps that was simply the slight contrast between how the newer alternatives handle, with an emphasis on more sophistication and the sensation of being in something that reminds you of how cars in the larger C segment once were. The SEAT is instead appealing for different reasons.
The good stuff includes steering that's more precise than even certain supposedly higher class models elsewhere in the Volkswagen Group empire, the increasingly almost unusual manual gearbox – DSGs and CVTs are fine but not always better – and the sheer amount of room, including the boot. There's a space saver tyre too: another reason to recommend this car.
Could I also mention how nice it was to have an ignition key, a handbrake and analogue instruments? The alternatives are fine, it's just that there isn't always a handy and rattle-free place to deposit a fob, hill starts and parking can be a faff waiting for an electric brake to activate or deactivate, and digital clusters sometimes throw unwanted information at you (e.g. I know my window is down but cheers for that bong and message that it's causing aerodynamic drag).
I wasn't mad for the all-grey interior of the press tester but perhaps that doesn't worry buyers and the fabric seat trim at least softened up the overall ambience. I'd expect we'll see some more pliant PVC surfaces on the door trims and dashboard when the mid-life facelift cars appear. There again, that will inevitably mean price rises, so for now, with the range costing from GBP15,445, the little SEAT offers excellent value.