BRIEFING FEATURE: Russia's turnaround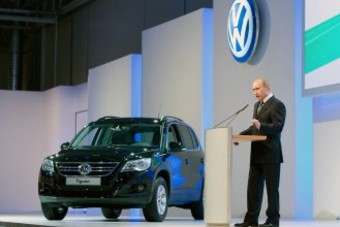 Russian prime minister Vladimir Putin speaking at the launch of VW CKD assembly at Kaluga in October 2009
Russia's automotive market and industry has been very hard hit by the country's severe economic recession of 2009. However, a moderate economic recovery is now taking hold and the automotive sector is seeing some uplift to volume helped by government support. In the first of series of just-auto management briefing articles focusing on the BRIC nations, Dave Leggett assesses the latest developments and prospects for Russia's automotive sector.
Back in 2008 Russia's car market was heading towards 3m units a year, suggesting that it would eclipse Germany's to become the world's fourth largest. In mid-2008, high energy prices were also propelling the economy in what looked like an extremely positive business environment, with incomes and spending – especially on consumer durables like cars – on a growth path with seemingly no end in sight. This, many believed, was the long-awaited Russian boom that would help to compensate for many years of post-Soviet economic policy disarray and slump.
As pent-up demand among the rising middle-classes was released and satisfied, Russia's economic progress would be further reinforced. Wealth would 'trickle down' and be more broadly spread, with some of the imbalances that have marked Russia's post-Soviet economic development being gradually corrected. What could go wrong?
But fortunes for Russia's economy dived with the international financial crisis of late 2008. That crisis brought with it a collapse in energy prices and a seizing up of international credit markets that immediately hit credit availability in Russia. Crisis-hit and urgently retrenching international banks withdrew and reduced their exposure to Eastern European wholesale credit markets. Finance for car sales in Russia quickly dried up. GDP contracted by an estimated 8% in 2009. The Russian car market halved in 2009 to an estimated 1.4m units. Western manufacturers in Russia also found that a collapsed rouble meant that imported parts became much more expensive. Some manufacturers raised prices in a market that was falling.
And Russia's domestic vehicle producers – most notably AvtoVAZ – lurched to severe financial crisis. Total vehicle production in Russia in 2009 was down by a staggering 60% to 722,431 units.
A return to (moderate) economic growth
Russia's economy is now growing again and there are also signs that the credit crisis is easing. It may not be a rapid economic bounce-back, but a modest economic recovery will bring some relief to struggling companies, including those in the automotive sector. The IMF in its latest forecasts estimates that the Russian economy will grow by around 4% in 2010 and 4.3% in 2011. The adjustment of bank balance sheets appears to have run its course, and banks seem poised to cautiously expand lending. Gradually rising real wages and lower unemployment should support higher consumption.
But it's a moderate rate of economic improvement rather than a sharply improving one. The heatwave in the summer has depressed the GDP figure for this year, and economists point out that while the credit crisis is easing, credit availability is still acting as a constraint to Russia's economic growth going forward. And higher international energy prices will be tempered by relatively weak global economic growth in 2011.
Scrappage boost for the car market
This year, Russia's car market is seeing a boost from a government introduced scrappage ('cash for clunkers') scheme. A discount voucher of 50,000 roubles (USD1,700; EUR1,200) per vehicle was introduced in March. A rapid recovery in the light vehicle market from March followed with some 200,000 scrappage vouchers issued by June. The vouchers can be used only to purchase cars produced/assembled in Russia (no incentive is provided to foreign imports which still account for 40% of sales). A further 200,000 vouchers were announced later in 2010 and a further 100,000 are expected (to be finally confirmed) to be issued in 2011 – some 500,000 in total. The market outcome from redeemed scrappage vouchers is expected to be a boost to the light vehicle market of around 275,000 units in 2010 and 225,000 units in 2011.
Local producers – and especially those with low price vehicles – have been the major beneficiaries. JD Power Automotive Forecasting analyst Carol Thomas says that AvtoVAZ has been a clear beneficiary. "Buyers who may have purchased a Western brand model a few years ago are being attracted to cheaper domestic products," she says.
Cars like the Lada Priora and the Zhiguli (model 2105/2107 – the classic three-box Lada based on the Fiat 124 of yesteryear) are getting a big boost. The Zhiguli may be nearing the end of its long life, but it is still a practical proposition (cheap to buy and maintain). The scrappage discount leaves a low, low price equivalent to USD3,300.
Light vehicle sales in the first nine months of this year reached 1,321,027, some 18% ahead of last year. In September, sales were up by 55% year-on-year at just under 186,000 units, suggesting that demand is strengthening.
JD Power forecasts that the Russian car market will grow by around 20% to around 1.7m units in 2010. A car market of around 1.8m units is projected for 2011, with the car market able to get back over 2m units in 2012 assuming that the economy continues to make good progress with real incomes rising.
Thomas also believes that Russia is likely to avoid the kind of post-scrappage scheme market reversal seen in Germany this year. "Scrappage in Russia has only supported a part of the car market," she points out. "And Russia has much lower car density [variously estimated at around 250 cars per 1,000 people compared with over 500 in Western Europe, as well as an old parc – ed] and considerable pent-up demand," Thomas adds.
"Moreover, while West European economies are stagnating in 2010, the economic outlook for Russia should be much brighter by the time scrappage ends."
There is also other state support to the Russian car market. A loan subsidy scheme has been approved to support the market (locally built vehicles only) out to 2013. Two thirds of the central bank refinancing rate is refundable to the customer, mainly on domestic vehicles. After a slow start in 2009 it is having greater success in 2010. And state, federal and regional government purchase subsidies may continue into 2012.
But to put things in perspective, the Russian car market is not forecast to get back to the level of the last peak in 2008 – 2.7m units - until 2014.
AvtoVAZ back in profit, but structural problems remain
AvtoVAZ is the behemoth of the Russian auto industry. AvtoVAZ is Russia's biggest automotive company, with the capacity to make almost a million cars a year (2009 output was just 294,737 units). The highly vertically integrated maker is also Russia's market leader (under the Lada brand; see table at the bottom of this article). It reported a return to profit in the first half of this year to RUR3.1bn thanks to a reviving Russian car market and an injection of state aid.
In the first nine months of the year AvtoVAZ reported that its Lada brand in Russia sold 367,765 units – a gain of 38% on last year. Sales in the month of September were up by 78% on last year's level. AvtoVAZ has also benefited from interest free loans provided by state controlled Russian Technologies.
Just a year ago AvtoVAZ faced bankruptcy as the global economic crisis devastated Russian car sales and exposed the company's outdated business model. It was bailed out by the state, supported - after some government prodding - by 25% shareholder Renault.
AvtoVAZ still faces structural problems with net debt of over US$2bn along with huge capital spending requirements. The carmaker's costs also increased 26.3% in the first half as it stepped up production. But a return to profit is a very welcome development for the company and the Russian government, as options for further modernisation and efficiency gains are considered. The Lada Granta is a key upcoming model, due in 2011. Funds for new product development will remain tight, however.
And plans to further reduce the size of the workforce at Togliatti will inevitably raise politically uncomfortable concerns over the social welfare aspect of AvtoVAZ's operations.
Luxury segment strong, too
Prestige brands are also reporting a significant market upturn in Russia in 2010. Luxury brand Lexus, for example, reports sales up by 57% to 7,561 units this year in the first nine months. In particular, it says sales of the RX and 450RX hybrid have been strong.
"Russia has been coming back for the past four to five months for Lexus and Toyota – there is a new take-off for the Russian economy and a direct impact on Lexus," says Toyota Motor Europe president Didier Leroy. He notes that having a good distribution network is essential in Russia, alongside a carefully developed brand image.
BMW's sales in the first nine months reached 14,868 units, 26% ahead of last year. Mercedes-Benz and Audi are also reporting solid sales growth this year.
If the upscale marques are doing relatively well, that may be an indication of the uneven impact of the economic recession on Russia's population. Analysts say that there has been a disproportionate impact on the burgeoning middle class, the kinds of people who were beginning to take out loans to buy cars. However, the relatively established wealthy class – 'super-rich' - have been better insulated from (helped by overseas investments) and generally less severely impacted by the recession.
Foreign OEMs raise localisation
Although Suzuki has backed out of investing in Russia, a large number of foreign automakers are now present in Russia with major assembly operations including: Ford (Focus and Mondeo models), GM (Opel and Chevrolet), BMW (Avtotor, Kaliningrad enclave), Kia (also Kaliningrad), Volkswagen (VWs, Audis and Skodas at Kaluga), PSA/Mitsubishi (a joint venture), Nissan, Dacia (Logan), Ssangyong (Sollers/Severstal, in the far east) and Toyota.
Hyundai has just opened its manufacturing plant in St. Petersburg with mass production scheduled to begin in January next year. Annual production at Hyundai Motor Manufacturing Russia (HMMR) is slated at 105,000 vehicles in the first year, which will increase to 150,000 units per year in 2012.
Pressures have risen to increase local sourcing and rates of localisation as volumes have risen. The cheap rouble has been one factor. Local regulations concerning tariffs applying to imported components have been another – with the authorities said to be planning new regulations that would further penalise imports and raise incentives to localise more quickly and further.
Volkswagen in September announced that it had moved to 'full-cycle' CKD – from SKD - production on a number of models made at Kaluga. Under the company's agreement with Russia's economic development ministry, 3 September was the last day when Volkswagen was allowed to supply semi-knocked down (SKD) kits for assembly at its Russian plant. From 2010, maximum annual capacity using the new body and paint shops and assembly lines for VW Group at Kaluga will be 150,000 vehicles. The first CKD models off the line in October 2009 were a Volkswagen Tiguan and Škoda Octavia. Other models followed including the Skoda Fabia, Volkswagen Passat and a low-cost sedan based on the VW Polo and developed specially for Russia, emphasising the scale of VW's investment in Russia.
Suppliers are now also following OEMs in setting up Russia operations, seeing that critical industry mass – volumes - justifies the investment. Major investments have recently been made by Magna, Gestamp, Visteon (supplying VW in Kaluga with door panels) and Trelleborg (anti-vibration parts).
Most popular news
---
Most popular insights
---
Oops! This article is copy protected.
Why can't I copy the text on this page?
The ability to copy articles is specially reserved for people who are part of a group membership.
How do I become a group member?
To find out how you and your team can copy and share articles and save money as part of a group membership call Shivani Hayer on
+44 (0)1527 573 732 or complete this form..