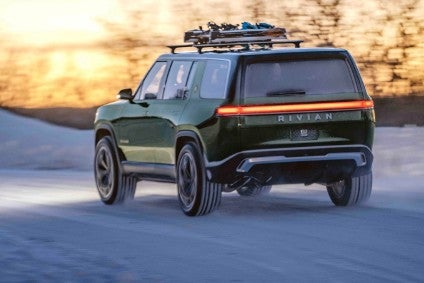 The first Rivians are due to be delivered to their US-based owners in just seven months' time. The company says it has a waiting list stretching into 2023 for the R1T (T for pick-up Truck) and R1S (SUV).
Should these vehicles have a flawless production ramp-up, this ambitious firm could take an early lead over other brands planning to launch equally big and heavy EVs next year.
First, two large models…
The full-size pick-up comes first. The R1T is claimed to accelerate to 60 mph in under three seconds and to have a range of up to 400 miles. There will be three battery pack choices: 135 kWh (300 miles) or 180 kWh (400 miles) at launch, to be followed by a cheaper 105 kWh (230 miles) alternative.
Vehicles with the base pack are supposed to be coming in 2022 but the company may push that back to 2023 so as to maximise income. Power and torque outputs for this 105 kWh variant are 300 kW and 560 Nm. As for the 135 kWh and 180 kWh variants, these power motors which produce 522 kW and 562 kW. Torque is said to be 1,120 Nm. All trucks will be four-wheel drive thanks to a 147 kW motor for each wheel.
The 5,475 mm long and 2,015 mm wide R1T has four doors, a high level of ground clearance, a 'gear tunnel' (a 330-litre bay below the pick-up bed where a set of golf clubs can be stored behind a door on each side), and a 330-litre boot/trunk where the engine would be in a conventional truck. The load bay also lifts to reveal a spare tyre. With the tailgate in place, the bed length is 55.1-inches. The maximum towing capability is claimed to be 11,000 pounds.
The first customer deliveries of the R1T were originally promised for this year with series production then pushed back to December and more recently, to April/May 2021. In July, Rivian said the first R1T deliveries would take place in June 2021. That was restated earlier this month.
Initial deliveries of the R1S are due to commence two months after the first examples of the R1T reach owners. At 5,040 mm long and 2,015 mm wide, the SUV is around the same size as a Range Rover but has seven seats and a boot in the front as well as one in the back. The wheelbase is a lengthy 3,450 mm.
Both R1T and R1S should have life cycles of seven to eight years, which means facelifts are expected in 2025.
Rivian's sales model is one of direct contact with customers. There will also be a subscription scheme whereby access to more than one vehicle can be part of the agreement.
The company further says its vehicles' platform, the skateboard, might be used by other OEMs for their own EVs. This is the thin base of the vehicle and includes the braking, suspension, and cooling systems, with the battery in the middle.
Ford Motor Company told us in April 2019 that a future Lincoln EV would use a Rivian architecture. Reports out of the US a year ago this month seemed to suggest that the model in question would be a Lincoln, with the project code of U787 quoted. The brand was then confirmed in an April media release from Ford's luxury marque. Three months later, amidst all its US plants having been idled due to COVID-19, Ford suddenly said that due to what it termed "the current environment", it would no longer be going ahead with this vehicle. There was no explanation as to why, specifically, or any specifics of where this vehicle would have been positioned.
"Our strategic commitment to Lincoln, Rivian and electrification remains unchanged and Lincoln's future plans will include an all-electric vehicle consistent with its Quiet Flight DNA [sic]," a statement from the brand announced. The division would instead have "an alternative vehicle based on Rivian's skateboard platform."
…then, two smaller ones?
Interviewed a few days ago, Rivian's CEO and founder, said he intended to expand the EV brand into Europe and China. This would at first be via exported vehicles but further off local production could be possible in both markets.
Robert ('R J') Scaringe also stated that an SUV which is smaller than the R1S would be a more suitable model for China and European countries. Such a vehicle might be named R2S and launched as soon as 2022 or 2023. There may also be an 'R2T', which could be a pick-up around the size of the Ford Ranger.
Reports for many other manufacturers' future models are grouped in the OEM product strategy summaries section of just-auto.com.
Future platform intelligence
More detail on past, current and forthcoming models can be found in PLDB, the future vehicles database which is part of GlobalData's Automotive Intelligence Center.
The next OEM to have its future model plans looked at will be Tesla.