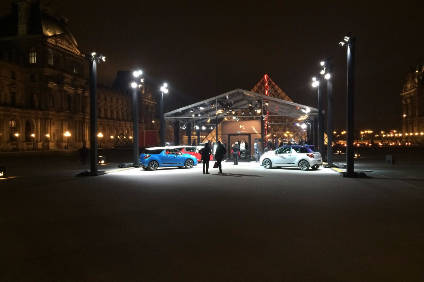 The year 2016 certainly threw up one or two surprises (political developments in the UK and the US) with significant implications for the auto industry. And there were plenty of industrial points of interest for OEMs and suppliers. In short, it was another busy year. Seasoned observer Dave Leggett sifts through the just-auto archive month-by-month and offers a personal take on some of the year's most significant developments and experiences. Part 1 takes in the first half.
January
I got a blast of some seriously chilly weather for part of my stay in Detroit in January, but the Motown welcome was as warm as ever. I was in town for the NAIAS at the Cobo and one or two other industry conferences that coincide with Detroit's annual showcase. Much of the talk at the show seemed to almost seamlessly follow on from the CES at Las Vegas which is clearly becoming a major automotive event. At the SAA conference, there were some interesting views from Barclays analyst Brian Johnson who forecast that shared autonomous vehicles could slash the annual car market by 40%. Even more impressively, he delivered his presentation via a Skype video link because logistical issues prevented him being there in person at the event venue (a charming old theatre in downtown Detroit). It actually worked rather well, as you can see here.
At the NAIAS itself, it was interesting to note that there were a number of manufacturer no-shows. Perhaps most striking was that Ford's Detroit launch this year was not a car model (unless we count the Lincoln Continental), but its FordPass platform for engaging with customers and potential customers. It was presented as part of the company's transformation from being a traditional automaker to an 'auto and mobility services company'. I managed to get a little time with Ford CEO Mark Fields and he put it neatly into perspective – embrace change and new opportunities, but don't lose sight of the core business.
Adam Jonas of Morgan Stanley also hit some striking notes in a presentation themed around the opportunities for new entrants. I tried to summarise some of the Detroit vibes and mood music here. Incidentally, Visteon CEO Sachin Lawande informed me about a huge talking point at the CES: cyber-security. That's a subject to certainly keep an eye on.
Back in Europe later in the month, I found myself at the Louvre in Paris for a pretty extravagant PSA event aimed at puffing up the now standalone DS brand with a facelift for the DS3 model. I hear mixed views about the DS brand strategy. I must admit to liking the cars and especially the thought put into the interiors. Is there room for a near premium DS as well as Peugeot? And what about the Citroen history? Are the brands clearly differentiated? It will be debated for years to come, but PSA sees DS as a long game. In the end, it will be about transaction prices, margins achieved and bottom lines. Oh, and while in the Louvre I got to see the Mona Lisa without the crowds. Smaller picture than you might think, but quite captivating.
February
Automotive industry consolidation and corporate restructuring has been much on people's minds in 2016. There are pressures coming from the challenges in emerging advanced technologies as well as business fundamentals such as global reach and manufacturing footprints. And these pressures are operating throughout the automotive value chain on OEMs and suppliers.
In February, we hear that Johnson Controls and Tyco have entered into a definitive merger agreement under which Johnson Controls will combine with Tyco, a global fire and security provider, to create a "leader in building products and technology, integrated solutions and energy storage". The divested automotive operations will eventually become Adient.
Still on Johnson Controls, we carry an interview in February that sheds some light on the strategy of Yanfeng Automotive Interiors (YFAI), a huge joint venture between Yanfeng Automotive Trim Systems Co Ltd and Johnson Controls.
The month also saw an intriguing demonstration of autonomous drive by Audi when a completely driverless A8 whisked movie star Daniel Brühl to the red carpet at Berlin's Berlinale Film Festival. The car picked up the actor and his girlfriend Felicitas Rombold from their hotel in Berlin and drove them directly to the Berlinale Palast. No chauffeur required. The footage on YouTube shows that the actor and his partner were indeed suitably impressed.
March
Volkswagen's 'dieselgate' affair stays in the news in 2016. It's not just the remedial actions around the world and the costs, but also the possible wider impact on diesel sales for all brands due to the negative PR for diesel as well as some speculation that policymakers may shift away – in Europe – from historically favourable diesel tax treatment (on CO2 grounds). The views of other OEMs are sought out at every opportunity and in Geneva, Opel's CEO says that diesel remains central to his company's powertrain strategy. Read the full interview with Karl-Thomas Neumann.
In a similar vein, BMW says that diesel will remain a central pillar of BMW's CO2 strategy. The world hasn't yet gone completely mad after all.
Yet again, small SUVs formed a major theme at the Geneva Show (full list of Geneva world debuts) but there was also the Maserati Levante luxury SUV at over 5m in length, as well as the Aston Martin DB11 and an electric three-wheeler Morgan to marvel at. Who puts their name down for such an automotive oddity from the small firm that still hand builds wooden framed cars in the Malvern hills? Whoever they are, I salute them. And I would like a go in one someday.
Our attendance at the Russian Automotive Forum in March is always an intriguing affair, especially given the recent travails of the Russian economy and its auto sector. And this year there was the added element of a special session devoted to the opportunities presented in Iran (assuming the nuclear deal holds). With Russia, as ever, much depends on what happens to the oil price.
April
Electric vehicles are never far from the news in 2016, as sales prospects show signs of life, at last. Better range from batteries is one of the factors responsible (eg Nissan Leaf), but the razzmatazz that comes with Tesla unveiling a new model is something else. The higher volume and lower priced Model 3 is unveiled and tens of thousands around the world are signing up to order one and place a deposit – even though the car is not planned to enter production until late 2017 (and Tesla has a bit of a reputation for SOP date slippage). It's going to be a crucial model for Tesla as it comes with much higher volumes alongside ramped up battery output from the 'Gigafactory'. Expect the Tesla share price to be very sensitive to any news on the Model 3 schedule and timings over the next eighteen months. The hiccups on Model X won't be forgotten.
April was a big month for PSA as it announced a new business plan, 'Push to Pass'. We're not 100% sure on the precise meaning of those three words, but the general idea is that the company has recovered and now embarking on a new phase of growth. Global business and a new product push are at the heart of the new plan and there are some big numbers to aim for. We were in Paris to get more details, including a supply chain angle.
And we also had this analysis of PSA's often overshadowed – but nevertheless important – LCV business.
In London, Delphi hosted an Investor Day; they let me in and I spoke with CTO Jeff Owens about the company's strategy. What he said about 48V hybrids stuck: An affordable option for car companies to reduce emissions and raise fuel economy. "We think 48V offers 50-70% of the value of a full hybrid, but at around 30% of the cost. It's a smaller battery, you're under 60V, not high voltage, the power electronics can be smaller and so on. There is less benefit than with a bigger system, but it's a proportionately bigger benefit with 48V. The on-cost is maybe just $1,000-$1,200 but you are getting 70% of the benefit of a full hybrid that comes with a bigger battery, the more expensive power electronics and is about $3,000."
On the small SUV theme, we got a good look at the redesigned VW Tiguan.
This year also saw the Queen celebrate her 90th birthday – which fell in April. UK aftermarket parts supplier Kwik Fit offered a rather impressive 'Queen of Parts' installation to mark the milestone.
April was also the month of the Beijing auto show. Fair to say, much of the talk was of the managed slowdown of the Chinese economy and how the auto industry could be impacted. As it turned out, the fears were a little misplaced, although a more definite dip is in prospect for 2017. Smaller cities and SUVs have helped to support the Chinese car market this year, along with a purchase tax reduction.
May
Carlos Ghosn knows when the time is right to do a deal (Nissan was on its knees when he came knocking in the late 1990s). Mitsubishi Motors is in something of a crisis this year as the effects of its fuel economy testing scandal in Japan are felt. In May, Nissan and MMC announced they have signed a basic agreement to form a far-reaching strategic alliance. Nissan will take a 34% equity stake in MMC for JPY237bn – MMC's dented share price makes it cheap and a nice bit of business.
The strategic alliance will extend an existing partnership between Nissan and MMC, under which the two companies have jointly collaborated for the past five years. Nissan and MMC have agreed to cooperate in areas including purchasing, common vehicle platforms, technology-sharing, joint plant utilisation and growth markets. It's another element in the endless quest for synergies and scale economies, the project to get a bigger and more powerful alliance. I am reminded of the chorus in an old Who song, 'Join Together' (showing my age again). But it's a joining that enables considerable independence to be retained, some loose relationships for specific projects – like Daimler. Here's our analysis of the two coming together. And here's a reminder of MMC's fuel testing 'difficulties'.
Another coming together in May was between PSA and Dongfeng. The two partners signed new agreements to strengthen their partnership and create a new medium-term plan – dubbed "5A+" – for their joint venture entity Dongfeng Peugeot Citroën Automobile (DPCA). It includes an agreement to design an electric version of the Common Modular Platform (CMP), which they have been developing jointly since April 2015. Moreover, the future electric platform (e-CMP) will deliver a "worldwide offering of all-electric, high-performance B and C segment vehicles for the Peugeot, Citroën, DS and Dongfeng brands from 2019". It will be interesting to see how the local Chinese EV market looks by then and what incentives for EVs may exist there.
May also saw the emergence of two Volvo concept cars in Sweden that, VCC said, "move the Swedish brand in an audacious new direction and mark the official launch of its global small car strategy". We attended the 'static reveal' and the reaction of journalists at the event was very positive. We also got some nice insights on the cooperative development of the new Compact Modular Architecture (CMA) with VCC parent Geely. It will be interesting to see how the new 40 series cars fare in the market (production planned to start in 2017).
On the dieselgate topic, we learn more of the adverse impact on VW's bottom line. We thought it was time for someone to sit back, pour themselves a large coffee and put the whole situation in a bit of perspective. Ray Hutton duly obliged.
June
One of our highlights this year was attendance at China's 2016 Global Automotive Forum in Chongqing. It turned out to be a great opportunity to hear more about prospects for the industry in China from OEMs, suppliers, analysts and government representatives. Great stuff. In addition, there was a photograph of a colleague that kind of stuck.
June also saw Volkswagen Group set out a new strategy to 2025 in which it said it aims to become a "world-leading provider of sustainable mobility". The company, still reeling from the impact of its ongoing emissions crisis, said that "TOGETHER – Strategy 2025" ushers in the biggest change process in the company's history, with the focus on transforming the core business and tapping potential new revenue streams.
However, the month of June in 2016 is probably best remembered for delivering the UK's EU-membership referendum result. It was a narrow 52% vote to leave the EU and the shockwaves have been reverberating ever since. It is probably no exaggeration to say that we are still digesting it and what it might ultimately mean for the UK economy and the auto sector, plenty of uncertainties remaining. Much of what I wrote on the morning of the 24th still stands. Watch that Brexit space.
Next up: Part 2 – July-December