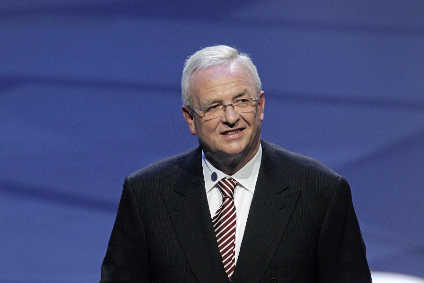 The year 2015 will probably go down in the annals of automotive industry history for Volkswagen's jaw-dropping emissions cheating scandal. But plenty of other things happened over the course of the year. Seasoned observer Dave Leggett sifts through the just-auto archive month-by-month and offers a personal take on some of the year's most significant developments. Part 2 takes in the second half.
Part 1: Review of the automotive year, 2015 (Part 1) January-June
July
In the late spring and early summer, speculation builds about the possibility of an additional Jaguar Land Rover plant for a site in Eastern Europe. It does JLR no harm in its quiet negotiations with different national authorities and governments to have a bit of media speculation. Some politicians are only too happy to talk. Meanwhile, JLR also cuts a deal with Magna for some future contract assembly at Graz, in Austria.
Over in the world's biggest vehicle market, the summer sees something of a chill set in as stock markets in China tumble over worries about the severity of economic slowdown and the government's grip on the levers of macroeconomic management. China has many small investors and they are not at all happy to see their assets lose so much value so quickly. The apparent knock to confidence certainly has the auto sector's attention, as typified by Nissan's warning.
Nissan also decides to shift more of its output to Japan for capacity and exchange rate reasons. The Rogue SUV will be made in Japan for export to the US.
There is more supplier consolidation during the month as Magna says it will buy Getrag and BorgWarner wants Remy International. There are even rumours that FCA controlled Magneti Marelli's Automotive Lighting division is being eyed by investor groups and that FCA could potentially divest the whole of Magneti Marelli. Interesting times.
Honda has had a pretty rough few years, but there's a new CEO who outlines his vision for the company. One thorn in Honda's side is the ongoing impact of Takata's airbag problems. Export plans for the Civic Type R from Swindon are also announced in July that will include shipments to Japan.
It is one of the truly odd stories of 2015. A recently appointed Toyota corporate comms chief finds herself in some very hot water in Japan due to some imported prescription drugs that don't have the correct paperwork. She quits her job and is eventually released from police custody after what must have been an extremely traumatic experience. Very, very odd episode.
Jaguar's chief designer Ian Callum reminds us that the F-Pace is the car he said he would never do. I recall conversations about a Jag SUV in the '90s. I guess the commercial case eventually became too strong.
I got the chance to interview Toyota's UK manufacturing chief, Tony Walker, for an update on the company's UK operations. What I didn't say was that it took place at a very nice hotel in the country where Toyota was marking its 50th anniversary of presence in the UK market. After a dip in the pool, there was a chance to drive some of the brand's most iconic models from the period. Taking a 1965 Toyota Corona for a spin on public roads required considerable concentration. Toyota takes a long view. Nice history lesson and some interesting thoughts from m'colleague in his weekly round-up.
In a sign o' the times, hackers demonstrate the capability to gain control of a Jeep in use, from a base some ten miles away. In a demonstration for Wired magazine that will send shock waves over security concerns throughout the auto industry, the hackers were able to seize control of the Cherokee model's operational systems. Yes, it's kind of reminiscent of an arms race with good job prospects for hackers the net result.
In another sign of capacity rationalisation at the Japanese OEMs, MMC announces that it will end manufacturing in the US.
AUGUST
There are a few worries about short-term prospects for the Chinese car market, but here's an assessment from a car company boss to put it in perspective. "By our forecast it's going to grow to about 30m vehicles in the next five to ten years." Who was that? Ford's Mark Fields in an analyst call.
Do you ever wonder about a company like McLaren? How does it actually work and what are its plans? Some interesting insights here.
Reports emerge that Apple – like its arch-rival Google – is making some progress in its efforts to enter the automotive/transport space. It needs somewhere to test a car, apparently. Just how far away is an Apple car? I say 2020 (at the earliest).
Ford announces that it will assemble the Ranger pick-up in Nigeria. It follows a number of announcements by OEMs to set up kit-assembly operations there. It may not be a big vehicle market now (around 100,000 new vehicles a year), but it is one with plenty of potential.
The big manufacturing news in August though is that Jaguar Land Rover (JLR) opts for Slovakia not Poland for its next manufacturing plant. The company takes a step towards increasing its production capacity in Europe with the signing of a letter of intent for a new vehicle production plant in the Slovak Republic (at a place called Nitra). M'colleague Calum MacRae provides an interesting analysis of where this latest plant could take total JLR volume. If memory serves, he went the extra mile and managed to send in the raw copy after a day on a Corsican beach and just before heading off for dinner.
August also brings news of an interesting consortium of OEMs interested in acquiring a mapping service being divested by Nokia called HERE. Mapping, let's remind ourselves, will be a key battleground in terms of future connected services (and profits).
August is a quiet month in many parts of the world, but it was anything but in Tianjin, China, where a colossal explosion at the port causes much damage and writes off thousands of cars. Insurance policies are urgently examined. Yikes, it really is rather a lot of damaged cars. There are also some knock-on effects for manufacturing.
Is it far-fetched to suggest that Honda might eventually withdraw from the European market? We pose that question and it gets plenty of attention. There's also a memorable headline. So, c'mon Honda Europe, where's the Waku Waku?
SEPTEMBER
2015 is an odd-number year. There's an agreement to alternate Paris and Frankfurt so the odd-number means Frankfurt, not Paris, in the autumn of this year. Here's our finalised list of IAA debuts.
There's good news for the UK economy when Nissan allocates the redesigned Juke car to its Sunderland plant (SOP 2017).
The month of September 2015 will be chiefly remembered though as the one in which the Volkswagen diesel emissions scandal (AKA 'dieselgate') broke. Here's the first news item. Just a matter of days later VW Group CEO Martin Winterkorn resigns and the gravity of the sorry affair is starting to hit home. Related items are gathered together in a hot topic on just-auto. It's a shocker and Volkswagen's reputation is in tatters. Moreover, the grand plan to become an ever bigger automotive powerhouse has been derailed. A new man – from Porsche, Matthias Muller – becomes VW Group CEO with the difficult immediate brief to steady the ship, reassure investors and start to address what went wrong. Prospects for diesels in the US suddenly look a lot worse and our assessment of the 'collateral' damage for diesels in Europe also sees share falling (though it was already forecast to fall, especially in smaller cars).
I like this intro from our US analyst Bill Cawthon who takes an intriguing look at FCA's interest in General Motors. "'Donchisciottesco' is the Italian word for quixotic or, more precisely, for being like Cervante's Don Quixote, who tilted at windmills as he lived in a fantasy world of knighthood and romantic chivalry. 'Marchionnesco,' or the quality of being like Fiat Chrysler CEO Sergio Marchionne, may enter the Italian lexicon as a description of one who tilts at large corporations while living in a fantasy world of finance and goals that may not only be impossible, but undesirable, as well." Bravo Bill. General Motors chief Mary Barra is very clear in Frankfurt that there is no deal to be done with FCA. Will that really be the end of it…?
Meanwhile, Google shows it's serious about auto when it hires an industry veteran.
Another veteran industry exec illustrates the pressures of the job. BMW is forced to end a press conference at the Frankfurt show after chief executive officer Harald Krueger collapses on stage. Fortunately he was perfectly okay.
And we have something of an exclusive on the sudden departure of Vauxhall MD Tim Tozer. Discord for GM in Europe by the sounds of it. Pressures certainly come when you are losing money.
In a move that shows how important the auto sector is viewed in Beijing, car taxes are cut in China. It will stimulate sales at a time of rising concern about both the slowing Chinese economy and looming over-supply in autos.
OCTOBER
As VW's 'dieselgate' affair rumbles on, we have a nice piece that considers how the world of corporate PR has changed. Instant communication and digital world chaos has made it a lot more difficult for companies to manage the news. It's perhaps not all good and I would certainly point out that there has been plenty of bad reporting of the 'diesel issue' this year.
Volvo Car has a hit on its hands with the new XC90 and it appears that the plant-model mix in Europe is being tweaked due to the success of the new car. The company also says it is planning an electric car for launch by 2019.
Hydrogen fuel cell vehicles are something of a talking point this year. The technology comes with catches (cost and fuelling infrastructure), but there are signs that it is getting closer. Toyota is something of a leader in the field with the market rollout of the Mirai, which is going down very well at home. At the Tokyo Motor Show, Honda shows a fuel cell vehicle that is interestingly packaged for a design that is relatively conventional. Lease sales in Japan start in March. To pick up on the hydrogen fuelling issue, news emerges of an initiative in Germany.
And here's our list of Tokyo Show model debuts.
Is range anxiety a big deal? I know it's a point for debate and manufacturers are keen to point out that patterns of actual use show that people travel short distances on a daily basis. Agreed, but people's perceptions may differ from reality and they do matter. They want to know they can travel longer distances if they need to. Clearly engineers are working very hard on the battery size/weight/performance trade-offs to come up with something that works all round and also eases range anxiety concerns. Nissan shows its new Leaf electric vehicle that is available with 155 miles of range on a full charge. Yep, range anxiety is falling off at that kind of level.
Investment in Mexico makes the news in 2015. There are a number of announcements from OEMs. And there are also suppliers getting in there, such as GKN. Mexican auto sector investment by US companies also makes for some curious political debate in the US. Ford's Fields clarifies Ford's position.
The year also sees a thawing of relations between the West and Iran as a deal on ending sanctions is struck. The automotive sector could see much more activity and opportunities are being sniffed, such as here by the Scandinavian auto suppliers' association, FKG.
NOVEMBER
It's a curious one, but there is apparently a car assembly line in Leamington Spa, England, making a 'Detroit' branded sports car that is fully electric and borrows much from the old Lotus Elise. Maybe it's the car Lotus should have done. Somehow, it has made it into reality. Watch that space to see how that operation goes, but good luck to them.
We have an old saying: It never rains, it pours. Bad news often seems to pile on top of other bad news. New emerges that Volkswagen's problems extend to stated CO2 levels for a number of models and it's not just diesel engines, but gasoline ones too. And we publish this analysis of the whole VW problem and its ramifications.
In the US, Takata says a very big soz (sorry) and accepts NHTSA penalties for its exploding airbags. It's the largest civil penalty in the agency's history. Nasty business. At least eight deaths and scores of injuries.
Will car companies have to become providers of 'mobility services' and eschew old-economy thinking that is so twentieth century and sees them primarily as manufacturers of equipment? A chat with Ford's former tech chief, Paul Mascarenas, raises this topical question once more.
Have you spoken to your car lately? No, I mean a proper conversation? It might be closer than you think…
Also in November, Citroen CEO Linda Jackson tells us she wants the brand to be quirky again. It is certainly getting that with the C4 Cactus.
How long does it to build a car plant? Kia seems to be moving that particular envelope with its new plant in Mexico. Just thirteen months?!
And Jaguar Land Rover announces more investment in its own engine making facility, with the aim of further reducing legacy dependence on Ford.
DECEMBER
More thoughts on prospects for hydrogen emerge, this time from Kia. For all the scepticism about hydrogen, interest from OEMs seems to be genuinely on the rise, with serious plans starting to formulate for higher volumes in the 2020s.
The first Infiniti Q30 vehicles roll off the production line at Nissan's UK plant. Infiniti's first compact model, the Q30, is also the brand's first vehicle to be manufactured in Europe. As part of its global growth plan, Infiniti vehicles are now built in five plants in four countries on three continents.
There's some end of year cheer for OEMs with the news that the car market in China has resumed growth on the back of tax cuts.
Volkswagen says that it really does want to change its culture and there may also be a case for rotating senior people.
And could Ford make cars under contract for Google? It's a sign that the fight for the automotive value chain in an increasingly high-tech world will hot up as new entrants enter the fray…more on that, for sure, in 2016.
And finally…
I would like to take this opportunity – on behalf of the whole just-auto team – to wish all readers a happy and peaceful new year. Here's to 2016!