December 2014 management briefing: Review of 2014 (3)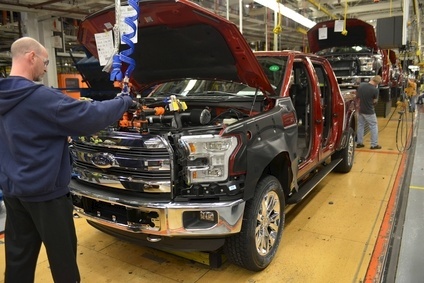 Ford started 2015 F-150 build at the Rouge in November
It's still 2014, but not for much longer. In the global automotive business, plenty happened in 2014. Seasoned observer Dave Leggett offers a personal take on some of the year's most significant developments. This instalment considers major car products covered on just-auto.
Where to start on product? Look, this could be an annual review that would go on for a very long time indeed, so I'll stick to a very few standouts. What did we learn in 2014? Here are ten things, in no particular order.
1. The D-Segment is not completely dead in Europe
It was the year in which we learned that the D-Segment (or 'upper medium') in Europe is not necessarily dead to the mainstream brands. This is the segment that has been eaten in to by C-Segment based compact MPVs and all manner of niche SUVs and crossovers since the early-1990s heyday of the large and conservatively designed mainstream family car. But they can be brought to market more easily at lower cost now off modular engineering architectures and maybe they can hit a niche themselves - for the 'near premium' product. So, it can come with a premium feel and some advanced features, but not seriously challenge the established premium makers.
This could be a natural constituency for Volkswagen, you might think, with its status as a volume player that can command more margin than most because of its more upmarket image. And you'd be right. So, we have a new Passat that is long overdue and reflects considerable investment from VW; it is packed with advanced technology and premium features. There's also a plug-in hybrid GTE variant, which points to the advantages of such a big industrial group being able to utilise scale economies across models and markets across the globe.
This was also the year of the new Mondeo, also a long-standing D-Segment product. Again, like VW, Ford believes it can lever its industrial strength to bring such a model to market at relatively low cost to meet a customer need. Intriguingly, Ford is planning to go a step further with its "Vignale" sub-brand. In Geneva, Ford showed its Vignale Concept, based on Mondeo. Vignale is a sub-brand to address premium, to stretch the brand upwards where margins are generally bigger. "It addresses the demand for a more tailored product and ownership experience," said then Ford Europe chief Stephen Odell. The Mondeo Vignale will be the first of a series of vehicles to get the Vignale stamp.
"You have to have a way to get exterior and interior differentiation beyond, say, our Titanium spec, to enable people to spend that bit more for a more bespoke product. We are not saying that we are going after BMW or Mercedes, but we do believe that premium considerers would look at a Mondeo Vignale or an S-MAX Vignale. We have the Edge coming in as well, positioned higher up in the market. We believe at the top end [of the market], Vignale enables us to stretch our brand and portfolio without losing anything at the lower end." We will see if there's room for that.
We also saw a mid-cycle revision of the Peugeot 508 in 2014. Again, the emphasis is on packing the car with more and giving it a premium feel. I drove one and can vouch for that. Look for the next 508 to be different though.
Our question to Peugeot boss Maxime Picat:
One model that should surely become more upmarket is the next 508. Would a Volkswagen CC-style of car work and will you definitely build the future 508 in Europe, or just in China?
Picat: I share your perception. We are analysing the flow of customers between segments. Something interesting is happening with cars like Passat, Octavia, and 508. If people have cars like this, they want to switch to SUVs and if people have smaller cars, they prefer a more dynamic model, maybe an A5 Sportback. So the segment shrinks and shrinks. But, even though we still need a high-end car for Peugeot, the next 508 cannot be like the 508 of today.
Can the mainstream brands occupy a high-margin spot in the vehicle market close to the premiums by successfully leveraging their higher volume? It's an intriguing question. And the D-Segment is, at least, showing signs of life.
2. Lexus designs are getting better
Okay, so Lexus is apparently more realistic about where it can get to in the global premium market (number 4 will do nicely). We all know that there have been some striking Lexus concepts for a while now, but the new NX crossover looks particularly well balanced and nicely styled.
3. Citroen is going very bold
Remember the Citroen Xantia Picasso? You could get a lot of car for a little money with that compact MPV model which emphasised brand values like low-cost, thrift and utility-over-style. Fair enough, there's a market for that. But maybe there is a way to give people a low-cost product that is also able to appeal to a sense of fun and embody a little more design flair. Yep, that'll be the Citroen Cactus C4. I had one of these last week in a bright yellow/lime colour and it was a real marmite affair (love it or hate it). I liked it. One thing interesting was that some of the people I expected to love the way it looked hated it and vice versa. Points to Citroen for trying though. (And you get 'Airbumps'!)
4. Ford's aluminium bodied F-150 is also a bold move
Talking of bold moves, this is a very big one from Ford on its top-selling model - the F-150 pickup. How will it work out? We will see, but again, I feel this is a bold move to applaud. Aluminium takes weight out. We get that, but how will it play out in the conservative heartlands? From what I heard, Ford did not skimp on researching just how the vehicle will perform under duress from heavy users. The lower gasoline bills will be welcome, of course...except that the price of gas is currently heading so far down, it might not be such a big factor. Ford, however, gets to amass some vital experience on working with aluminium in high volume on something that is definitely not a boutique model. Is it a risk with such a high volume model? Look at it another way. It will help - combined with EcoBoost engines - with Ford's compliance on tighter emission regs. Will competitors be tempted to deride it for aluminium body rather than standard steel? Perhaps, but that might not look too good. Especially if they eventually go down a similar road...
5. Do you really have to do a new platform every time?
This is obviously a question that the NPD guys and others love to discuss for hours down the pub (or sports bar; ok, more likely over a flat white these days). General Motors is losing quite a bit of money in Europe and opted to rework the existing platform for the new Corsa. Saving money on new product is risking dancing with the devil. Yes, there might be a short-term gain in terms of money saved, but will you potentially suffer eventually when competitors take you to the cleaners with better product? Well, it depends on the execution, so maybe. But if you can possibly work a little magic and save a few billion $s, might be very welcome on the bottom line. Has Opel/Vauxhall pulled it off with new Corsa? Will the customer notice? (a dangerous question perhaps, but just how discerning are they?)
6. Hydrogen fuel-cell cars may be closer than we think
Hydrogen fuel-cells offer great promise, but come with catches. For one thing, the fueling infrastructure required will need to be set-up and will not come cheap. Nevertheless, some manufacturers are making an effort to explore this alternative powertrain technology. It is expensive. In 2014, we saw the fuel-cell equipped Hyundai Tucson made available on lease in the US. It's a start. Still 20 years away, as always? Maybe that's a bit cynical and 2015 will see a number of other introductions. Watch that space.
7. Audi proved that natural gas can be made synthetically...
Okay, I know that sounds a bit odd, but there is something very like CNG that can be made synthetically. "Audi e-gas" is a synthetic methane that is produced at the Audi e-gas facility located in Werlte in Lower Saxony, Germany - the world's first industrial power-to-gas plant. Green electricity is used in the production of Audi e-gas, and the process of generating it actually binds as much CO2 as is released when the Audi A3 g-tron is driven in gas mode, giving it exceptional ecological credentials, Audi claims. Look, some clever German engineers have come up with it and it's available in Germany. If you can't get the e-gas, then there's a clever card that means you can use regular CNG and maintain your ultra-green footprint.
8. Renault has been very clever with Dacia brand
Dacia has been on a sales roll in Europe that shows no sign of ending anytime soon. It has been a clever evolution from Renault to develop a low-cost brand that can capture bottom-end of the market new car customers. The initial rationale was to target emerging markets for Dacia with models developed cheaply (with liberal use of legacy engineering and the group parts bin) and manufactured in low-cost plants. But could the cars sell in Britain and Germany as well as places like Romania and Morocco? Why, yes, they could.
So the trick is to mine this new seam of value/budget driven customers with a budget brand that also comes with the reassurance of a big parent in the background (Volkswagen-Skoda style). And then the Renault brand is something pitched a little bit higher, a more refined product. There are limits to that, perhaps, set by the simple fact that Renault is a mainstream brand unable to command much of a premium (the reason Chevrolet had to go was that there was not really much space betweem it and Opel/Vauxhall, especially in a collapsed European market). Thus far, Renault seems to have been able to pull it off and avoid Chevrolet-Opel style problems.
If you're going low-end of the market, a little smoke and mirrors can work wonders. The Dacia Duster? Europeans love 'em.
9. BMW and Audi are in an arms race with lighting technology
Once upon a time halogen bulbs did the job and you could replace them yourself. Later on, Xenon came along, with their high-intensity discharge. Then we moved on to LEDs in headlamps and they are still gaining share (rapidly) on their cost and performance benefits. At the high-end of the market, however, there is something else that we heard more about in 2014: laser lighting. It's all very clever stuff. And over at Audi, they're also pretty keen to roll out laser lights on top-end sports cars like the R8.
10. Plug-in hybrids are coming
Plug-in hybrids (PHEVs) have been coming for a while, I know, but they are only now really starting to become significant in Europe. The latest suggestions that the regulatory playing field might be adjusted to make things worse for nasty diesels could be a shot in the arm for electric drive vehicles and especially PHEVs. Volkswagen's Golf GTE illustrates that some considerable investment and marketing expertise is being applied to make a new generation of PHEVs more widely appealing. They are still not very cheap, but I would expect that, and their performance under battery-only operation, to be improving over the next five years.
Most popular news
---
Most popular insights
---
Oops! This article is copy protected.
Why can't I copy the text on this page?
The ability to copy articles is specially reserved for people who are part of a group membership.
How do I become a group member?
To find out how you and your team can copy and share articles and save money as part of a group membership call Shivani Hayer on
+44 (0)1527 573 732 or complete this form..