BRIEFING: Review of 2010 (second half)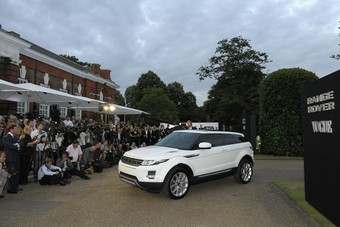 2010 was a pretty good year for Tata Motors owned Jaguar Land Rover. A possible plant closure was avoided, there was a return to profitability, sales were up and a small Range Rover was launched
Like any year in the auto industry, 2010 saw its fair share of company ups and downs, industrial comings and goings, and a fair old sprinkling of corporate drama. We covered it all on just-auto. Editor Dave Leggett sifts through the lot and picks out a few highlights from the year just gone, month by month. This is part two and covers the second half of the year.
Part one of the 2010 review was published earlier this week.
July
Land Rover announces to the world that the new small Range Rover will be called 'Evoque'. And not only that, but Victoria Beckam (wife of David, and formerly 'Posh Spice' in the pop ensemble known as The Spice Girls) is wheeled out at an unveiling. Land Rover MD Phil Popham tells an astonished world that she has been given a creative role with Land Rover. She knows fashion trends and can apparently help with interior design and the licensing of her name for a limited edition model. It's a brand association that Land Rover hopes will take it to a youngish female demographic. Hey there trendy affluent ladies with luxurious tastes and great fashion sense, please allow us at Land Rover to spice up your lives...
UK: Baby Range Rover named Evoque
UK: Victoria Beckham 'showing real interest' in new LR role
Fiat does a deal with the unions on the Panda to keep the Naples (Pomigliano) plant in business. Except that one of the unions isn't on board. Unfortunately for Fiat, the dissenter is the major one, FIOM. Marchionne's shadow boxing with Italian labour unions is a theme that shows no sign of waning.
ITALY: Fiat agrees Panda deal with majority of unions
It's another indication of things changing over at Lotus as the firm terminates European dealer contracts. They will have to re-apply in a dealer network shake-up that is a part of Dany Bahar's five-year business plan.
UK: Lotus terminates European dealer contracts
Nissan has been using Toyota's hybrid system in its US-made Altima, but it has been working on its own which it claims is more efficient and lighter.
JAPAN: Nissan unveils its own hybrid system
GM says it will sell Nexteer Automotive - a steering specialist that was formerly part of Delphi, nee Saginaw Steering Gear - to a Chinese company. The unit has turned a few corners, seen a few twists, in recent years and eventually finds itself in a Chinese take-away.
US: GM to sell Nexteer Automotive to PCM
BMW reveals that its 'Megacity' EV will be made of plastic. Not just any old plastic, mind, but the sort employed on some of the latest airliners that is strengthened with carbon fibre.
GERMANY: BMW 'Megacity' makes extensive use of CFRP
And BMW is still charting an independent course...
COMMENT: BMW opts to go-it-alone
We publish research suggesting that mild hybrids' days are numbered. This does not mean that mild hybrids like the Honda Insight will vanish overnight, but while mild hybrid production volume is likely to increase to as much as 1m per year by 2015, our research suggests that full hybrids will be at volumes three times that or more at that same point. Quite a brave thing to say, I thought.
RESEARCH SNAPSHOT: Mild hybrid sales forecast to peak soon
Ford continues on its roll of improving financial results and as our own Goldie wryly observes after hearing the Ford Q2 results presentation, there's been no hint of incompetence, failure, or financial delinquency. 'Doolally to Mulally management' is perhaps a bit dull for us journalists after the fireworks and drama provided by some companies over the past few years. But let's just be thankful for some car companies that can deliver 'dull' no-nonsense progress.
GOLDING'S TAKE: Little sign of incompetence at Ford; roll on GM's H1
I have interviewed a lot of senior executives in my time. Some work well, some less well (though hopefully you wouldn't know that by the time the final copy comes out of the sausage machine). For this one, conducted down the telephone, the interview subject was driving from North Wales to London and talking to me on his hands-free as he drove his car. This didn't sound ideal, even if he is a rally driver in his spare time (which he is). I needn't have worried. He was an exceptionally cool cucumber, very relaxed, composed and could easily have been reclining in his study with a cup of tea. Answers to questions were delivered in clear and precise style, no hesitation. And we even finished just as he was parking at his destination. I still don't think it is an ideal way to do it (and my fears could surely have been justified in other cases), but in this instance it worked really well.
Q&A with Richard Parry-Jones (Part 2)
There's some encouraging news in the sales sheets from our man in Jakarta, Tony Pugliese. Despite some some political unrest in Thailand which has hit the headlines, vehicle sales in the ASEAN region's top six markets combined grew by 40.6% in the first half of 2010.
ANALYSIS: ASEAN first-half sales jump 41%
Dep ed Graeme Roberts gets one of the first drives in a Nissan Leaf. He likes it. There's plenty of early interest in the car, which Nissan sees as primarily a second-car for households, especially suitable for around town and for households for whom the mileage constraints that come with EV batteries aren't a problem. As Graeme notes, at least this electric car is a proper C-segment hatchback and doesn't give the impression of being a modified golf cart.
FIRST DRIVE: Nissan's voltswagen makes good impression
August
Earlier in the year there had been some speculation that Geely was having trouble lining up the readies in order to complete the purchase of Volvo Cars from Ford but the deal finally completes for the princely sum of US$1.8bn. Discussion and speculation begins immediately over the extent to which Volvo will be autonomous and exactly where the brand will be pitched in the premium segment.
US: Ford completes Volvo sale to Geely Holding
Understanding Volvo key for Geely and Jacoby
GM's IPO is getting nearer and the company confirms in early August that it is starting work on the process. The ball has been set in motion.
US: Chief confirms GM started on IPO process
Sounds like Goldie won't exactly be rushing to break open his piggy-bank for GM shares. But as he tells me later in the year, everything sells at the right price...can't argue with that.
GOLDING'S TAKE: Want to buy some General Motors shares?
They're probably not dancing in the aisles at Toyota after all the media grief endured, but there's a victory of sorts when the NHTSA rules that there has indeed been some nonsense going on with many of the claims of 'runaway Toyotas'.
US: Drivers at fault in 'runaway' Toyotas, NHTSA finds
Land Rover confirms that it will ship to India for assembly, soon. There's a growing appetite for imported 'premium' SUVs in India and assembling in India circumvents import tariffs to get the retail price down. Tata has been waiting for just this sort of opportunity since buying JLR. It has lined up capacity and the Freelander 2 is expected to be the first Landy assembled in India from mid-2011.
UK: Land Rover to ship CKD kits to India next year
Ed Whitacre steps down from the hot seat at GM. Well, he didn't really want to be doing that job any longer than necessary did he? And it also straightens things out ahead of the IPO. The new bloke in charge - Dan Akerson - continues the fashion for 'non-Car Guys' running car companies. Arguably, some of the Car Guys did make rather a pickle of things.
US: GM's Ed Whitacre to step down as chairman and CEO
BACKGROUNDER: Meet the new GM chief
Fiat has bitten off quite a bit with its medium-term business plan, no doubt about that. If it all goes horribly wrong with Alfa Romeo, there may well be another company prepared to take it off of Fiat's hands. That's not a place where Fiat is now, but Marchionne is no fool. Fiat has failed with Alfa in the past. Is a future 'rebalancing' to rationalise brands – something that others are successfully doing – with Alfa sold to generate capital that can be used elsewhere, completely out of the question? I would think not. It just takes a certain sequence of events and that quickly becomes 'new reality'. But certainly not for a little while yet. Sergio will want to see if Alfa can really fly, new models, US sales and all. It could yet all hang together and defy the sceptics. Trouble is, the price will be lower if it starts to look more like a buyer's market where Alfa is concerned. Tricky one for Mr Marchionne, who will also not want to admit defeat. But being in denial could end up being costly.
ITALY: Fiat rejects suggestion of VW overtures for Alfa
I do like puns – even slightly daft ones - and this one put a daft smile on my daft face. Orlando Bloom, the fairly well known movie actor, is nothing to do with the car as far as we know; it just kinda works as simple wordplay. And the Orlando itself (the car not the actor)? It's another interesting move from Chevrolet; it is bound to be very competitively priced and looks like a pretty decent model in its class. Let's see how it does in 2011.
PARIS PREVIEW: Chevy's Orlando blooms
September
It's all kicking off in South Africa – and we are not just talking football after a highly successful hosting of the World Cup finals. Simon Warburton investigates the industrial unrest down there. Eventually things are resolved, but not before considerable disruption and havoc to South Africa's auto industry has been wrought, questionmarks raised on future economic stability.
COMMENT: Party over for South Africa?
Union calls off strike as agreement reached
It's a nicely developing industry guys, please don't blow it. Economic development takes time and is a delicate balancing act, especially so in a country with big differences in income distribution, like SA. But it is a tough one for the politicians (in a democracy), for sure.
RESEARCH ANALYSIS: Future car model programmes in South Africa
Ferrari gets into some hot water. "One [incident] was a combination of mechanical fasteners and bonding adhesives - when there is a high ambient temperature - in particular with very hot exhausts when a customer has been driving at high speed for a long time - the adhesive can melt and the wheel arch can start to deform," a Ferrari UK spokesman told just-auto. High-speed for a long time? Crikey. Don't some people view Ferraris as – given the considerable amount they have spent – probably okay for a 'long time at high speed'? At least there's a recall.
ITALY: Ferrari 458 fires prompt global recall
'Thermal incidents' (also known in some quarters as 'fires')
Fritz Henderson's enforced (let's face it) departure from General Motors left a slightly nasty taste at the time. Someone high up had clearly decided that a change at the top was non-negotiable and Henderson's long experience and deft management of GM through its unprecedented bankruptcy crisis ultimately counted for nought. Politics. Old Guard out. He had to smile and do the 'good leaver' bit publicly, for the sake of the company, but I suspect his daughter's highly publicised ranting on Facebook accurately portrayed some of the pain he felt at being discarded like that. It's a big loss of management talent to GM and the auto industry, SunCoke's gain (and good luck to him there). Couldn't the transition to a new CEO – and I do understand why that might have been felt necessary - have been handled with a bit more dexterity, keeping Henderson usefully engaged?
US: Fritz Henderson moves from cars to coke
How is the Fiat 500 going to do in the USA? I wish Fiat well with this project. It is a very small car by US standards though. I know things are slowly changing. There are a fair few Fiestas and Smarts dotted around these days, but how quickly are things really changing on Main Street? 'OMG, that's so cute, but I can't actually get in it!' Cautious/reasonable targets and ambitions called for...
US: Finally - federal Fiat 500

Alan Mulally knows business stuff right? He's been busy successfully turning FMC around, after all. Yes, he does know business, but maybe he's picked up some industrial science along the way. Lightweight composites? Aircraft? Boeing?
US: Ford CEO's reality check on composites
Comings and goings in the auto biz are getting to be like star players and managers moving around in football. One leaves there, another takes that job, that creates a new position where they came from...and so on. Is there a seasonal pattern? Just wondering. Anyway, there was a day in the autumn when executive moving activity seemed to reach something of a peak.
UK: Musical chairs day in the autos biz
What are they on at Mini? Whatever it is, I want some, along with a scooter...
UK: Mini unveils e-scooter concept
Tony Lewis gets an early look at the new Ford C-Max. That reminds me, I spoke last week to some media colleagues who have driven the new Focus. They were pretty effusive in their praise for the driving experience on the new model.
FIRST LOOK: One Ford strategy takes shape in C-Max
Opel/Vauxhall confirms that it plans to do its own sub-Corsa and not rely on buying in something off the shelf from Suzuki. It's another sign that General Motors in Europe and Opel/Vauxhall is serious and not about simply doing things on the cheap. The Agila to fill a segment gap was in some ways an unhappy compromise, not helpful to serious brand building. Small cars are big segments these days and doing your own model creates an opportunity. You can also keep designers and engineers in gainful employment...
Sharing the Gamma 2's flexible platform (or 'vehicle engineering architecture') is a big under-the-skin cost saver and gives Opel control over vehicle design.
GERMANY: Opel/Vauxhall sub-Corsa confirmed for Eisenach
JD Power analyst Arthur Maher reminds us that the recovery from recession is not exactly meteoric in Europe, with 2011 likely to see production fall back – a consequence of the inventory cycle, scrappage hangover and still weak demand.
ANALYSIS: European light vehicle output to fall in 2011
There are a few striking concepts at Paris. They speak for themselves...
Paris Show - Mondial de l'Automobile 2010
And the saga of potential interest in taking on Opel's Antwerp plant is well and truly opened. Geely is said to be in the mix.
PARIS SHOW: Two GM Antwerp plant investors being evaluated
We may be close to Christmas, but this Turkey's got pretty good prospects (sorry for that, it's late here).
MARKET SNAPSHOT: Turkey's car market enjoys a boom

October
The first major product tie-up emerges since Smart parent company Daimler signed a cooperation deal with the Renault-Nissan alliance. Penske Automotive Group (PAG) unit Smart USA Distributor signs a memorandum of understanding (MOU) with Nissan Motor to collaborate on a new five-door, petrol-powered B-segment hatchback car for sale in the United States.
US: Smart and Nissan to collaborate on five-door hatchback
The Opel Antwerp plant saga appears to be heading in one direction.
GERMANY: No buyer surfaces, so GM Antwerp plant doomed
But some people are eager to keep looking to secure an elusive potential investor. Hey, it's not over till the fat lady sings, even if she is getting ready, taking deep breaths and about to come on stage...
COMMENT: Opel labour body wants to hook Chinese fish
New Volvo Cars CEO Jacoby on the Volvo brand: "We need to stop copying the Germans. We should express what Scandinavia stands for - high values for human beings, strong social security and welfare. We don't have to be the same size or have the same package." Discuss. One or two prominent people at Geely appear to hold a different view, but Jacoby is putting some early stakes in the ground.
INTERVIEW: New Volvo Cars CEO Stefan Jacoby
How things have changed – from a product perspective – in emerging markets. There was a time when you could simply ship the old line of a discontinued model to such places. Nissan reminds us that these days a very much more sophisticated approach is called for. Micra platform to keep cost down, but the sketch suggests some added zest.
US/INDIA: Nissan reveals redesigned Versa/Tiida sedan
So, let's get this straight. The now rather long in the tooth and slightly unexciting Vauxhall Corsa is actually preferred by driving instructors at BSM to the rather more hip (bear in mind that most learners are kids) Fiat 500? Or have driving instructors been at the pies again, thus finding the 500 cabin a wee bit cramped? I have heard it suggested that this outcome is perhaps more a consequence of the deal offered by Vauxhall being very difficult for BSM to refuse on simple commercial grounds.
UK: Vauxhall trumps Fiat 500 for BSM fleet
BMW's US plant is still doing very well. It's interesting how if the brand is strong enough, and the correct principles are applied with plant set-up to yield same quality wherever the cars are made, you can make that brand's vehicles anywhere and they remain imbued with the values of the brand. Many people buy BMWs for that sense of German premium, German engineering and design values and yet the vehicle may have been made outside of Germany – do they care? If they even know where the vehicle was made, no. It's a BMW first and foremost. And for BMW making where you sell them is a key plank of industrial strategy. Not least, it gives you natural currency hedging and making more in the dollar area makes much sense.
US: BMW boosting Spartanburg output 50%
I adore Aston Martins, but what's this? An Aston 'luxury commuter car'? How many people with their heads screwed on properly are going to sign up for this one – a Toyota iQ with knobs on and an inflated price tag? Sorry, but I can't really get my head around it as anything more than a cynical exercise to get the Aston Martin average CO2 number down. Imagine the valued Aston customer buying a Cygnet and then noticing a Toyota iQ in a car park. There's a prolonged double-take and the proverbial penny may well be dropping very loudly indeed. Maybe a bit more product differentiation is required to carry this off as a genuine effort to take AM into a new segment. We'll soon see if their heart is really in it.
UK: Aston Martin confirms Cygnet for production
There's very good news at Jaguar Land Rover when a deal is done that means a threatened plant is saved. A cost cutting drive and buoyant sales have returned JLR to profitability this year and that's been crucial to the decision not to shut a plant.
UK: Jaguar Land Rover unions agree 'landmark' pay deal, two plants safe
At the Expo in Shanghai, we get an interesting look at some of the latest blue-sky thinking for the far future at GM. Your chariot awaits, sir.
COMMENT: Someone is thinking about The Future
The numbers are certainly getting big for GM in China.
CHINA: GM eyes 2m 2010 sales tally, growth to continue
That stuff you said in May about relishing the Saab challenge ahead? Did you really mean it Adrian?
UK: JLR board changes announced; Hallmark joins from Saab
Renault's Christian Estève talks to Mark 'Coolbear' Bursa. It is Estève's very last day at work ahead of retirement and one of his last official tasks is to be interviewed by Mark. Now that's what I call call cutting it fine. Nice interview.
INTERVIEW FEATURE: Estève's Russian Revolution
Saab has new product for the LA Show.
LA SHOW PREVIEW: Saab to show 9-4X
But there's also a reminder of how tough things are going to be in the automotive jungle for 'orphaned' Saab.
NETHERLANDS: Spyker shares down on bad Saab news
Chery making moves in South America.
BRAZIL: Chery and Suzuki to manufacture in Brazil
The march of electric drive vehicles is perhaps something to be kept in perspective.
US: Switching consumers to hybrids/EVs will be difficult - JD Power
November
BMW on a profit roll.
This last piece of the jigsaw lights the blue touch paper for GM IPO go.
US: GM books US$2bn Q3 profit, forecasts positive year-end result
GM does its IPO and it all appears to go off very well. A number of analysts note that now GM is profitable with a US market well under 'normal', market recovery should generate bigger profits in the future. That and some favourable reviews for the Volt get GM a good press ahead of the IPO, investors suitably excited.
US: Obama hails GM's return to Wall Street
GM repays US government another $2.1bn
Goldie suggests – ahead of the IPO - that there are still some major unanswered questions concerning GM (even if it will be difficult to hear him in the stampede to buy).
GOLDING'S TAKE: Second-hand shares available in GM (best check the warranties)
SAIC takes a small stake
US: GM confirms SAIC IPO stake, 90%+ allocation to North America
This is some order from General Electric
US: GM secures nearly 50% of 25,000 strong EV order from General Electric
Piaggio four-wheeler? As concepts like this go, at least it looks the part.
ITALY: Piaggio four-wheeler could target Nano and Smart
The dynamics of changing costs in emerging markets.
ANALYSIS: India's rising manufacturing labour costs overtake China
I say Jeeves, get the guns and dogs...is this 'shooting brake' more coupe or more estate? Not sure, but this Mercedes CLS-based model variant is certainly an intriguing one.
GERMANY: Mercedes-Benz confirms CLS 'Shooting Brake'
I interviewed Ford of Europe chief Stephen Odell and then had to find a picture of him to accompany the article on just-auto. I trawled Ford's media website and then came across an image that I just had to use. We're left wondering: can the lad carry a tune?
INTERVIEW: Ford of Europe's Stephen Odell
The contract assembly sector is still restructuring...Karmann roof systems biz heading for Valmet.
VIEWPOINT: Valmet's Karmann move underlines advance of retractable hard-tops
It is becoming clear that China's car market has performed well above many expectations this year. But what's next?
BRIEFING FEATURE: What's in prospect for China's car market?
Rob Golding has managed to weave chicken nuggets into this header. It's his favourite food. Certainly sounds like a 'happy meal' for both, Mr Reilly in talkative mood.
GOLDING'S TAKE: Good poussin and nuggets of disclosure from a newly confident GM
Are VW executives playing poker where certain Fiat brands are concerned? The speculation is sure to continue in 2011.
ITALY: Bosses deny Alfa Romeo sale claim
It's a sobering message from highly respected academic Garel Rhys as he addresses an industry group. The UK's automotive components industry is at a critical "tipping point" and could vanish by the middle of the decade without urgent action, members of the Welsh Automotive Forum were warned.
UK: Component industry 'at critical point'
With more WikiLeaks and similar stuff getting into the media on a daily basis it is clearly becoming a big challenge to keep sensitive things secret these days. And with electronic format for documents and other materials, that challenge is also there for companies.
US: Former Ford employee guilty of stealing trade secrets
Oh, talking of WikiLeaks – but we knew this, didn't we?
US: Merkel 'furious' over collapse of Opel-Magna deal says WikiLeaks
Chrysler announces a big investment.
US: Chrysler to spend another $843m on transmissions
Nissan Leaf is voted European Car of the Year and it seems to be a largely popular choice, but with a few ardent dissenters.
COMMENT: Euro COTY pick is sound for once
Chinese take-away for Nexteer is completed
VIEWPOINT: Nexteer turns a corner
Honda's new small car for Asia breaks cover.
THAILAND: Honda launches new Asian city car

December
Etios is an important vehicle for Toyota in India and Toyota has been quite painstaking in its preparatory work. Revealing the painstaking preparations for this car, Etios chief engineer, Yoshinori Noritake, said at the New Delhi Show at the beginning of this year: "I visited many Indian cities and homes to learn the market and to hear from the consumer directly. Over four years, more than 2,000 engineers have been involved in the development [of Etios]."
INDIA: Toyota launches Etios sedan
COMMENT: Cool heads in emerging markets may pay dividends
A reminder from Toyota that it is way too early to write the obituary for the internal combustion engine.
JAPAN: New Toyota Vitz fuel economy king
Lotus has a plan. And it is ambitious. Good luck to the new management team there (and more than a few Hethel old stagers).
UK: Lotus CEO sets out 'British Porsche' strategy
Volkswagen is most definitely hiring.
GERMANY: VW 'needs 50,000 more workers'
A parts shortage in India hints at bottlenecks and tight supply in some areas.
INDIA: Ford ramp up held back by parts shortage
This strikes me as a concept that could work. How many big taxis do you see about town with just one or maybe two people in them? Interesting niche that VW seems serious about.
ANALYSIS: Volkswagen redefines the London taxi
Sergio Marchionne's strategy with Italian unions put into perspective.
COMMENT: Marchionne plays hard ball
Thanks for reading this article and just-auto.
Best wishes and see you in 2011!
Dave Leggett
Most popular news
---
Most popular insights
---
Oops! This article is copy protected.
Why can't I copy the text on this page?
The ability to copy articles is specially reserved for people who are part of a group membership.
How do I become a group member?
To find out how you and your team can copy and share articles and save money as part of a group membership call Shivani Hayer on
+44 (0)1527 573 732 or complete this form..