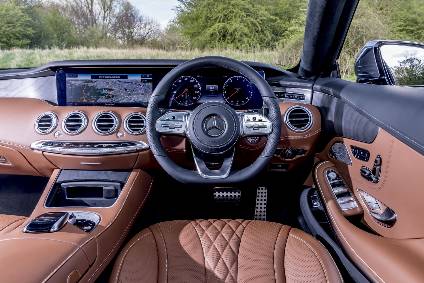 The importance of health and wellness has come into even sharper focus in 2020. Continuing just-auto/AIC's series of research snapshots, Matthew Beecham assesses how far we have come in terms of wellness technologies infiltrating the car.
Consumer technologies such as fitness trackers have been popular for some time, monitoring our heart rates, performance and sleep, but how might the renewed focus on wellness translate to the automotive space? "At present, a lot of the developments around wellness in the vehicle are focused on safety," Tim VanGoethem, vice president of advanced mobility solutions at Harman X, Harman's division focused on innovation and future-facing technologies, told just-auto. "There are a host of advanced driver assistance systems (ADAS) that support safe operation of the car, such as blind-spot detection, directional sound steering and lane keep assist. The car is starting to act as an advocate for the driver, with systems making decisions on their behalf and occasionally taking control for safety reasons – if the driver is comfortable for the car to do so.
"Running in parallel to the safety demands, we're looking at what other aspects people are interested in getting out of their vehicles. How we spend our time in the car is changing rapidly and consumer expectations are increasingly centred around experiences. The vehicle is no longer a utility or simply about transportation, we want to be as connected as we've grown to be at home or in the workplace, and we want to feel good while we spend our time there. We call this 'EPM', experience per mile – the experience is defined by the entire journey. It's here that we see the crossover of safety and consumer demand. The technology put in place to support safety can be used for additional health features that will be compelling for consumers, enhancing their experience of the car and their wellbeing during journeys. It's currently a little experimental and many companies, including Harman, are looking at these opportunities."
Other suppliers exploring the opportunities around wellness technologies include Lear. The supplier used the 2019 Consumer Electronics Show to reveal a collaboration to integrate its Intu comfort and wellness seating system into Rinspeed AG's microSNAP. Lear's Intu system, jointly developed by Seating and E-Systems engineers, comprises a suite of intelligent technologies that demonstrate enhanced passenger comfort, wellness, entertainment and safety. BioBridge is Lear's smart, non-intrusive biosensing technology that utilises radio frequency sensing to read passengers' heart and respiratory rates. It also detects stress and drowsiness and activates corresponding seating treatments, like heat and massage, to help prevent distractions and promote safer driving. With preset modes such as sport, comfort and wellness, ProActive Comfort intelligent seat adjustment technology can be customised to changing preferences – all without fumbling around on the side of the seat to find switches.
Ian Simmons, Vice President – Innovation Development, R&D, Magna International, agrees that the integration of driver and vehicle occupant wellness features are a clear trend. He told just-auto: "One thing we do see that is likely to be introduced sooner than later is 'wellness' where you can detect the health and wellness of an individual – is there a situation where they are stressed or concerned? So there will be sensing and wellness [features] that come into seating that monitors the occupant to ensure they are OK. And, with the general sense of wellness today, we can see that wearables and/or wellness in seating will continue that wellness function while you are driving, not just when you are exercising or outside the car."
Valeo's thermal business is also addressing this area. Guillaume Devauchelle, Vice-President, Innovation and Scientific Development, Valeo Group, told just-auto: "Passengers' health and well-being expectations combined with energy-efficient mobility require us to carefully identify the real comfort needs of each occupant. Our challenge is to provide the most appropriate solutions, limiting energy consumption while keeping a high level of personalisation."
What would you expect to see in a premium car interior? Forget rear seat heaters, think wellness retreats. The Mercedes-Benz C-Class spec list takes driver comfort to a new level by offering something called 'Energising Comfort Control'. Debuted on the S-Class, it links the air-con, fragrancing, seat heating/cooling/massage function, audio and ambient lighting to improve driver comfort and even lift their mood. Depending on the equipment level, up to six programmes are available. The programmes all run for ten minutes. They are visualised in the central display with colour graphics and backed by suitable music. Five songs are already stored in the programme. The key function in the Vitality programme, for example, is fast music with many beats per minute. If personal music selections are available, e.g. via the Media Interface, the system analyses them in the background and assigns them to a programme based on the beats per minute. Individual functions of the programmes can be deactivated.
Along the lines of supporting driver comfort and wellbeing, fragranced cabin diffusers fitted as original equipment for personalised ambience are gradually permeating down the car segments. As new forms of mobility emerge (car-pooling, ridesharing, autonomous vehicles), the car interior is increasingly becoming a living space in its own right, meaning comfort is no longer seen as a simple matter of ergonomics and climate control.
Fragrance diffusers are not new, however. In 2015, Opel introduced an innovation on the then new Astra model that helps to make the cabin "a warm and welcoming personal wellness oasis". An equipment option is Opel's 'AirWellness' aroma system.
Luxury car models offer a little more, of course. The Mercedes-Maybach GLS offers a dedicated fragrance as part of the optional Air-Balance package. In a gem extracted from the carmaker's press release, they describe the car's fragrance as "white osmanthus blossom, floral and light, is rounded off by a gentle leather note and spicy tea."
The COVID-19 pandemic highlights just how important vehicle hygiene is for the entire mobility industry. For its part, Yanfeng Technology has developed an antimicrobial device that can be integrated into the headliner console and uses UV light to disinfect the air and surfaces in the vehicle interior. Its Wellness Pod offers four different scent cartridges, with fragrances that can be individually selected.
While some automakers are integrating fragrance diffusers as OE fitment, it's still patchy and slow to catch on. If ridesharing maintains momentum in the 'new normal', we could see innovations such as Yanfeng's scent-based Wellness Pod used more to help kill germs and fragrance the cabin.