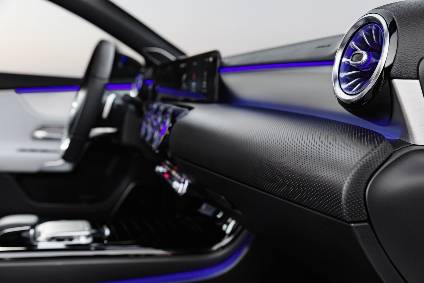 Not so long ago, car interior lighting consisted of central and side headliner lights, complemented by low-level ambient lighting located mainly in the cockpit area. Now we are seeing LEDs in a variety of applications, from back-light switches to indicate the location of door handles to footwells. Yet the desire for ambient lighting goes beyond aesthetics; it can also influence driver concentration and eye fatigue. Continuing just-auto/AIC's series of research snapshots, Matthew Beecham reviews some innovations in the ambient lighting arena.
The importance of health and wellness has come into sharp focus in recent months. Consumer technologies such as fitness trackers have been popular for some time, monitoring our heart rates, performance and sleep, but how might the renewed focus on wellness translate to the automotive space and what role can interior lighting play?
To understand the current technology and what we might expect in years to come, just-auto spoke to Tim VanGoethem, vice president of advanced mobility solutions at Harman X, Harman's division focused on innovation and future-facing technologies. He said: "We are starting to see technologies that can deduce if you are distracted, indicated by parameters such as gaze detection and pupil dilation. Normal cameras are now picking up the biometrics and facial cues to understand these topics and assess the driver's cognitive load. These technologies will be imperative on the road to autonomy, as the car must determine the driver's readiness to take back control of the vehicle if needed. Using the same infrastructure and monitoring systems, the car has the potential to deduce your health and mood, whether you are stressed, sad or tired. From a safety and wellbeing perspective, the car could make the decision to alter the cabin environment such as the air temperature or lighting to help improve alertness."
A study by BMW and the Lighting Engineering Group at Ilmenau University of Technology found that ambient lighting improved drivers' perceptions of a car's interior. Such lighting intensifies spacial perception, enhances the perceived quality of materials and makes drivers feel safer. It can also influence driver fatigue and emotions.
With the launch of the Mercedes-Benz B-Class in 2005 as a sports compact tourer, the automaker has sold more than 1.5 million models worldwide. And consumer demand has remained strong since deliveries of the third-generation B-Class began last year. As we would expect from Mercedes, the cockpit incorporates some classy materials and smart gadgets to define the luxury carmaker's interior style. Beneath the swanky widescreen display (one half of which is a touchscreen) in the centre of the dash are three round air vents modelled on aeroplane turbines. Combining these chrome vents with the multi-coloured ambient lighting package provides showroom appeal in spades. During night-time driving, the B-Class takes on an entirely different feel thanks to the LED lighting that can be personalised using a palette of no fewer than 64 colours. It really does start to feel like a cockpit, adding illuminating highlights to the trim, central display, front stowage compartment on the centre console, handle recesses, door pockets, front and rear footwells, overhead control panel and even the door sills.
Widespread use of LEDs enables personalisation of car interiors
While ambient lighting has been used by high-end automakers for a while, other automakers are also using a mix of incandescent and LED lighting concepts as a means of brand differentiation. For some, these solutions are becoming a de facto standard to control the cockpit's ambient light settings. Here are a few that have caught our eye.
The Chevrolet Camaro is equipped with 'spectrum lighting', standard on 2SS and ZL1 and available on 2LT. Some 24 different ambient lighting effects illuminate courses around the radio, door trim and cup holders. The colour spectrum reacts to changes in drive modes, the lighting gives off an ambient night-time glow, and there's even a pulsing light show mode you can select when parked.
Beneath the touchscreen of the Peugeot 508 is a row of six piano key buttons to control for example radio, HVAC, sat-nav, vehicle parameters and phone and mobile applications. Another button – 'Amplify' – on the centre console can vary the brightness of the ambient lighting and the colour of the screens, adjust the sound settings, seat massage function and fragrance diffuser.
Sold as a four-door saloon or five-door Sportswagon, the facelifted Kia Optima range made its debut at the 2018 Geneva motor show. A mid-life facelift interior feature appearing in the GT-Line S and GT include ambient lighting around the dash which flows down and around door panels. The driver can choose between six different colours – or assign colours to individual driving modes. By default, lighting floods the cabin with a soft green glow in Eco mode, while Sport mode turns lighting to red and Smart mode fills the interior with soft blue ambient lighting.
Launched in Beijing in March 2018, the third-generation Volkswagen Touareg boasts a minimalist cockpit and huge dual-screen to keep you connected while on the move. Standard ambient light zones dotted across the cabin include front and rear door openers and pulls, glove compartment, reading light and roof module, footwell and luggage compartment, door trays and stowage area of the centre console and cup holder. Using the ambient light, the atmosphere on board the Touareg can be personalised via 30 different light colours whose brightness can also be adjusted.
Although the VW Golf Mk 7 has been around for quite a while (appearing on our shores in 2012 and updated in 2016), its timeless progressive design has earned the status of Europe's best-selling hatchback. While it may no longer dominate the C-segment class as it once did, the Golf is renowned for being a comfortable, practical and economical choice. To some extent, the Golf follows the trend with its ambient interior lighting. This feature includes lights in the front door armrests, light strips below the trim in the front doors and reflectors in the front and rear doors plus front footwell illumination.
The application of different light sources (incandescent and LED) to transform the cabin at night has certainly moved the game on. While ambient lighting is a clear growth area and brand differentiator, led by LED light sources, other sources are emerging such as halogen and electroluminescence. Light-shaping diffusers and lenses are increasingly being used by automakers not only to draw attention to the quality of materials in the cabin but also to provide the occupants with a greater sense of orientation and spaciousness. Looking further ahead, interior lighting will play a far bigger role in autonomous vehicles.