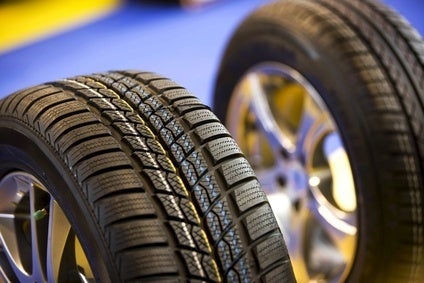 Continuing just-auto's series of research snapshots – pulled from its automotive research platform, QUBE – Matthew Beecham reviews some technical trends in the tyres sector and rolls out a few facts to memorize and amaze your friends.
With automakers under pressure to produce more fuel-efficient cars, it is hardly surprising to see them eliminating the spare wheel, thereby shedding up to 30 pounds in one stroke. Indeed, a number of automakers now supply a tyre sealant and tyre-inflator pack instead of a full-size or temporary spare wheel (also known as space-saver tyre.) The sealant and compressed air are injected through the tyre valve but the result achieved will depend on the cause of the puncture and how far and fast the flat tyre has been driven on. In other words, tyre inflator kits only work on small punctures over short distances. A major blow-out cannot be repaired using an inflator kit.
One of the most significant innovations in tyre technology over the past decade or so has been the development of the run-flat tyre. Yet while run-flats have done a lot to improve vehicle safety, they still come with a relatively high price tag and are heavier than conventional tyres.
In the longer term, non-pneumatic (airless) tyre technology, which takes a completely different approach, is continuing to advance due to new design concepts and the utilisation of non-standard tyre industry polymers such as polyurethanes and thermo-plastic elastomers. This technology, due to its lighter weight construction and potentially lower material costs, could one day become available at a price that is reachable to all consumers.
Meanwhile, reducing road noise from tyres has been the subject of intense research over the years. With the gradual introduction of electric vehicles, the challenge for the tyre industry is to design a tyre that produces a comfortable level of noise for the environment without having a negative effect on the interior vehicle noise. Continental has introduced a new technology that it claims reduces tyre noise inside the cabin. The innovation features a coating bonded to the inside of the tread area after the actual tyre production process. This special layer of foam is claimed to have a strong damping effect on the sound waves caused by the rolling tyre, so that no matter what surface the vehicle is driving on, the noise level reaching the cabin is up to nine decibels lower.
The use of alternative renewable materials is increasingly being considered for tyre manufacture, too. Cooper Tire & Rubber has completed tyre builds using rubber derived from guayule plants and new guayule related materials. The tyres are being evaluated by Cooper's technical team using rigorous wheel, road and track tests, which are ongoing, but to date suggest tyre performance that is at least equal to tyres made of components derived from the Hevea rubber plant.
Continuing with the 'green theme', Goodyear recently let it be known this month that it has signed a supply agreement with Yihai Food and Oil Industry in China for silica derived from rice husk ash. Goodyear says it will begin using the silica in a consumer tyre that will be manufactured in its factory in Pulandian, China, and sold in China. The tyre makers adds that it has tested silica derived from rice husk ash over the past two years at its Innovation Centre in Akron and found its impact on tyre performance to be equal to traditional sources. Silica is used as a reinforcing agent in tyre tread compounds. Compared to carbon black, a traditional reinforcing agent for tyres, silica reduces rolling resistance. Lower rolling resistance, in turn, improves a car's fuel economy. It also can have a positive impact on a tyre's traction on wet surfaces.
Other factors impacting on tyre design include increased chassis development. In addition, the larger number of car segments have led to an increase in the complexity of the tyre market. Performance no longer just relates to speed alone. The fact that comfort, noise levels, safety and traction have become increasingly important means that so-called performance tyres are often fitted to cars from the lower medium sector of the market. The W, Y, Z and 4×4 markets have been showing strong growth thanks to the trends in the performance sector and a desire for alloy wheels. There has also been a change with regard to tyre dimensions, partly because people like highly styled wheels with low profile tyres.
Tyre facts
To most motorists, tyres are round, black and boring. We rarely give them a second thought unless we get a flat and go searching for the spare tyre in the boot (trunk). But as shown here, the tyre is a highly complex product jam packed with advanced material engineering. To this end, we've pulled together a few facts and figures to mull over.
• Half a barrel of crude oil is used to make one truck tyre. (Source: ozzytyres.com) • Roads have been made from used tyres since the 1960s, with recycled tyres being shredded and mixed with asphalt. (Source: Business Car Manager). • New car tyres need running in. A new car tyre is formed in a mould which is lined with a non-stick coating. This coating is needed to be able to remove the tyre from the mould. While it creates a nice shiny appearance on a new tyre, it also reduces road grip. It can take up to 500 miles to scrub the coating from the tyre. So next time you are out and about driving on a new set of tyres, take it easy round corners and in the wet. (Source: The Tyre Professionals). • Ever wondered how an expensive tyre actually performs against cheaper one? Well, the difference in braking distances alone of premium and low budget all-season tyres present on the European market on wet surface (from 62 mph) is 12.8m. The moment the first car stopped, the other was still running at a speed of 16 mph. (Source: Auto Motor und Sport 14/2007). • The European winter tyre market is now one third of the replacement market, thanks partly to a regulatory framework now in force in certain countries. Demand has increased from 40m winter tyres in 2002 to 85m-90m in recent years. (Source: QUBE, by just-auto 2015).