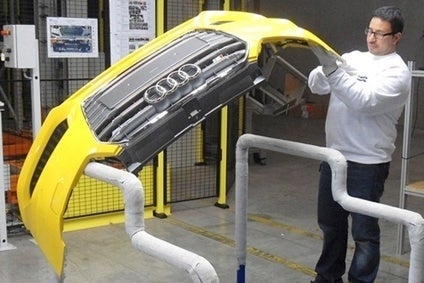 Continuing just-auto's series of research snapshots – pulled from its automotive research platform, QUBE – Matthew Beecham reviews some lightweight solutions fitted to front-end modules by Faurecia, BASF, Plastic Omnium and SABIC Innovative Plastics.
Defining the elements
Front-end modules typically encompass the bumper, headlights, radiator and various others parts. Not only is the front-end important aesthetically and functionally, it also plays a fundamental role in safety. During low-speed collisions, it must protect the expensive parts and thereby reduce repair costs. During collisions at higher speeds, its absorption capacities become secondary but it plays an important role in terms of establishing compatibility between different vehicle brands and models to compensate for differences in height and direct energies towards zones of structure deformation of the car. The front-end module has also taken on a whole new dimension following adopted standards of pedestrian protection.
Benefits
The benefits to the automaker from sourcing complete front-end modules are clear: they can help cut the number of operations on the assembly line, reduce vehicle weight, cut tooling costs and improve working capital.
The most important potential benefit of modular construction is standardisation, allowing suppliers to offer standard solutions to different manufacturers and hence bring costs down. More specifically, by shifting programme management responsibilities to the supply base allows the automaker to decrease their interfaces with different suppliers.
Given such bulky modules come with high shipping costs, suppliers often establish a plant just a few miles from its customer or even inside the assembly plant. For example, Faurecia recently opened a just-in-time component assembly plant in Brussels, Belgium, inside an Audi factory. The 9,000 square metre site supplies complete front and rear bumpers as well as front-end modules for the automaker's S1 and S1 Sportback (saloon). A Faurecia plant in Germany handles injection moulding and painting of the bumpers plus front-end module moulding; the components are then shipped to Brussels for final processing, assembly and delivery.
Lightweighting potential
Faurecia is also supplying parts for the 2015 Mexican built NAFTA Volkswagen Golf. Faurecia Automotive Exteriors is producing the carrier for the new model's front-end module at its Puebla, Mexico, accessories facility, near the plant in Puebla where VW assembles the Golf. The carrier is the first production contract for the Faurecia Automotive Exteriors business group in Mexico and supports headlamps, engine cooling system and other components in the front end. In Puebla, Faurecia has installed a new injection moulding press at its interior systems building, used by both the interiors and exteriors groups in manufacturing parts for the Golf.
The front-end carrier in the Golf 7 is made from plastic, supplied by BASF and marks the first time this part has been without metal reinforcement. BASF claims that replacing the previous polypropylene hybrid part with an all-plastic part required use of not only its so-called Ultramid B3WG8, a highly reinforced polyamide during develop¬ment, but also its simulation tool Ultrasim. The sheet steel parts that had been attached previously are now eliminated thereby reducing the weight of the front-end module compared to that of the predecessor model.
On the Mercedes-Benz AMG-GT, designers paid close attention to the aerodynamic configuration. The front-end design reduces lift to the desired level and helps route air to and from the cooling modules. The flow of cooling air is also claimed to improve brake performance with the help of special brake cooling ducts. Specific attention was also been paid to the joins throughout the vehicle. AMG uses MIG welds, rivets and adhesives to ensure high stiffness levels. A magnesium front deck reduces weight ahead of the front axle.
Plastic Omnium meanwhile has developed a front impact beam for Hyundai Motor Europe that is claimed to be 43 percent lighter. This represents a weight saving of 3.7 kg compared with the same part made of sheet steel. A new technology combining a pultruded fibreglass and carbon fibre reinforcement overmoulded with a thermoplastic resin makes it possible to achieve high levels of performance at a competitive price. The partners further claim that this innovation provide the same level of impact resistance as current parts made of metal. The aim is to equip a first Hyundai vehicle with this new impact beam by 2017.
Lanxess used this year's PlastIndia extravaganza to reveal a range of lightweight solutions with high-performance plastics for the automotive and two-wheeler industry. The supplier also showcased lightweight solutions for cars including a front-end module structure.
Finally, SABIC Innovative Plastics is offering its specially-formulated resin, STAMAX, in front-end modules. "Front-end modules are a good example of where we can help OEMs and Tiers meet local market needs and achieve global environmental and safety requirements," said Robin Coppenrath, global business manager, SABIC Innovative Plastics during an interview for just-auto's QUBE platform. "In this kind of structural application, OEMs are looking for performance comparable to steel in terms of strength, but a lighter weight, improved overall quality and, of course, a lower cost. To meet this need, we offer STAMAX long glass fibre polypropylene resins. These resins have been used extensively by European automakers to replace steel in key components like front-end modules as well as door modules, dashboard carriers, underbody shields, tailgates, seating systems and other structural and energy management systems. Compared to short glass fibre PP, STAMAX resins deliver higher impact resistance and stiffness and improved dimensional stability for tight tolerances. These resins have huge potential for the automotive industry worldwide."