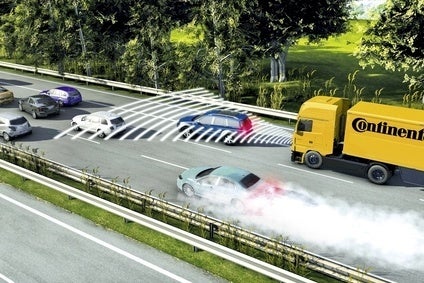 Continuing just-auto's series of research snapshots – pulled from its automotive research platform, QUBE – Matthew Beecham reviews some advances in the electronic braking system arena.
The apparently simple issue of braking continues to be a major issue for chassis system designers. Drivers are of course concerned that in an emergency, their vehicles should stop as quickly as possible. There is a practical limit to braking performance, set by the ability of the tyre contact patches to transmit the forces involved without sliding. However, advances in tyre design, complemented by the ability of electronically controlled braking systems to distribute effort according to wheel load (if, for example, the brakes are applied while the vehicle is cornering), mean that limit is now potentially very high, at least on dry road surfaces. This is throwing the onus very much back to the braking system developers.
Braking intervention-
The first form of intervention to be adopted was anti-lock braking, now almost universally known as ABS although strictly speaking, that remains a Bosch trade name. In Europe, North America, Japan, Brazil and Australia, ABS is now a standard feature in vehicles thanks to legislation. From 2016, ABS will be introduced as standard equipment for an increasing number of motorcycles in the EU.
-autonomously
New technologies are integrating radar and lidar systems with beam sensors to allow autonomous emergency braking (AEB) in critical situations. The first generations of AEB systems were available in 2003 in Japan marking a development of Adaptive Cruise Control (ACC), a driver support system that controls speed to maintain a set braking distance from the vehicle in front.
AEB systems add to the basic ACC technology to initiate braking where a collision is imminent, regardless of whether the driver is using ACC. The AEB systems can provide different levels of braking: from partial autonomous braking at farer time to collisions, to full autonomous braking at very low time to collision where the collision is imminent. AEB systems automatically apply the brakes when sensors on the vehicle detect a likely collision and the driver has not applied the brake sufficiently and is not attempting to steer around the impact partner.
Most carmakers have (or will shortly have) such systems on the market but they don't all work across the full speed range. Lower-cost vehicles typically avoid the expensive radar systems by offering only operation at city speeds, which represent a high proportion of relevant impacts.
Where's the handbrake?
A car fitted with an electric parking brake (EPB) puts an end to driving with the handbrake on or parked vehicles rolling away. In fact, electrically operated parking brakes are becoming more common in new cars as manufacturers seek to save space and money by abandoning the traditional handbrake lever in the interior, plus the cables, linkages and mechanical adjusters beneath the car. EPB are typically operated by a button on the dashboard which operates an electric motor to actuate the brake cables.
TRW says its fifth generation EPB ECU (electronic control unit) uses a dual microcontroller safety architecture with an application-specific integrated circuit. The memory size is scalable up to 1MB with the option of incorporating (external) customer software modules. For greater packaging and performance flexibility there is an option to integrate longitudinal, lateral and yaw rate sensors within the ECU. In terms of market development, TRW sees EPB systems developing in emerging BRIC countries.
Brake-by-wire developments
Although advances in friction materials and caliper designs have helped improve braking performance, the main improvements in braking in recent years have come from electronic control, firstly ABS, then ESC and now brake-by-wire.
Automotive brake-by-wire technology is the ability to control the brakes through electrical means. It represents the replacement of traditional components such as pumps, hoses, fluids, belts and vacuum servos and master cylinders with electronic sensors and actuators.
"Electric brakes are still a few years away from volume production," said Alan Lee, global director, sales and engineering, brake systems, for BWI Group. "But as demand for powertrains with energy recovery systems grows, and increasingly crowded road space requires better safety measures, the electronic integration of all the systems that aid the driver to control the vehicle is both desirable and inevitable."
Brake-by-wire systems must still overcome many hurdles before reaching volume production, not least legislative restrictions and the cost of manufacture. "As we progress, we must keep government regulators fully aware of the pace of change and participate in the adjustment of various regulations to embrace the new technology," said Lee. "We have to show the legislators that fail-safe electronic processes can replace fail-safe mechanical ones."