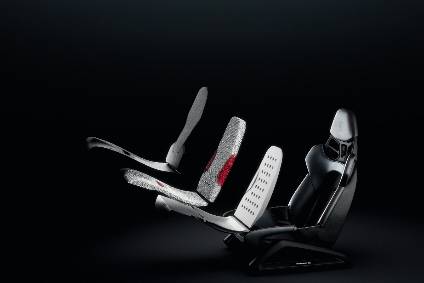 Developments in vehicle seating have been taking place much faster than may be apparent on the surface. OEMs are demanding greater differentiation in their seat designs, customers want ever more luxury, and ergonomists are understanding more and more about what the human frame needs, in order to be comfortable. Continuing just-auto/AIC's series of research snapshots, Matthew Beecham reviews some market and technical trends in the automotive seat sector.
Aside from seating ergonomics, a great deal of work is focused on different seat fabrics, creating more breathable or more waterproof surfaces, and even adding sensors designed to monitor driver well-being. It is also clear that interiors must appeal to people of all shapes and sizes. Not only is there the challenge of defining comfort levels, but there are also cosmetic questions of colour and trim, the covering materials used, durability, use of child seats, headrests and overall seating arrangement. Seats are also becoming safer yet lighter and slimmer.  So without further ado, let's take a look at some recent innovations in the automotive seating arena.
3D-printed bucket seats from Porsche
Porsche recently presented a novel alternative to conventional bucket seat upholstery with a 3D-printed body form full-bucket seat concept study. The seat and backrest cushions are partly produced by a 3D-printer.
The concept features a sandwich construction: a base support made from expanded polypropylene (EPP) is bonded to a breathable comfort layer consisting of a mixture of polyurethane-based materials made using a 3D-printer. The outer skin is made from Racetex and features a specific perforation pattern for climate control.
Spinal support research inspired Infiniti seats
Since its European launch in 2016, Nissan's luxury brand Infiniti has used the QX30 to attract a new type of premium car buyer. More specifically, the seat design makes use of Infiniti 's 'spinal support' research. The wider-fitting seat backs have been engineered to match the curvature of the spine, providing consistent spinal support by more equally distributing load across the seat to minimise pressure on back muscles. Internal testing carried out by Infiniti engineers showed that the QX30 seat provides greater levels of support and comfort than rivals, reducing driver fatigue on long journeys.
Next-generation seats from BMW
BMW used the 2020 CES to showcase its X7 ZeroG Lounger. The lounger models are fitted with seats that can be tilted back by 40 or 60 degrees while the seatbelt moves with the occupant. A cocoon airbag is also integrated into the seat. Once seated in the reclined position, a screen built into the headliner pops out, allowing the occupant to watch on-board entertainment. The carmaker says this technology will enter production in the next few years.
Honda's body-stabilising seats
The front seats in the latest generation Honda Jazz incorporate the automaker's newly developed body stabilising seat frame that aims to increase comfort levels and provide greater lumbar support. These wider seats incorporate a seat mat structure placed at both the bottom and back of the seat to replace the S-spring design of previous models.
Is this the future?
Jaguar Land Rover (JLR ) says it is in the process of developing a seat of the future – a pioneering shape-shifting system designed to improve customer wellbeing by tackling the health risks of sitting down for too long. The 'morphable' seat, being trialled by JLR 's Body Interiors research division, uses a series of actuators in the seat foam to create constant micro-adjustments that make your brain think you are walking, and could be individually tailored to each driver and passenger. By simulating the rhythm of walking, a movement known as pelvic oscillation, the technology can help mitigate against the health risks of sitting down for too long on extended journeys.
Sustainable seats
For car interiors, coconut fibre seat pads have been used in order to meet manufacturers' economic and ecological objectives while contributing to sustainability. For example, Mercedes-Benz uses coconut matting, crushed olive stones and even sawdust in certain vehicles. The crushed, carbonised olive stones are used as air filtration material inside the fuel tanks of C- and S-Class models – greatly reducing petrol vapour smells when refuelling. Then there are abaca fibres – from the stem of a banana-type plant grown in the Philippines. These fibres are used in the underfloor cladding of A- and B-class cars. Sisal fibres are also used in Mercedes-Benz door panels and seatback lining.
Ford has made some headway using bio-based materials in its vehicles. The automaker has been active in biomaterials since the 1920s when Henry Ford used wheat straw. Ford is using soy-based polyurethane foams for seat cushions and seatbacks on a range of models, including the Mustang , Expedition, F-150, Focus, Escape, Escape Hybrid, Mercury Mariner and Lincoln Navigator and Lincoln MKS. Lear Corp worked with Ford to introduce a head restraint foam that has 25 per cent of the polyol replaced with soy.
The fashion industry produces jewellery, clothes and bags from recycled PET bottles. The automotive industry also uses them to make car interior parts. In doing its bit, Audi is offering seat upholstery and carpets made from recycled material for the fourth and latest generation A3. At present, however, the seat upholstery is not yet made completely of recyclable material. "The lower layer of woven material, which is connected to the upper material with adhesive, is what poses the challenge. We are working on replacing this with recyclable polyester," says Ute Grönheim, who is in charge of material development in the textiles division at Audi . The carmaker is aiming to make all seat upholstery across all model series from recycled material.
Lightweight seats
The three megatrends impacting the global automotive industry, namely fuel efficiency, individualisation and autonomous driving, strongly influence the shape and form of tomorrow's car seat.
Fuel efficiency and CO2 requirements can only really be achieved with weight reduction. Hence the relentless push for lightweighting has led to the novel use of alternative, advanced and even organic materials in designing seats. Individuation of seating is another growing trend, keeping interior designers mindful of aspects such as customisation, x-covers and niche products but all based on global platforms.
In terms of the seat structure, there is greater use of aluminium (or steel and aluminium combined) in manufacturing both the front or rear seats.
As manufacturers attempt to add more features and create greater interior space in the small car segment, designers and material suppliers are being urged to come up with new ideas, such as slimline seats.  Indeed, as vehicles become smaller, we are observing a trend towards thinner seats, similar to those found in concept cars at auto shows. Not just because they look sleeker, but because they add interior space to the cabin.
Seats will continue to be lighter and thinner thanks to the increasing use of high strength low alloy steels and new joining methods for both steel-to-steel and steel to other materials.
We can also expect to see more fibre-reinforced composite back frames that provide a low mass design and improved packaging efficiency.
On balance, car seats are becoming safer but more supportive, versatile and comfortable to sit in with a multitude of hidden creature comforts, and, of course, driver well-being sensors. Sit back and relax. We've never had it so good.