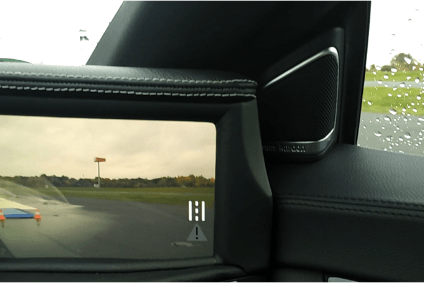 Given that wing mirrors add weight, cost and wind resistance to the car, it is not surprising that some automakers wish to eliminate them thereby creating a sleeker look. As suppliers anticipate a change to mirror regulations, many are developing mirrorless systems using vehicle mounted cameras and dashboard monitors. Here is our snapshot of who is doing what.
'Mirrorless cars' use video systems and dashboard screens to increase the driver's field of view, typically eliminating the blind spot by stitching together a panoramic view of what is behind and to the side of the car. Although mirrorless cars will take time to get used to, most solutions we have seen feature high-resolution screens located close to where a driver would glance to check the wing mirror. Some mirrorless technologies assist the driver further by automatically adjusting to reduce sunlight glare or intensifying levels of brightness while parking.
Valeo's Sightstream
For its part, Valeo used the 2015 IAA to present its so-called Sightstream, a new camera system that replaces conventional rearview mirrors. Removing the interior rearview mirror also makes it possible to redefine the rear of the vehicle, which can be narrowed. In a US first, Valeo used the 2016 consumer electronics show (CES) in Las Vegas to also highlight this system where visitors could test drive a prototype.
BMW's concept
And one reason BMW why hogged some of the limelight at the recent CES was due to its mirrorless concept of the hybrid i8 supercar. Here, three wide-angled 'smart' cameras mounted on the doors and rear window replace the rearview mirrors. The image of the car's immediate surroundings is fed back to a display positioned in place of the interior rearview mirror.
JLR's 3D solution
Jaguar Land Rover's (JLR) research team is also looking at technology that could replace mirrors with cameras and virtual displays. Using two-dimensional imaging to replace mirrors is limited by the fact that single plane images on a screen do not allow the driver to accurately judge the distance or speed of other road users. JLR has therefore developed a novel 3D instrument cluster, which uses head- and eye-tracking technology to create a natural-looking, specs-free 3D image on the instrument panel. Cameras positioned in the instrument binnacle or steering column area track the position of the user's head and eyes. Software then adjusts the image projection in order to create a 3D effect by feeding each eye two slightly differing angles of a particular image. This creates the perception of depth which allows the driver to judge distance.
Audi's vision
We are also told mirrorless technology is coming on the Cadillac CT6 while Audi has already toyed with the idea in its Le Mans racers. Continuing the digital theme, Audi's vision is demonstrated in its R18 Le Mans prototype that has no rear window. Instead, it features a digital rearview mirror. A small camera located at the rear of the car relays images to a 7.7-inch digital screen in place of the interior rearview mirror.
Continental's prototype
For its part, Continental is using a prototype vehicle to demonstrate just how a camera monitor system can be used to replace a car's exterior and interior rearview mirrors. During an interview with just-auto, Marc Simon, Project Leader for Mirror Replacement at Continental's Chassis & Safety Division said: "Our approach uses three ADAS [advanced driver assistance system] cameras mounted on the test vehicle chassis with an opening angle that avoids any blind spot area on the side of the car. Therefore accidents based on missing perception of this area can be reduced. To provide the best possible display of the lighting conditions on the monitors, the cameras are equipped with a High Dynamic Range (HDR) function that reduces a bright sun, for example, to a white surface without flare. HDR also improves visibility at dusk through brightness improvement."
The camera image is displayed on two dashboard integrated displays using OLED (Organic Light Emitting Diode) technology. "Our camera monitor system has different advantages compared to conventional mirrors," adds Simon. "Initially efficiency enhancement regarding air drag reduction and therefore fuel and CO2 output reduction were focus of this system. After our evaluation the system can also increase safety for the driver based on the mentioned blind spot avoidance, better visibility in dark or night situation due to the HDR mode as well as blinding avoidance from rear sunlight or head beams."
Magna's invention
it was a real treat to get up close and personal with Magna's mirrorless car this week at the supplier's North American HQ in Troy, Michigan. Magna has actually been demonstrating mirror replacement systems since 1998. "With our intuitive implementation the switch from looking at a mirror to looking at a display in the A-pillar feels natural to the driver," said Eduardo R. Corral-Soto, Vision & Machine Learning Algorithms R&D Team Leader, Magna Electronics while demonstrating the technology. "Our camera technologies further enhance the driver awareness by covering the blind spots that otherwise exist in conventional mirrors. Also by detecting and warning the driver for vehicles in the blind spot our mirror replacement camera systems provide an unparalleled user experience."
Are we there yet?
While the mirrorless car technology is already available, the legal framework needs to catch-up. "We can provide the solutions, now it's up to the legislation and the OEMs to decide when it will become commonplace," added Corral-Soto. Back-up cameras have recently been regulated while Tesla (and others) are calling for more flexibility on mirror requirements which date back to a rule made in 1968 (in the US, at least). While changing these rules have taken time and effort, there is some light at the end of the tunnel. Mirrorless cars will be made street legal in Japan later this year. Only in Japan? Well, European legislation changes to ECE R46 based on the ISO 16505 already allow for mirrorless cars and road testing is set to begin this year. We should therefore expect some announcements from European automakers shortly. Changes to the relevant regulation in the US may take a few more years, however. In the meantime, mirrorless trucks could come be on the horizon. Last summer, Daimler Trucks North America successfully petitioned the NHTSA requesting camera-monitor systems as a compliance alternative to rearview mirrors. Since then, Daimler has been testing autonomous tractor-trailers in the state of Nevada that use screens instead of wing mirrors.