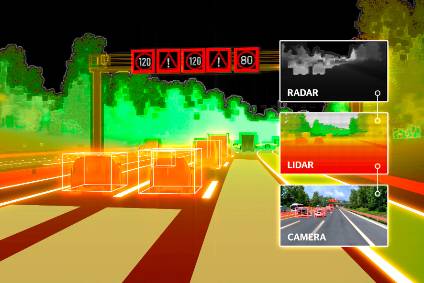 While advanced driver assistance systems (ADAS) technologies have appeared in luxury cars for some time, they are increasingly appearing in less expensive cars. Continuing just-auto/AIC's series of research snapshots, Matthew Beecham reviews the extent to which ADAS technologies are permeating car segments.
Driverless means a vehicle that has no driver and, therefore, needs to be able to do everything by itself – without a steering wheel – hence fully automated. That suggests a level of automation hence the SAE's six levels of automation. These levels are also referred to as key stages towards automated driving (AD), namely feet-off, hands-off, eyes off, and brain off.
Although there is still a buzz around level 3 – 5 cars, most new cars already have some level of basic driver assistance. ADAS technologies aim to make the vehicle capable of perceiving its surroundings, interpret them, identify critical situations, and assist the driver in performing driving manoeuvres. The object is, at best, to prevent accidents completely and, at worst, minimise the consequences of an accident for those concerned.
Starting from the top, let's take a look at who is what offering what in the ADAS department.
Executive car: Mercedes-Benz E Class
The Mercedes-Benz E-Class that turned up at our door came with a Driving Assistance Plus package. For an extra GP1,695, you get active blind spot and lane keep assist, active brake assist and evasive steering assist, active lane change assist and drive pilot. The latter represents the carmaker's next step along the road to autonomous driving. As Distance Pilot Distronic, it is not only able to automatically maintain the correct distance behind vehicles in front on all types of road, but also, for the first time it can follow them at a speed of up to 130mph. Perfect for the Autobahn then but we didn't drive as far as that. The E-Class is also equipped with Remote Parking Pilot that allows the vehicle to be moved into and out of garages and parking spaces remotely using a smartphone app, enabling the occupants to get into and out of the car easily, even if space is very tight.
Large SUV: Volvo XC90
Launched in 2015 – and subtly refreshed in 2019 – the second-generation Volvo XC90 comes teeming with semi-autonomous and connected car features. In terms of active safety technology, the XC90 now offers drivers help with steering on both the City Safety and the Blind Spot Information System. City Safety with Autobrake is still the only system on the market to recognise pedestrians, cyclists and large animals. The Oncoming Lane Mitigation system first introduced on the XC60 is now also available on XC90, while the Cross Traffic Alert technology now includes autobrake. Parking assistance – parallel or perpendicular – is available on the flagship model. Such effortless parking manoeuvres are based on information from 12 ultrasonic sensors dotted around the car. The 360° surround view is enabled by four concealed fish-eye cameras – one cleverly integrated into the Volvo badge on the front grill, one integrated in each of the door mirrors and the other fitted above the rear number plate. Aptiv supplies the camera and radar equipment.
Mid-size SUV: Ford Edge
The first generation Ford Edge, launched in 2006, was offered in four trim levels. Its top-drawer Sport trim included an AM/FM stereo with six-disc in-dash CD/MP3 player and SYNC in-car connectivity system. The second and current generation Edge features fresh interior colour combinations, a 12-speaker Bang & Olufsen surround-sound system, SYNC 3 and a range of camera- and sensor-based driver assistance technologies.
More specifically, it incorporates a suite of driver-assist features including adaptive cruise control, lane keeping assist, traffic sign recognition, autonomous emergency braking and something Ford called Evasive Steering Assist. Designed to operate at city and motorway speeds, it uses radar and a camera to detect slower-moving and stationary vehicles ahead and provides steering support to enable drivers to manoeuvre around a vehicle if a collision is imminent.
Small SUV: Peugeot 3008
Launched at the 2016 Paris motor show, the second generation Peugeot 3008 competes in a crowded C segment SUV market. It comes equipped with a number of ADAS technologies as standard, including: Active Safety Brake (emergency brake assist) and Distance Alert (risk of collision warning); active lane departure warning; driver attention warning; automatic adaptive headlamp main-beam; speed limit sign recognition and recommendation; adaptive cruise control with stop function (automatic gearboxes) and active blind-spot monitoring. For manoeuvring around towns and cities, Visio Park (360° all-around vision) and Park Assist do the job.
Sports car: Ford Mustang
As we would expect of a car that comes with a forty grand price tag, the Ford Mustang boasts loads of ADAS equipment. Although it can't drive itself … yet. The spec sheet left in the press car listed pre-collision assist with pedestrian detection (designed to reduce the severity of, and, in some cases, even mitigate frontal collisions involving vehicles and pedestrians), adaptive cruise control, distance alert technologies (helps drivers maintain an appropriate distance to the vehicle ahead) and lane departure warning.
Mid-size car: Ford Mondeo
The latest generation Ford Mondeo (Fusion) can guide drivers hands-free out of parking spaces at the start of their journey and deflate the seat-base bolsters to allow them easy exit at the end. On the ADAS front, the Ford Mondeo crams in technologies like Pre-Collision Assist with Pedestrian Detection. The car will apply automatic braking to mitigate or avoid a collision with a vehicle ahead. Its Active City Stop operates at speeds of up to 25 mph. Radar technology further enables the new Distance Indication feature and Adaptive Cruise Control technology. In addition, the forward-facing camera supports Lane Keeping Aid, which applies steering torque to guide the car back into lane if it detects unintended drifting towards the lane marking. The Mondeo is also equipped with Active Park Assist featuring Perpendicular Parking, which enables drivers to detect suitably-sized parallel parking spaces and reverse hands-free into spaces parallel to the road and side-to-side with other cars.
Compact car: Toyota Corolla
Predating the VW Golf, the 12th generation Toyota Corolla ranks as a top-seller in the fiercely competitive European C-segment. The Corolla provides a fine example of just how far we have travelled in terms of ADAS fitment on compact cars. All versions of Corolla are equipped with Toyota Safety Sense, a suite of active safety technologies designed to help prevent or mitigate collisions. These include pre-collision system, adaptive cruise control, lane departure alert, lane trace assist, automatic high beam and road sign assist. The chore of parking is eased thanks to a park assist system that uses a rear camera and sensors located around the sides and bumpers to identify viable reverse and parallel parking spaces.
Sub-compact car: Honda Jazz
Since the Honda Jazz was launched way back in 2001, the automaker has sold more than 7 million models worldwide. Despite its popularity, it is not until you drive one that you begin to notice them everywhere, driven mainly by an older generation. It does not – and must not – set pulses racing. It's a safe, no-nonsense choice. Every Jazz comes with a number of ADAS, including city-brake active (to help avoid low-speed accidents), forward collision warning (detects the risk of collision by recognising the vehicle ahead, using a camera), traffic sign recognition system, intelligent speed limiter (combines two otherwise independent safety systems – adjustable speed limiter and traffic sign recognition system), lane departure warning (increasingly common across the segment) and high-beam support system (which is surprisingly quick at adjusting the headlight beam).
Under pressure
It's clear from the above that multi-function cameras have penetrated far and wide across the segments in Europe, and will spread further in coming years driven by Euro NCAP and future regulations. Late last year, the EU Member States gave the green light to new vehicle safety standards that will see features such as automated electronic braking (AEB) and lane-keeping assistance become mandatory on new cars from mid-2022. The final approval by Member States to the deal will see the EU press ahead with plans for all vehicles to be equipped with a range of safety features.
While ADAS fitment is increasing, the volume and complexity of vehicle testing for assessments and approvals is expanding rapidly causing concern for the auto industry.
"Vehicle testing is expanding rapidly, placing increasing pressures on manufacturers," Wesley Hulshof, Senior Applications Engineer responsible for overseeing the growth of the testing service division within the AB Dynamics group told just-auto. "For example, in 2014, the Euro NCAP assessment included 6 ADAS test scenarios, in 2020 it is now 39, an increase of 650%. On top of this, there is a clear drive to make our roads safer and this is being rightly pushed by governments and safety assessment and certification bodies. By 2022 many ADAS will be made mandatory for all new cars in 40 countries. As a result, this necessitates the need for complex safety technologies to be adapted by vehicles at all price levels."
Hulshof believes that, although manufacturers will largely use the same ADAS technologies across their product portfolio, the operational limits may vary, or functionality increased for higher-end models, so each individual model needs to be tested. Not just by the manufacturer but also the certification agencies. Therefore, vehicle testing and assessment is becoming increasingly complex, requiring more resources than ever before and this trend is likely to continue as the various test scenarios continue to evolve.
Despite some bold predictions for autonomous vehicles over the past few years, enthusiasm and investment for further development has stalled lately. While we are seeing an acceleration of level 1 and 2 driving automation across car segments, there are delays in higher levels due to the lack of an established regulatory framework and the Herculean challenge of providing safety in all driving situations.
It now appears that it will be years before truly driverless cars become a reality, if at all. The 'race' to safely offer fully autonomous cars has slowed. Although a good proportion of the technology needed to operate self-driving cars has been developed, the laws that allow such vehicles on our roads are some way behind. The COVID-19 pandemic has also prompted some automakers to rethink their strategy and scale back their L4/5 developments.