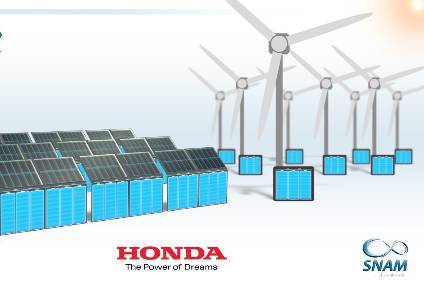 While the term 'second life' conjures thoughts of an online world in which residents create virtual representations of themselves, in the automotive real world it refers to a new, non-automotive use of a lithium-ion battery following its initial use in a vehicle. Continuing just-auto/AIC's series of research snapshots, Matthew Beecham takes a look at some recent automaker initiatives to give their electric vehicle (EV) batteries a second life.
As EVs reach the end of their useful life, they are typically graded using three options: disposal, recycle or reuse. The latter has the potential to provide the greatest value as stationary energy-storage applications. When EVs reach the end their life, the remaining storage capacity of the lithium battery is expected to be higher than 70%. They can, therefore, be reused for less demanding second life applications such as domestic and industrial energy storage.
Professor David Greenwood from the WMG , University of Warwick states: "Automotive batteries deliver some great environmental benefits, but they consume a lot of resources in doing so. Opening up a second life for batteries improves both the environmental and the economic value we draw from those resources before they need recycling." The University worked with Nissan as it explored ways in which to make a faster grading process for their used lithium-ion batteries from the Leaf – allowing reuse of old battery packs or modules instead of recycling or disposing them.
OEMs stay in charge
Given that all major carmakers are working on electrifying their range, plenty of steps are being taken to give their batteries a second life.
Given Honda's aims to electrify all its mainstream models by the end of 2022, the carmaker is on a mission to ramp up its battery recycling and reuse initiatives. Honda Motor Europe is extending its battery recycling partnership with Snam (Société Nouvelle d'Affinage des Métaux) to advance the use of its end-of-life traction batteries. The pan-European arrangement will see SNAM collect and recycle batteries from the carmaker's hybrid and EVs and either prepare them for second life renewable energy storage uses or extract valuable materials for recycling if unsuitable for that purpose. The pair have worked on battery recycling programmes since 2013.
Honda Motor Europe's senior vice president Tom Gardner said: "As demand for Honda's expanding range of hybrid and electric cars continues to grow so does the requirement to manage batteries in the most environmentally-friendly way possible. Recent market developments may allow us to make use of these batteries in a second life application for powering businesses or by using recent improved recycling techniques to recover useful raw materials which can be used as feedstock into the production of new batteries."
The Renault Group has also just announced two new second life EV battery recycling programmes with the SmartHubs Project in West Sussex, here in England, and Advanced Battery Storage in Douai, France, said to be two of the largest projects of their type in Europe. The SmartHubs project, in collaboration with Connected Energy , will recycle 1,000 batteries from Renault EVs. The carmaker says the system will help to "balance the electricity network," charging and discharging as required, with the ability to store sufficient energy to power 1,700 homes for a day.
BMW is using battery storage systems to steadily optimise power supply at its plants around the world. For a number of years, BMW has been pursuing a recycling policy for cells in batteries that can no longer be used as stationary storage devices. It says viable recycling techniques have been developed with partners during and since the development of the BMW i3. These and other recycling methods are now being upscaled for industrial applications. The aim is to achieve a recycling rate in excess of 90 per cent.
Volvo Buses is extending its partnership with Stena Recycling subsidiary BatteryLoop to reuse old Volvo bus batteries as energy storage units in buildings and charging stations. The pair had previously been involved in a joint project with Stena Fastigheter using bus batteries as energy storage units to provide power to the Fyrklovern residential area in Gothenburg. The electricity stored in these units comes from solar panels.
Meanwhile, General Motors expects to be the first automaker to use an almost completely wireless battery management system for production EVs. The wireless system, developed with Analog Devices , would allow it ultimately to power many different types of EVs from a common set of battery components, the automaker said. More specifically, this wireless system provides a repurposing capability for battery reuse in secondary applications more easily than conventional wired monitoring systems.
Audi has created an 'Audi Brand Experience Center' at Munich airport. The 3,580 sqm building is described as a "showcase for energy and building technology." The glass facades of the futuristic-looking centre consists of transparent photovoltaic elements with some 1,650 solar cells that deliver 42,000 kilowatt hours of electricity annually. This corresponds to the annual power consumption of 10 four-person-households. This electricity generated with solar power can be stored temporarily via two battery storage devices that Audi made from second life batteries. The self-generated electricity is used for the building itself and for charging electric cars.
Nissan also has a number of second life battery initiatives for EV batteries, including installing them at its North American facilities along with investigating new recycling methods for lithium-ion batteries.
As demand for EVs increases and second-life battery markets begin to stabilise, it's clear that new opportunities for the renewable power sector are emerging. Time will tell which applications will be the most cost-effective and efficient.