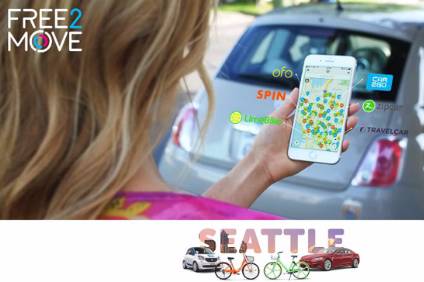 For some folks, car ownership means commitment, responsibilities and hassle. The emergence of novel purchase models such as car subscription is a breath of fresh air for those preferring more flexibility in getting about. While the pandemic has created uncertainties in the mobility services space, there are more opportunities for disrupters. Continuing just-auto/AIC's series of research snapshots, Matthew Beecham takes the pulse of the car subscription market.
Earlier this year, Nissan's US unit set about trialling a subscription service at a single Houston, Texas, dealer. Nissan Switch offers latest model year vehicles that include driver-assist technology such as Nissan's ProPilot Assist. The carmaker claims two tiers although there are actually three. After a hefty US$495 'membership activation fee', the Altima, Rogue [X-Trail], Pathfinder and Frontier cost $699 a month which includes the vehicle (and unlimited switches, as often as a new vehicle each day), delivery, cleaning, insurance, roadside assistance, and regular maintenance. Another $200 a month opens the door to the Leaf Plus, Maxima, Murano, Armada Titan and 370Z while $100 more a day on top gives access to the GT-R which is limited to loans of seven consecutive days.
Toyota recently launched Kinto, a new brand dedicated to offering mobility services to users across Europe. Toyota says Kinto forms part of its global vision to 'evolve into a mobility company by providing all kinds of transportation-related services to people around the world'. It includes ride-hail services and replaces Yuko – which currently operates in several European cities. Kinto-branded services include Kinto Flex, a subscription-based car leasing, "offering greater flexibility and a premium experience."
Last month, Groupe PSA's mobility brand, Free2Move began rolling out its Car On Demand offer, a month-to-month car subscription without commitment on duration. With more than 2,000 vehicles available across France and 50 versions of the Peugeot, Citroën, DS Automobiles and Opel brands, Free2Move offers a catalogue of cars with electric and combustion engines.
In 2018, Jaguar Land Rover waded into the market, launching its 12-month car subscription service in the UK, known as Carpe. The carmaker offers a selection of new JLR models from £910 per month with no deposit or mileage cap. It offers three tiers of subscription depending on vehicle range. The subscription covers all costs, including maintenance, insurance, tax, breakdown cover and even cleaning. Last month, JLR launched a new car subscription service, called Pivotal, to allow customers to swap models every 6 months. The monthly rental charge starts from £750 which will get you either a Land Rover Discovery Sport, Jaguar F-Pace or Range Rover Evoque. JLR says 18 per cent of drivers prefer no-commitment subscriptions to paid-up ownership. These are predicted to account for nearly 10 per cent of all new sales in the US and Europe by 2025 – equivalent to some 16 million vehicles. The automaker adds that early trials have proven this as an effective way of encouraging new customers to try the brands, with 80 per cent of new members not having previously owned a Jaguar or Land Rover vehicle.
Volvo's car subscription comes in the form of its Care by Volvo programme that allows customers access to V40, S60, V60, XC40, XC60, S90, V90 and XC90 models. As the terms available are 2 or 3 years, the service sounds more like a lease than a subscription but there is an option to extend the contract and include insurance as part of the subscription deal.
Among those others offering a car subscription service include BMW, Audi and Porsche. Car hire companies like Enterprise and Hertz are also putting their toes in the water. The common theme amongst them is cautiously testing the market through pilots in a handful of cities or limited to a country rather than a wider programme.
While some automakers are expanding their car subscription services, others are pulling back. In 2018, Mercedes-Benz launched its Collection service as a pilot in Atlanta, GA, allowing subscribers to switch between 50 model variants depending on their needs or lifestyle. Shortly afterwards, it was rolled out to Nashville and Philadelphia but no further.
"The pilot programme far exceeded our expectations," explained Adam Chamberlain, vice president of sales for MBUSA in June 2019. "Eighty-two percent of the subscribers are new to Mercedes-Benz, and we are hitting the mark attracting younger drivers who might not otherwise have the opportunity to experience the brand at such a young age. Interestingly, families and couples are equally accessing the service whether for use as their primary car, for fun or as a way to test drive a wide variety of models."
While the Collection service certainly appeared to get off to a good start, the automaker is reported to be suspending it. According to Automotive News, the reason for winding down the service is due to its poor sales. Chamberlain admitted last month that they would have expanded it if sales were better. He added that it was a learning experience for them.
COVID-19 has put another spanner in the works, bringing car sterilisation into sharp focus. Although there are some auto industry innovations out there to help decontaminate car interiors – using UV light, antimicrobial materials, foggers that spray disinfectant and elaborate filtration systems – it remains to be seen whether motorists are still willing to swap cars quite so frequently.
Does the latest move by Mercedes mark a turning point for car subscription? Has the pandemic put the brakes on the market? Mercedes says it has learned a lot from their data-rich experience, no doubt about drivers (including millennials previously out of reach) and their desires, all of which can be put into good use across the brand at some point in the future. While the pandemic may slow the car subscription market and, to some extent quash our appetite to share cars in the short term, such novel and flexible purchase models will surely remain an important tool as the traditional model of car ownership is gradually diluted.