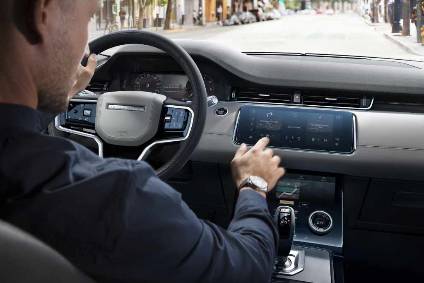 Jump into a new car today and you are almost sure to find a tablet-style touchscreen infotainment system positioned centre stage of the dash. It acknowledges that most of us no longer use maps to find our way around but expect the car to guide us to our destination and remain connected throughout the journey. While some automakers are offering futuristic screens that wrap around the cockpit, 3D surfaces and contactless screens, others are reintroducing analogue controls or removing touchscreens altogether to minimise driver distraction. Continuing just-auto/AIC's series of research snapshots, Matthew Beecham assesses the state of play in the digital automotive interior.
Larger touchscreens
The growing demand among users for new features and digital content means that in-vehicle touchscreens are becoming larger. The Tesla Model S features a huge 17-inch screen. But that is just the tip of the iceberg. Byton, the electric car startup backed by Chinese investors with deep pockets, has debuted a concept car featuring a colossal 49-inch screen stretching the width of the dash.
While conventional screens are ideal for the flexible display of digital information, their shortcomings quickly become apparent when it comes to user-friendliness and design possibilities for automakers. To address this, Continental has developed a 3D surface for its new touchscreen. The 3D elements allow brand-specific individualisation of the plastic surface and, at the same time, finger guidance that users can actually feel.
Drivers can use the touch-sensitive 3D elements on the sides of the display such as sliders to set frequently used functions, for example, volume or temperature settings without having to navigate away from the displayed menu. In the centre of the display are specific, virtual buttons allowing blind operation of a range of applications, which change depending on the current menu.
To prevent the driver from triggering any functions accidentally when interacting with the 3D elements, the touch force is measured (force sensing) before a command is executed. In addition, haptic feedback tells drivers when they have reached the edge of a screen element as they pass their finger over the screen, which allows them to distinguish between different virtual buttons without having to look at the screen. Haptic feedback is provided in the form of a short mechanical pulse that is transferred to the display surface; any mechanized movement of the display is completely invisible to the naked eye.
Predictive touch
New contactless touchscreen technology developed by Tata Motors' Jaguar Land Rover (JLR) and scientists from Cambridge University could help keep drivers' eyes on the road and reduce the spread of bacteria and viruses in a post COVID-19 world.
The patented technology, known as 'predictive touch', uses artificial intelligence to determine the item the user intends to select on the screen early in the pointing task, speeding up the interaction. A gesture tracker uses vision-based or radio frequency-based sensors, which are increasingly common in consumer electronics, to combine contextual information such as user profile, interface design and environmental conditions with data available from other sensors, such as an eye-gaze tracker, to infer the user's intent in real time.
Lee Skrypchuk, human machine interface (HMI) technical specialist at JLR, said: "As countries around the world exit lockdown, we notice how many everyday consumer transactions are conducted using touchscreens: railway or cinema tickets, ATMs, airport check-ins and supermarket self-service checkouts, as well as many industrial and manufacturing applications."
He added: "Predictive touch technology eliminates the need to touch an interactive display and could therefore reduce the risk of spreading bacteria or viruses on surfaces. The technology also offers us the chance to make vehicles safer by reducing the cognitive load on drivers and increasing the amount of time they can spend focused on the road ahead."
Are touchscreens handy or a hazardous distraction?
While touchscreens offer space-saving possibilities, designers are faced with the safety issue of driver distraction. Worrying results from a recent study – commissioned by road-safety charity, IAM RoadSmart – show that the latest in-vehicle infotainment systems, designed to improve road safety, are failing and impair reaction times behind the wheel to a greater extent than alcohol and cannabis use.
Among the results, the study found that reaction times at motorway speeds increased average stopping distances to between four and five car lengths. The study also found that drivers took their eyes off the road for as long as 16 seconds while driving (equivalent to a distance of more than 500 metres at 70 mph), and using touch control resulted in reaction times that were even worse than texting while driving.
Neil Greig, policy and research director, IAM RoadSmart, said: "Driver distraction is estimated to be a factor in around a third of all road collisions in Europe each year. While previous research indicates that Apple CarPlay and Android Auto perform better than more traditional buttons and controls, the results from this latest study raise some serious concerns about the development and use of the latest in-vehicle infotainment systems. Anything that distracts a driver's eyes or mind from the road is bad news for road safety."
He added: "We're now calling on industry and government to openly test and approve such systems and develop consistent standards that genuinely help minimise driver distraction."
Mazda to remove touchscreens
Given the concerns around driver distraction, Mazda is reported to be planning to remove the touchscreen from its cars. The move follows the automaker's research into the effects of touchscreens on the driver.
Matthew Valbuena, Mazda North America's lead engineer for HMI and infotainment, said: "Doing our research, when a driver would reach towards a touchscreen interface in any vehicle, they would unintentionally apply torque to the steering wheel, and the vehicle would drift out of its lane position."
Honda to return to analogue controls
Honda has taken the decision to reintroduce HVAC controls via a dial rather than touchscreen, as in the previous-generation Jazz, according to Autocar. During an interview with the magazine, Jazz project leader Takeki Tanaka said: "The reason is quite simple – we wanted to minimise driver disruption for operation, in particular, for the heater and air conditioning. We changed it from touchscreen to dial operation, as we received customer feedback that it was difficult to operate intuitively. You had to look at the screen to change the heater seating, therefore, we changed it so one can operate it without looking, giving more confidence while driving."
Are touchscreens the future?
Although new cars with minimalist cockpits are becoming increasingly common, giving the impression that they are too clever for buttons, some go a little too far. Glossy touchscreens certainly add a touch of class to the otherwise dreary dashboard yet some of us still prefer to at least adjust the HVAC using old-fashioned dials while keeping our eyes on the road. And while larger touchscreens can accommodate bigger icons and appear less crowded, smaller screens with finicky icons and complex menu structures – with important functions hidden in sub-menus – can be a greater source of distraction for the driver. Given that using a mobile phone or hand-held device while driving is illegal, concerns about fiddling or gesturing for too long with an in-car infotainment screen at motorway speeds are real. There is little difference between the two.
More use of combining touchscreen technology with a rotary controller to navigate through functions could be a way forward as seen in some upmarket cars. Voice control can certainly help. And head-up displays have plenty of merit. A continuing focus of R&D is therefore on more intuitive, safer and simpler control options for motorists, including the integration of haptic feedback into touch-sensitive surfaces. This enables the driver to sense directly whether or not they have actually activated a 'touch element' after touching it.
It's still early days for digital automotive interiors, however, and automakers are working out ways in which to stream functions to the driver yet help keep their eyes on the road. While the pandemic may trigger more innovations with contactless screens, time will tell whether other automakers will follow Mazda and Honda back to analogue controls.