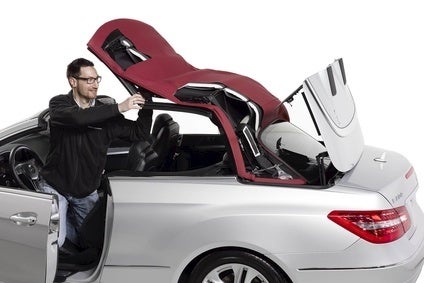 While the variation of roof systems continues to grow, the push for lighter cars has led to the adoption of carbon fibre and polycarbonate in roof design. Matthew Beecham reviews some trends in the roof system market.
Glazed roofs
A number of trends are notable in hard-top designs. First, the sheer size and sophistication of the products. Panoramic sunroofs stretching the length and breadth of a vehicle are becoming increasingly popular on both sides of the Atlantic. The trend is toward roof systems, mainly of glass with big openings that can be adjusted even during driving. These designs give the best of both worlds: saving on cost (compared to a convertible) and adding to the versatility of the car. Second, roof systems are fast becoming part of a car's identity. Third, roof systems are developed along modular lines with suppliers hoping that car manufacturers will begin standardizing roofs to allow a variety of pre-sized modules to fit the openings.
The increased use of overhead glass is becoming common on lower-priced vehicles, too. Roof makers see a trend towards modules with integrated opening systems (i.e. multi-panel) partly because the modular technology supports the trend towards top loading assembly processes on the car manufacturer's assembly line. They believe that this provides potential for utilisation of various roof options on one body interface.
The desire of many car designers to include increasingly large amounts of glass in their cars presents glassmakers with new challenges because glass cannot be shaped at will like steel or plastic. Other trends include producing a smooth roof line using several glass panels, e.g. producing windscreens which extend into the glass roof.
Retractable roofs
During the late 1990s, most manufacturers believed that the retractable hard-top had a limited future, centred on niche segments of the market. Today, however, their opinions have changed. The industry consensus is that retractable hard-tops can be largely integrated in almost all car segments. Indeed, it is no longer a preserve of the luxury class. Here are just a handful of retractable roofs that have caught our eye recently.
Chevrolet claims that its 2015 Corvette Z06 Convertible offers the most powerful drop-top ever produced by the automaker. The aluminium structure is 20 percent stiffer than the previous, fixed-roof Z06. As there are no structural reinforcements needed for the Z06 convertible, its curb weight is nearly identical to the Z06 coupe. The only structural differences between the Z06 coupe and convertible are provisions for mounting the power-folding top, and repositioned safety-belt mounts.
The roof on the Citroën C4 Cactus also stands out. Higher trim levels of this model are fitted with a panoramic glass roof as standard. Citroen says the glass has enough heat-resisting properties to mean that a blind is not necessary thereby making the cabin feel a little more spacious. The roof was developed by Saint-Gobain. Citroën C4 Cactus Chef de Projet Anne Ruthmann told just-auto that the glass is multi-layered with a high level of UV protection. "Light comes through, but not heat [or] cold. There is no need for a blind. If we had an electric shade, which is not needed, it would have added six kilos."
Another notable car roof is featured on the new Peugeot RCZ R and has the same signature 'double-bubble' roof as the RCZ. The retractable glass roof has the appearance of running seamlessly into the curved rear window. The highly unusual lines of the turret mean that it is supplied to Magna as a pre-assembled roof system with Saint-Gobain Sekurit responsible for the glass. The module comes from a Sapa Components factory located in the English midlands. This is the same Swedish firm which sends aluminium cant rails to Jaguar for the roof of the XJ.
Future sunroof development is under the same cost pressure as the rest of the industry. The time for sophisticated and costly developments for niche products is over. Modularity on all levels seems to be the answer. Swamy Kotagiri, executive vice president and chief technology officer of Magna International believes that with the advent of global platforms increased volumes offers opportunities for better pricing and saving through process improvements. He told just-auto: "If you can reuse parts in your portfolio for multiple applications and influence the design early you can avoid some of the niche pricing challenges."
As far as further development of convertible designs are concerned, Kotagiri added that roof systems have to follow the modularity approach. "Sliding folding roofs for example are expected to be designed for more than one vehicle with little to no changes. Therefore, Magna has implemented the modular design principle for soft-tops and sliding folding roofs. Additionally, lightweight design is still becoming more important and is linked to reducing the product complexity of roof systems. Emotional trends, such as improved acoustic and optics as well as comfort features are also becoming more important."
Lightweight roofs
It is certainly true that the automotive industry has been under pressure to change the way it designs and builds vehicles, due to factors such as the increasing impact of passenger and pedestrian safety requirements and the competitive intensity caused by globalisation and manufacture in low cost economies. Consequently, more and more vehicles are incorporating components aimed at mass reduction, parts consolidation to reduce assembly costs and more efficient recycling. The automaker's need to improve overall fuel economy in vehicles has led to the trend toward minimising vehicle weight.
The VW Golf VII is a prime example of the trend for lightweighting, weighing in at 100 kg lighter than its predecessor. The latest generation Golf offers a carbon fibre roof as an option on performance models. The roof saves approximately 9 kg which clearly helps to improve performance and fuel economy. This move further demonstrates how far the use of carbon fibre in vehicle manufacture has come.
Faurecia used the 2015 Detroit motor show to feature an exposed-carbon roof as an example of how its processes can help reduce weight while improving aesthetics. While the most common method of creating large carbon-fibre parts involves fibres that have been pre-impregnated with epoxy resin in order to produce a woven look, Faurecia opted for a different process: resin-transfer moulding (RTM). The supplier points out that, when used to make bonnets and roofs, RTM produces an even and complete layer over the top of the fabric that does not give the visual impression of an extra-thick clear coat that is often seen with the pre-impregnated process. The supplier claims that its exposed-carbon roof reduces weight by up to 60 percent compared to steel. Its comparable cost, however, is still much higher than steel or aluminium. Faurecia says it is therefore working with resin and fibre suppliers on ways in which to reduce the material expenses through faster resins curing and low-cost fibres.
Another roof innovation that caught our eye at this year's Detroit motor show was on the Porsche 911 Targa GTS. The electrically-powered roof elevates the entire rear window apparatus in order to store the glass roof cover. While retractable roofs are not new, the way in which this one performs is both novel and mesmerising.
Meanwhile, US-based Asahi Kasei Plastics' Thermylene family of short-fibre polypropylene resins is being used in a sunroof module designed and built by Inalfa Roof Systems for the Cadillac CTS. The square metre roof marks the automotive industry's first fully integrated sunroof module made entirely from glass fibre reinforced PP and replacing long-glass PP and short-glass ASA/PBT. The company claims that using its material results in a 12 percent weight reduction, a 24 percent savings in component cost and a 47 percent savings in capital costs.
Large roof openings trigger the need for lighter materials such as polycarbonate (PC). Although the idea of replacing glass with lighter-weight plastic sounds like an obvious innovation, it is not new. For over 30 years, auto glass experts have explored the potential for polycarbonate as a replacement for glass. For its part, Webasto is manufacturing the fixed panorama roof for the third generation of the Smart Fortwo. The 1.2 square metre, transparent roof panel is made of polycarbonate (Makrolon from Bayer MaterialScience). Webasto points out that that the PC roof is 50 percent lighter than a glass equivalent. The plastic panel on the new Smart Fortwo weighs in at 9.8 kg.
On balance, lightweight convertible design will continue to grow in importance, which may be linked to requirements of reducing the product complexity of roof systems. Emotional trends as well, such as improved acoustics, optics and comfort features, have become more important. Fabric colours may be a potential area for innovation, as well as the use of other materials. The general trend towards lighter roof systems is particularly important for electric vehicles, as these vehicles tend to exploit weight saving solutions in all structures.