Renegade Trailhawk - the torquetastic baby Jeep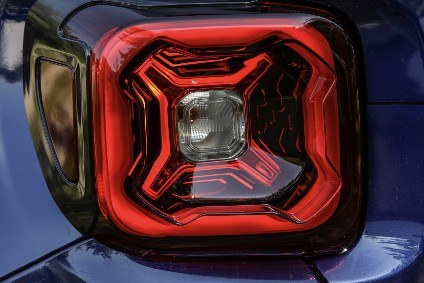 Centre of each tail light has a tiny motif of the Renegade's headlights flanking the seven-slot grille
In a segment where 4x4 drive is the exception to a front-wheel drive rule, the most rugged version yet of Jeep's smallest SUV is now on sale in Britain. Not only does it look the business, the Trailhawk has genuine off-roading ability.
The Made In Melfi Jeep
In an era when the American cars hit hardest by China and the USA's tariffs spat are BMWs, it matters not a jot that the best selling Jeep in one of the world's largest markets - Europe - hails from Italy. The biggest BMW factory on the planet is located in Alabama, while FCA manufactures the majority of the global supply of small Jeeps at the Melfi plant.
Fiat and Chrysler tend to operate as the separate companies which in very many ways they still are but when it comes to production, there is much integration. And why shouldn't there be? After all, buyers often know not and care even less where the car they own was manufactured.
For more than five years, Fiat Chrysler's Melfi factory has been churning out the Renegade on the same line which makes its slightly younger Fiat brother, the 500X. To some, this had seemed a big risk to the authenticity of the 4x4 brand but these people need not have worried: being dinky and hvaing a FWD/AWD platform doesn't prevent the square-shaped SUV being a proper Jeep.
A real 4x4 or just an elevated hatchback?
The all-wheel drive system is brilliantly engineered and to the surprise of many, including this writer, the Renegade can climb and descend steep and sticky slopes. Granted, ground clearance can never match something like a Wrangler or Gladiator, nor does it come with the sophisticated differentials of vehicles such as these, but that wasn't part of the remit.
The littlest Jeep is three quarters of a metre longer than the 3,480mm Suzuki Jimny and thanks to its unibody construction - that's the same as the new Defender, remember - way more comfortable to travel in. A 2,570mm wheelbase means there's none of the porpoising which some short, overly softly suspended SUVs make you and your passengers endure.
You wouldn't call the Renegade sporty yet never does it disgrace itself on the tarmac. In addition to all that grip, there's good body control and very little in the way of excessive diving under braking. Another benefit of being roughly only 1,400kg (it obviously varies by engine, transmission, drive system and model grade).
Diesel engine and nine-speed auto Trailhawk
Jeep was careful not to change the blunt-nosed, assertive stance when the time came for the mid-cycle facelift. Even on the inside, the plastics and seat fabrics manage to convey the correct look, which is slightly less than luxurious and slightly more than too-sensible-bland. The Trailhawk version lent to me by FCA UK really looked the business too. Cute? Nah, kind of more thuggish-cute. Like a French bulldog that secretly works out.
The extra plastic cladding on the vehicle sides is there for protection as well as looks. Other features, such a red-painted tow-hook on the back end had me wondering would even the heaviest two-wheel drive crossovers remain stuck in a British summer music festival's muddy field carpark when a Renegade Trailhawk and a suitable rope were nearby. Hold that thought for a few paragraphs.
Last year's facelift also saw the range of powertrains revised. Most of the changes underline just how good FCA Italy is at small displacement engines. This is what the latest global line-up looks like:
120hp 1.0-litre three-cylinder petrol
150hp 1.3-litre four-cylinder petrol
180hp 1.3-litre four-cylinder petrol
120hp 1.6-litre four-cylinder diesel
140hp 2.0-litre four-cylinder MultiJet II diesel with SCR (Selective Catalytic Reduction)
170hp 2.0-litre four-cylinder MultiJet II diesel with SCR
"up to" 240hp 1.3-litre 'GSE' petrol turbo plug-in hybrid (to join the line-up in 2020, full specs are yet to be announced)
The car supplied for review was fitted with the most powerful diesel. What a great engine this 1,956cc unit is too. Maximum power of 125kW (170hp) is delivered at just 3,750rpm with 350Nm of peak torque arriving at 1,750rpm. This has got to be the perfect vehicle for anyone who wants a low-ish CO2 (173g/km) and very economical small SUV for towing.
Big numbers at low revs also means there's hardly ever a need to mash the right-hand pedal. I flicked the auto transmission lever into manual mode on multiple occasions just to see which number the nine-ratio automatic gearbox had decided it should be in. There was amazement on each occasion, with the Renegade merrily rowing its way up inclines in fifth or even sixth in 30mph zones. No wonder the official Combined economy is 42.8mpg. You can easily get an average in the fifties. Top speed is just shy of 200km/h (122mph) and zero to 62mph takes 8.9 seconds.
Sum-up and sales
I would buy a Renegade Trailhawk in a heartbeat, so impressed was I by FCA's top-spec diesel and that nine-speed gearbox. Such a pairing costs from GBP31,400 in 170hp form. Others seem to agree, at least about the Renegade range. In Britain, the smallest Jeep is a good seller albeit at nowhere near the level of its popularity in the country where it's manufactured.
This year has been a testing one for the brand's UK operations and FCA in general as the strange policy of not replacing former strong sellers - the 500 in particular, which dates to 2007 - brings expected results. Indeed, last month Fiat's deliveries even fell into three figures (881, -20%). Jeep has been faring better, even if August registrations numbered only 411 vehicles. Note that that represented a 77% surge over August 2018, while the year-to-date total stands at 4,099.
The picture in Europe as a whole is a good one. During the first half of this year, JATO data show Jeep dealers in the region having delivered 89,954 vehicles (+0.6%), keeping the brand in 22nd position, lagging Mini and in front of Land Rover. The Renegade remains the number one model ahead of the Compass, with sales of 43,858 units, a year-on-year gain of 7.4% in a regional market which dipped by 3.1%. More than half of those were sold in Italy where the little SUV is a regular fixture in the top ten and sometimes, in the top five. Indeed, as at 31 August, the Renegade (30,584) had even moved ahead of the 500X (29,685), which was once that country's long-time best selling SUV. Both have been recently pipped by the Dacia Duster (30,928) after a stunning 50% surge last month.
We can also look at the USA, even though small SUVs and crossovers, with a handful of exceptions, aren't too sought after there. FCA sold 36,036 Renegades during the first two quarters, a year-on-year drop of 29%, yet thanks to the bigger models, Jeep remains the number six brand, well ahead of Ram and behind Nissan. The order of sales is Grand Cherokee, Wrangler, Cherokee, Compass, and only then Renegade. America's best selling subcompact crossover or SUV is still the Kia Soul, with 71,642 delivered, followed by the Buick Encore (65,907) and then the Honda HR-V (62,786) and Chevy Trax (61,557) as at the end of August.
Next Renegade - 2021 at the earliest
As we know, FCA keeps pretty much every one of its vehicles in production for a long, long time. Plans for replacements are announced at so-called 'Investor Days' and then...there is a new plan a year later, the new models haven't appeared and fresh guidance dates are given. All of which means that no-one really knows when to expect the next Renegade. Perhaps there will be another facelift in the early 2020s.
The Fiat brand is in a world of trouble in all markets with the exception of Brazil, for the simple reason that the cars are just so old. Happily, and apart from the Grand Cherokee, many Jeeps have had industry-standard life cycles. Maybe the next Renegade could be with us in 2021 but 2022, 2023, 2024 or even 2025 are equally possible.
Most popular news
---
Most popular insights
---
Oops! This article is copy protected.
Why can't I copy the text on this page?
The ability to copy articles is specially reserved for people who are part of a group membership.
How do I become a group member?
To find out how you and your team can copy and share articles and save money as part of a group membership call Shivani Hayer on
+44 (0)1527 573 732 or complete this form..