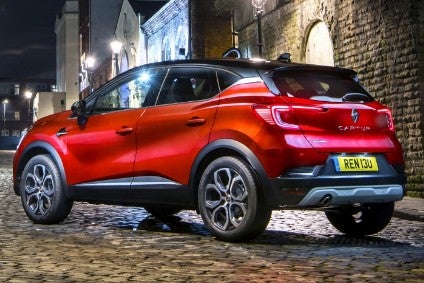 After the COVID crash decimated its UK market car sales, Renault has staged an exceptional comeback, deliveries shooting up by more than 200 per cent in July. The Clio is a big reason for that, while in the B-SUV segment, the new Captur is much in demand.
The July surge is a remarkable turnaround for Renault, deliveries of 6,598 vehicles being enough to propel the brand back up to ninth position ahead of Nissan. Year to date, the total is 21,867 (-36.2), while last month's market share was an impressive 3.8 per cent. The big question now has to be can this momentum be sustained?
If it all depends on the competitiveness of the cars rather than just pricing, then Renault is looking good. The Clio and 208 continue to fight it out in those models' home market for the status of year to date number one model. The Peugeot has now inched ahead, the tallies being 48,583 and 47,456. Thanks to an incentives initiative, the e-208 has been much in demand, something that Renault too has benefited from, as 21,485 year to date deliveries of the Zoe demonstrates, up 157%.
In the battle for small crossovers and SUVs, what's been happening in France is also instructive, as Dacia returns to form after a major collapse. Helped by its e-2008 electric variant, the Peugeot 2008 remains in first place (33,206) but the second placed Sandero (28,875) is being harried by the new Captur (28,327).
Renault has taken a different tack to PSA in terms of electrification, preferring the hybrid and plug-in hybrid routes for the Clio and Captur respectively. In the latter case, the PHEV variant – only just going on sale and called E-Tech Plug-in – features a turbocharged 1.6-litre four-cylinder petrol engine and two motors.
The new petrol-electric crossover should prove to be a big hit for Renault, building on the popularity of the multiple other powertrains which are part of the second generation model's launch range. The all-turbo line-up looks like this:
1.0 TCe, 100 hp and 160 Nm three-cylinder petrol/LPG, five-speed manual (relevant markets)
1.3 TCe GPF, 130 hp and 240 Nm four-cylinder petrol, six-speed manual or seven-speed dual clutch
1.3 TCe GPF, 155 hp and 270 Nm four-cylinder petrol, seven-speed dual clutch
1.5 Blue dCi, 95 hp and 240 Nm four-cylinder diesel, six-speed manual
1.5 Blue dCi, 115 hp and 260 Nm four-cylinder diesel, six-speed manual or seven-speed dual clutch
As the 130 horsepower engine is expected to be one of the best sellers, this is the one I tried recently, in combination with then dual clutch gearbox. This is the Alliance and Daimler's 1,333 cc unit which now features in multiple Mercedes, Nissan and Groupe Renault models.
With a zero to 62 mph time of 9.9 seconds and a top speed of 120 mph, performance is in the good category rather than class-leading. Yet against that, a Combined average of 44.8 mpg is realistic (over a week I saw 42.3 mpg) and the CO2 average for the sampled S edition is 124 g/km.
Renault looked at what buyers are most keen on in this segment and took the decision to make the Captur 2 bigger. Adding 110 mm to the length means there is 17 mm more legroom in the rear, and the boot capacity is up substantially. Another improvement applies to versions which have an optional Bose audio system. This is now fully integrated into the left-hand side of the boot, the benefit being the same 536 litres of space as other Capturs.
Those who need even more space for the likes of bikes, a baby buggy or just stress-free loading after a trip to IKEA will like the sliding rear bench. This gives you up to 160 mm of fore and aft movement and a maximum payload length of 1.57 m, while also being able to be split 1/3 or 2/3. Although the result isn't quite a totally flat surface, it's fairly close. You can also create a larger cargo bay or just hide items below what is a false floor panel.
Having a practical and versatile interior layout is one thing but people also want some style with their small crossovers. The new Captur is definitely a step up on the old one. The front end has strong links to the new Clio, while on the inside you can easily see many shared components, which is a very good thing.
I'm a big fan of Peugeot's iCockpit concept but not everyone is, so the Captur will pick up sales from those who can't get along with the small, low-set steering wheel and driver-centric dashboard of the 2008.
This was one of those cars which had its UK sales launch interrupted soon after it commenced in March. Judging by the recent surge in registrations, Renault seems to be doing a good job at getting the message out about this important new model. It offers some big improvements in key areas and once the new plug-in hybrid becomes more widely available, we should see the Captur name climbing higher in the monthly registrations tally.
Platform, Manufacturing and life cycle
This, the second generation Captur for mainly European markets is again manufactured in Spain. It was also built briefly at a Dongfeng JV plant in China but in April Renault made the decision to hand over its share of the venture to its partner. From now on, the only Renault models to be built in the PRC are and will be electric.
Elsewhere in the Groupe Renault empire, RSM also now sells the second generation model, the new Captur switching brands and being the direct replacement for the Samsung QM3 (a different name for the old Captur).
Renault's new crossover shares its CMF-B architecture with other Alliance models such as the Nissan Micra and Nissan Juke. So as to reduce weight, the bonnet is aluminium and the tailgate is composite. All Capturs are front-wheel drive only.
The former J87 model was in production for six and a half years, so a facelift for the latest HJB series Captur can be expected in 2023 with generation three due in 2026.
Pricing for the new Renault Captur starts at GBP18,295. There are three model grades: Play, Iconic and S Edition. The as-tested S Edition TCe 130 EDC costs GBP23,395 before options.