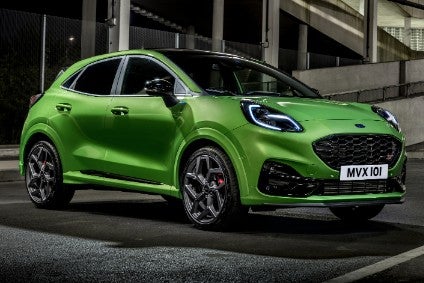 Intense competition in the B and C hatchback segments is causing problems for Ford of Europe with the Fiesta and Focus both under attack from newer models. Until facelifts arrive, other vehicles are doing a lot of the heavy lifting for the brand and none more so than the much-in-demand Puma. The small crossover's margins will be greatly helping FoE's bottom line and none more so than the new, premium-priced ST.
An emphasis on profit over volume is something car industry leaders talk about often. But not all of them then walk the walk. What happens next, for example, with Ford of Britain having lost its decades-old control of the passenger vehicle market during the most recent quarter?
Will Ford stay top dog in 2021?
The Volkswagen Group has long been the UK's number one OEM but over the years the VW brand could never quite catch Ford, and the American marque has been near-unbeatable in LCVs. VW has occasionally been ahead of Ford during some months and even the odd quarter in the recent past but hasn't been able (so far) to stay ahead for a full year.
There wasn't much in it during Q1 – 36,219 to 36,072 – yet Volkswagen ended those three months ahead of Ford in passenger vehicle sales, and in March, Ford's deficit to VW was some 1,400 vehicles.
Puma: Ford of Europe's best seller
The second quarter will be an interesting one to watch then, and the Puma's performance will be key to developments. During the most recent month, it was not only inside the top ten (the Focus wasn't – production at Saarlouis has been stopped since February and will remain so until mid-May), but an impressive ninth place finish wasn't the full story either. That's because the model's 4,886 registrations weren't very far behind those for the Yaris (4,910) and Golf (5,194).
Most of the Puma's volume will naturally continue to be those versions which are powered by mild hybrid EcoBoost engines. Consumers are rightly responding to what are very competitive CO2 averages for these 1.0-litre cars. This is now the number two Ford in Germany behind the Kuga, and it even outsold the VW ID.3 in March. It's a similar story in the other big EU markets, with 10,527 units sold to Italian customers in the first quarter and eighth place last month. That put the Puma ahead of even the Opel Corsa and Peugeot 208 – two of 2021's best sellers across the EU-EFTA-UK region. What's more, the Puma become Ford of Europe's top seller across the region in Q1.
The higher transaction prices from this small crossover and the larger Kuga – along with strong results from light commercials – are paying off, the company stating earlier this week that it made the equivalent of US$341m in its European region during the first quarter.
The Engineering story
Puma pricing starts at GBP22,045, with the new ST costing from GBP28,510. As with all variants, it's front-wheel drive only yet Ford's engineering wizards have worked their magic to embue this admirably light crossover with best-in-class handling. Customers can add many options, including a Quaife LSD for even better front-end traction thanks to reduced understeer. Ten out of ten to Ford too for specifying a slick six-speed manual gearbox rather than a DCT (there's no automatic option at all).
Ford has gone to the trouble of equipping the sports variant with a 25% quicker rack than other Pumas and these were already best-in-class. The suspension system has also come in for special attention. Due in part to bespoke springs and Hitachi dampers, it's beautifully set up for just the right amount of comfort with very little lean: you soon forget that it sits higher than a similarly sized Fiesta. Tyres are supplied by Michelin and these are 225/40 series on special 19-inch wheels which can have either a matte or machine finish.
ST differences
It won't appeal to everyone but personally I like the colour which is exclusive to the ST and part of the publicity campaign: Mean Green. The roof comes in a high-gloss black finish and the same dark shade is applied to certain other exterior pieces of trim – mirror covers, grille, headlight surrounds and 'spears' (lateral strips on the doors). There also a unique front splitter which is claimed to both increase downforce and lower drag.
At the back of the car, there are two tailpipes, one of which contains a valve which will open at higher engine revolutions. The sound produced is raspier than that of any of Puma but not objectionable. Think slightly toned down and less lumpy Abarth 595. Also, it's worth pointing out that Ford hasn't just transferred the Fiesta ST's engine into this new model but rather has given it extra torque, this being 320 Nm compared to the hatchback's 290 Nm. Power is an identical 147 kW (200 PS), developed at 6,000 rpm.
What's it like on the inside?
As with other Pumas, this one also has what Ford calls a 'Megabox' below the boot floor. This deep and wide compartment nonetheless prevents there being space for a spare tyre. On the other hand, it's a great place to stash larger items that won't move around when you're driving the ST the way that the engineers who developed it intended it to be.
The interior is very close to that of the Fiesta ST. Changes over less expensive Pumas include a pair of great looking Recaro seats finished in a velour-like fabric called Miko Dinamica. They're heated too, as is the windscreen and steering wheel. Upon opening either front door you'll see scruff plates with the words FORD PERFORMANCE on them, and the ST logo is on the gear-shift knob and flat-bottomed steering wheel. All in all, it's a great look and everything feels high quality.
Competitors?
For the moment, Ford has largely got this small segment of the B-SUV class to itself. That's until the Kona N goes on sale at least. The fact that the little Hyundai will come with 213 kW (290 PS) means it will probably cost more than the Puma ST though so Ford probably won't be too bothered about the supposed competition. And I have no hesitation in stating that the first SUV for European countries from Ford Performance is also suddenly one of the brand's best and most enjoyable vehicles.
Top speed for the Puma ST is 220 km/h, 0-62 mph takes 6.7 seconds, Combined consumption is 41.5 mpg (WLTP) and average CO2 is 155 g/km. Mean Green paint is an optional GBP525. The Performance Pack, which includes the Quaife limited slip differential, is GBP950.