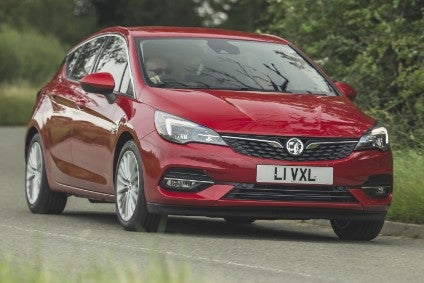 With a life cycle that will last only six years, Groupe PSA might not have bothered to facelift what General Motors termed the D2JO and D2JOW Astra five-door and estate. The cars have indeed had their looks refreshed and more importantly, their powertrains too with GM engines out and three-cylinder PSA petrols and diesels in.
It seems unfair that Vauxhall's current C segment model hasn't been anywhere near as sought after as the Golf, Focus, A-Class and others. The car is competitive in most areas and there wasn't much wrong with the engines which PSA has now replaced, other than the big reason – higher than ideal C02 emissions. Now the line-up contains only three-cylinder turbos: 1.2 and 1.4 petrol plus a 1.5-litre diesel. There's a lot of choice too, as this list demonstrates:
81kW/110PS and 195Nm 1.2-litre three-cylinder petrol, six-speed manual
96kW/130PS and 225Nm 1.2-litre three-cylinder petrol, six-speed manual
107kW/145PS and 225Nm 1.2-litre three-cylinder petrol, six-speed manual
107kW/145PS and 236Nm 1.4-litre three-cylinder petrol, seven-speed CVT
77kW/105PS and 260Nm 1.5-litre three-cylinder diesel, six-speed manual
90kW/122PS and 300Nm 1.5-litre three-cylinder diesel, six-speed manual
90kW/122PS and 285Nm 1.5-litre three-cylinder diesel, nine-speed automatic
What's obviously missing is any form of electrification. That may have to wait until the next generation arrives in the second half of 2021.
European region Astra deliveries numbered a decent if unexceptional 136,981 in 2019, Vauxhall's contribution being 22,148. And even though the update was announced last summer, the first examples of the facelifted model didn't reach UK showrooms until November. Over the first two months of this year, British market sales were 514 and 164, so 678 year to date. Inevitably, the first half of March will have seen a high number of deliveries thanks to the 20 registration plate change but the remaining days are likely to be very challenging in terms of showroom traffic and fresh orders.
Even with the severe cost cutting regime within GM Opel while it was being developed, the Astra has always felt like a soundly engineered car. That appears to be continuing under PSA, although no-one should be in any doubt about how strict the controls on spending remain. Nonetheless, Opel and Vauxhall have done an especially good job of keeping the updated model competitive.
Changes to the outside, at least at the front, are enough to make the freshening immediately obvious, but it's under the bonnet where the major work has taken place. Opel has adapted GM's Delta architecture, which is front-wheel drive-only in this application. This will be the last model for the legacy platform, with OV5x, the future Astra, having already been confirmed as another vehicle for Groupe PSA's EMP2.
The car supplied for my review had the 145PS 1.2-litre petrol engine and manual gearbox. Vauxhall quotes the C02 average as 99g/km (WLTP), a remarkable number. That shows the determination PSA has for making sure it pays not one euro in fines once the EU-wide 95g/km average is enforced next year.
One feature which supposedly helps bring down the C02 number is the integration of the water cooled exhaust manifold with the cylinder head. This is said to greatly help with rapid engine warm-up, lowering emissions after a cold start.
It isn't only the low-friction engine that's in play here. Vauxhall says the car has an exceptionally low drag co-efficient of 0.25 which is helped by things such as a ride height that's been dropped by 10mm, an engine compartment cover, 'deflector-shaped' rear axle control arms and a 'full-face shutter' behind those new upper and lower grilles.
Range-wide consumption is claimed to be up to 21 per cent lower than before. The nine-speed automatic that's optional for the higher-output diesel will be another factor, along with six rather than five ratios for all manual transmissions.
Three cylinders and 1,199 cubic centimetres don't sound like much when you think of the size of the Astra yet in practice, and thanks to turbocharging, they are. The torque curve is fairly flat, the full 225Nm available from relatively low revs, which also means you're not having to use a lot of throttle to keep the car moving. I saw 52mpg, which shows how much progress has been made even in the last year or two. GM Opel's 1.0-litre engine as previously fitted to the Astra and other models was a great little unit but wasn't that economical and certainly didn't have as good a C02 rating.
The Grandland X had a very good month in February, rising to a record sixth position and the new Corsa seems to be everywhere on British roads and TV screens lately, so who knows, perhaps the Astra will get a much deserved boost once the public gets back into car buying mode again. After the inevitable tumultuous times ahead.
The Vauxhall Astra Elite Nav 1.2 Turbo (145PS) six-speed manual has a top speed of 137mph, accelerates to 62mph in 8.2 seconds, returns an official 51.4-54.3mpg and costs GBP23,955.