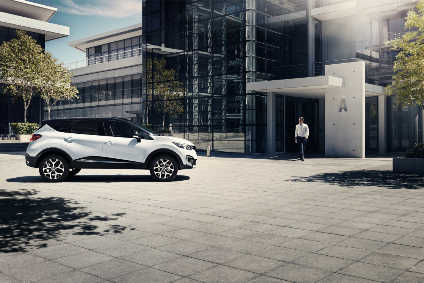 Renault says only that the recently announced Kaptur SUV will be for Russia. But there is a lot more to this new model, the fruition of an R&D project codenamed HHR, than meets the eye.
Does it seem crazy that Renault now has two SUVs which are pronounced the same way? Surely no more confusing that having two cars called Talisman (Europe's new one and a different model built in Korea) or keeping several generations of Kangoo and Clio in production at the same time? In any case, the word is that Russia's new Kaptur might change names when it starts being built and sold in other parts of the world.
Let's backtrack for a moment. This C segment 4×4 might be a fresh design but we've seen what's underneath that body before. Yes, the basic Alliance B-Zero chassis is shared with the Dacia and Renault H79 series Duster. That car has been around for six years now and the model which will replace it, codenamed HJD, is due to enter production in Europe next year. After that, India, Brazil, Indonesia and Russia.
Why is Renault creating what is becoming a complex global web of SUVs and crossovers? Simple; it's all about cost. While no-one knows if and when the Russian market will bounce back, it seems too risky to retool the AvtoFramos plant in Moscow for the Alliance's latest architecture vehicles. Reskinning the Duster which is already made there so as to create a fresh, secondary SUV for the Renault brand is a clever move.
India had a dip but seems to be growing again consistently, so in coming years, quite a few additional Renault models should enter production at RNAIPL, the Alliance's manufacturing complex in Tamil Nadu. Right now, the little Kwid crossover is moving out of showrooms as rapidly as it arrives – it was the country's eighth best seller in February, helping the brand to a YoY surge of 158%, with deliveries of 8,834 vehicles. That puts it fewer than 2,000 cars behind Toyota.
In May, Datsun will gain its own version of the Kwid, the redi-GO, while the Ayrton Senna factory in Brazil is about to start assembling the Kwid via kits supplied from India. You could argue Suzuki got there first with the Kei class Hustler in the Japanese market but Renault-Nissan might well have found the next big thing: A segment crossovers and SUVs.
Let's examine a list of Renault Group's models in these various segments worldwide, so as to gain an accurate picture of its overall position:
Kwid (A segment, built in India, kits shipped to Brazil, also sold in Asia & Africa)
Sandero Stepway (B segment, Romania, Russia, Brazil, Argentina & Morocco)
Captur (B segment, made in Spain and by RSM, sold in Europe and Korea)
Duster (B/C, built in Romania, Brazil, Russia, India, CKD in Indonesia)
Koleos (C segment, about to be phased out)
Scenic XMOD (C segment, about to be phased out)
Kaptur (C segment, soon to be built in Russia, India and Brazil)
Kadjar (D segment, built in Spain and China)
Maxthon (future D/E segment SUV for China and Europe)
Espace (E segment)
That's quite a lot of different vehicles but looking closely at what's made where and just as importantly, where they are mainly sold, and you can see the sense in this complex matrix. In short, older platforms such as B-Zero are ideal for lower income places – the Kwid, Sandero and Duster. The latter two vehicles also used to do well in Europe but each has faded in the last six months due to a lack of any freshening and the age of the basic vehicle. Having said that, the Sandero had a big February in the French market, sales up 49% to 4,307 units.
The Captur, which is Renault's megastar crossover, just goes from strength to strength, with more 10,000 having been delivered in France during the first two months. It's not only comfortably ahead of the Peugeot 2008 but is the home market's fourth best seller for the year to date behind the Clio, 208 and 308. With returns said to average between 1,000 and 2,000 euro more than the equivalent B segment hatchbacks, it's no wonder Renault is pushing ever more SUVs and crossovers into as many larger size classes as it can.
China remains the big risk, however. There is no guarantee that the locally built Kadjar is going to be a success. Sure, it's the same size as the Haval H6, the country's ridiculously popular best selling SUV (more than 33,000 sold in February, 75,000 for the YtD and China's third best selling vehicle) but Renault is almost an unknown brand in the PRC. March was its first month on sale and the Greenfield DRAC (Dongfeng Renault Automobile Company) plant has the capacity to build up to 75,000 examples a year.
Next for Renault's Chinese JV comes the bigger Maxthon and in theory, this should take the Wuhan province factory up to its initial capacity of 150,000 vehicles a year in CY2017. A second phase could see the next generation Captur (project code: HJB) added in 2020, which would mean a doubling of total production. It would be based on the CMF-B architecture, which is to be related to the still new CMF-C/D. The next Nissan Micra/March due later this year should be the first car for the Alliance's new generation B platform.
If we look five years into the future, and make the presumption that buyers the world over are at least as keen on crossovers and SUVs as they continue to be in 2016, here's what Renault's position should look like:
Kwid (BBA series model in its last year, CMF-A platform replacement in 2022)
Sandero Stepway (was replaced in 2019, also now on CMF-A)
Captur (new in 2020, project code HJB, based on CMF-B)
possible Captur Cabrio for launch in 2021
Duster (new in 2017, mid-life facelift in 2021, project code: HJD, CMF-B)
Kaptur (past mid-life facelift, to be replaced in 2023/2024, CMF-C/D 2)
Kadjar (to be replaced in 2022, CMF-C/D 2, an evolution of CMF-C/D)
Maxthon (was facelifted in 2019/2020, due for replacement in 2023)
Espace (current JFC car continues until 2023, facelifted in 2019, CMF C/D 2)
In addition to potential additional body styles – e.g. a Captur Cabrio – there might be some other surprises missing from the above list. Possibilities include RenaultSport versions of the current and next Capturs, as well as an R.S. Kadjar. And don't discount the thought of other coupe-style models which could in theory command higher margins than the Captur, Kadjar and Maxthon on which they would potentially be based.
Today, Renault's key SUVs rely on a mix of old and new platforms, but by the early 2020s, perhaps the only model in the range to be using a legacy architecture will be the Kaptur. That should, in theory, mean a vast amount in cost savings from the shared matrix of CMF modules. And that's just from the Renault and Dacia side of the Alliance. Nissan's future SUVs and crossovers will be the subject of another analysis feature in the coming days.