VEHICLE MARKET FORECASTS: Positive global outlook seen for 2011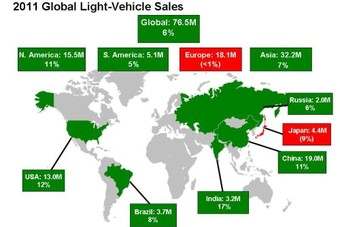 All in all, the outlook for the global vehicle market in 2011 is upbeat, with emerging markets accounting for a growing share of the global market pie
Analysts at JD Power are maintaining that the global automotive outlook for 2011 appears positive as the mature vehicle markets recover and emerging markets continue to expand.
JD Power Automotive Forecasting says that global new light vehicle sales this year are projected to reach 76.5m units in 2011, some 6% up on 2010's record 72m tally.
"Overall growth in the world economy has been supporting further recovery in auto sales," said John Humphrey, senior vice president of automotive operations at JD Power and Associates.
"We're seeing signals of stability and increased consumer demand for new vehicles as economic optimism increases."
Most regions saw sales growth in 2010, including North America, South America and Asia, with China being a key to growth for that continent. Western Europe was the notable exception to the growth pattern, as its sales suffered when the government-sponsored vehicle-scrappage programmes expired in 2010.
Also, for the first time in 2010, emerging auto markets accounted for more than one-half of global light-vehicle sales (51%), clearly signalling the shift of power in the global automotive market that has been taking place during the past five years. That momentum in the emerging markets is expected to continue throughout 2011, JD Power says.

A recap of 2010: US and China finished strong, Europe flat
In North America, the US market saw sales of 11.6m light vehicles in 2010—an 11% increase from 2009—when retailers sold 10.4m units. Canada's light-vehicle sales in 2010 finished at 1.6m units—a 7% increase from 2009.
Light vehicle sales in Europe, while slightly better than anticipated, were flat in 2010 at 18.2m units. The picture has not been as rosy in the western part of the region, as the market was down 4% for the year – car sales in Germany were off 23% on a scrappage boosted 2009.
The Asia Pacific region's mature markets—Japan, Korea and Australia—ended 2010 with mixed results. Japan's selling rate improved slightly in December, Korea's sales remained strong, and Australia ended 2010 with the second-highest annual sales total in its history.
China ended 2010 on a high note, with December's selling rate coming in at 19m units. China's light-vehicle sales were up by more than 30 percent from 2009, to 17.2m passenger cars and light commercial vehicles sold (all vehicles just topped 18m units). India also exhibited strong growth of more than 30% in 2010 and finished the year at 2.7m units, according to JD Power's figures.
"China continues to be the market to watch in Asia, and the driver for global market growth," said John Zeng, director of Asian automotive forecasting at J.D. Power Asia Pacific, Shanghai. "China's automotive market remained robust in 2010, defying all expectations that the market would slow along with the economy. We expect sales to slow somewhat in 2011, but still maintain double-digit growth."
South America also outperformed much of the world in 2010, with sales of vehicles in Brazil up to 3.52m units, 12% ahead of the previous year.
Outlook for 2011
Emerging markets, including China, India and Brazil, are expected to continue to expand on the 51% share of total light vehicle sales captured in 2010. Overall, emerging markets are expected to account for 53% of total light-vehicle sales in 2011, a further sign that these are the key markets that will drive the level of growth in the coming years, JD Power notes.

Mature markets, on the other hand, are forecast to see mixed results. The US economy is expected to be stronger, which should lead to higher sales. Western Europe is expected to be flat, while Japan is expected to see its auto market shrink.

JD Power says that global GDP growth is projected to be at or above 4% in 2011, down slightly from 4.6% in 2010, but still strong enough to support further recovery in auto sales in many markets and continued growth in the emerging markets.
It's undeniably an upbeat picture, when viewed as a whole and assuming that the global economy does not slow any further – due, say, to inflationary pressures (commodity prices, food and oil especially) or international financial shocks that dent confidence (the eurozone is a hot-spot there, but there are also asset price bubble concerns in China).

"From a global standpoint, 2010 was a combination of recovery and strong growth in emerging markets," said Jeff Schuster,executive director of global forecasting at JD Power. "Growth in 2011 is not expected to be as pronounced as it was in 2010. However, 2011 appears to be a stable environment with more manageable growth rates balanced across the world, as the recovery in the auto market will continue in many countries."

As business activity picks up globally in 2011, growth in light commercial vehicles is expected to be up 7% and account for 18% of global light vehicle sales. In comparison, sales of passenger vehicles are expected to be up nearly 6%.

North America
In North America, recovery from the market collapse of 2009 is expected to continue in 2011. The outlook for North America in 2011 is positive, with sales forecast to increase by 11% to 15.5m units—an increase of 1.5m units from 2010. The U.S. auto market continues to be the driver for growth in the region, with sales expected to reach 13m units, an increase of 12% from 2010. As we have already reported, the year was off to a strong start in the US.

Canada's growth—projected at 4% in 2011—remains positive, as the market was not affected as deeply as that of the United States during the recession.

With sales projected at 900,000 units, Mexico is expected to see an 8% increase in light vehicle sales from 2010, with its growth dependent on the US recovery and subject to high levels of inflation.

Europe
In contrast to the steady recovery taking place in North America, Europe is expected to see a slight decrease in its light vehicle market in 2011, with sales down to 18.1m units.

"While the underlying economic drivers are expected to improve, Western Europe will continue to face challenges in 2011," said Schuster. "Payback from the discontinuation of the scrappage program that extended into 2010 in many markets has not been as significant as expected, and the debt crisis remains a serious risk."

As a result, light vehicle sales in Western Europe are expected to be 14.2m units, down 2% from 2010. Conversely, Eastern European sales have rebounded more quickly due mainly to incentives, such as the scrappage program in Russia and low interest rates in Turkey. In 2011, further recovery in Eastern Europe is expected, with sales increasing 4% to 3.9m units.
Analysts expect the market situation to continue to improve in Russia, where the light vehicle market halved – from a 3m unit peak - in 2009 as the recession bit. Higher energy prices and a scrappage scheme are helping and Russia's car market may grow to become the world's sixth-largest by 2020 according to the Boston Consulting Group. The Russian car market is projected by BCG to grow at an 8 to 14% annual rate and reach pre-crisis yearly sales volumes of 3m cars a year by 2013, BCG says.
Asia
The auto market in Asia will continue to grow in 2011, albeit not as significantly as in 2010, cautions JD Power. This region, which experienced growth of more than 25% in 2010, should see its market grow by a more sustainable rate of 7% in 2011, with volume forecasted at 32.2m units, which represents approximately 42% of global sales.

In China—a country that has seen exceptional growth in its auto market in recent years— light vehicle sales are expected to exceed 19m units, an increase of 11% compared with 2010. In spite of the expected cooling of the growth rate, China will remain the top global auto market by a significant margin—outselling the US by approximately 6m units—and the long-term prospects for the market remain strong.

With the higher income levels and increased demand for new sub-compact models, sales in India are being boosted, particularly in the semi-urban and rural markets. Accordingly, sales volume in India in 2011 is projected to be up 17 percent to 3.2m units.

South America
South America's economies and auto markets have made a sharp recovery. Economic and auto sector growth is expected to moderate in 2011, with GDP growth forecasted at 4% to 5%.

"The major near-term risks to the region include rising inflation and continuing monetary tightening, a sudden reversal in investor confidence, and a possible credit bubble in Brazil, which is the largest auto market in the region with nearly 75% of sales," said Schuster.

Venezuela's auto market will continue to struggle due to a prolonged recession, high inflation and shortages of imported vehicles. Total light vehicle sales fell short of 110,000 units in 2010, a quarter of the volume in 2007.
Most popular news
---
Most popular insights
---
Oops! This article is copy protected.
Why can't I copy the text on this page?
The ability to copy articles is specially reserved for people who are part of a group membership.
How do I become a group member?
To find out how you and your team can copy and share articles and save money as part of a group membership call Shivani Hayer on
+44 (0)1527 573 732 or complete this form..